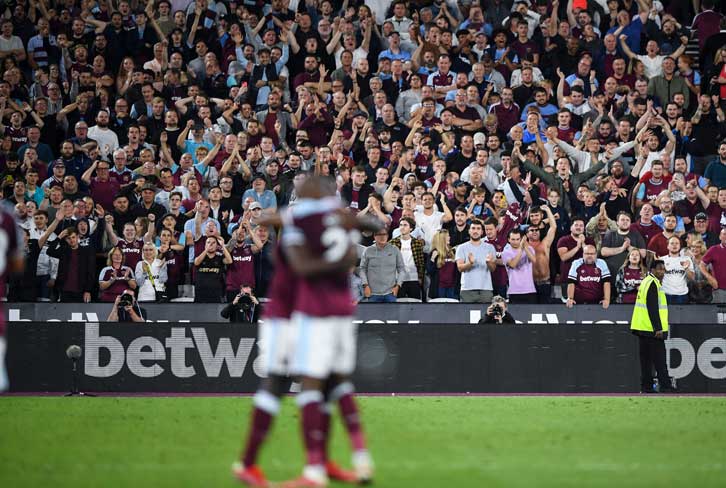 1. A night for the Claret and Blue Army to savour
Where else can we start but with the return of the full-strength Claret and Blue Army to London Stadium?
Around 57,000 West Ham United supporters were back at our home – alongside just under 3,000 Leicester City fans – and they produced arguably the best atmosphere the venue has witnessed in the five-plus years since we moved in.
With many fans taking their seats well before kick-off, eager to take in surroundings they had not enjoyed since 29 February 2020, the volume levels rose steadily towards a deafening rendition of 'Bubbles' as Declan Rice led the team onto the pitch.
A thrilling game was accompanied by renditions of all the favourites, including a chorus of 'David Moyes' Claret and Blue
Army' and a booming version of 'Antonio, Antonio, Antonio!' after the No9 broke the Club's Premier League goalscoring record, while all four goals and the final whistle were met with joyful, noisy celebrations.
It was an historic night no West Ham supporter present will ever forget.
2. 'Baby' Antonio dances into the record books
He might have forgotten which film he was paying tribute to in his post-match BBC interview (he corrected himself on West Ham TV!), but there was no confusion over who ended the night as West Ham United's all-time leading Premier League goalscorer.
The unique talent and unique personality that is Michail Antonio produced one of the all-round centre-forward performances in a Claret and Blue shirt.
Utilising his unstoppable physical attributes, his unquenchable hunger and his underrated technical abilities, the new No9 was at his very, very best on Monday night.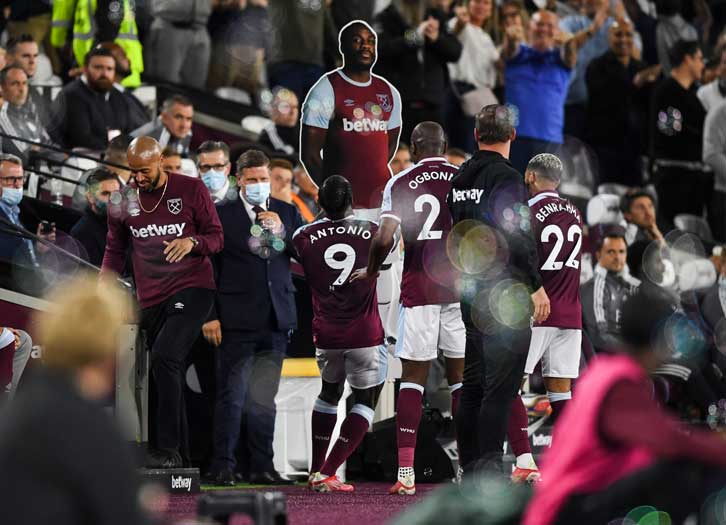 Çağlar Söyüncü will have nightmares about having to deal with Antonio, who repeatedly used his strength to hold off the Turkey international, who then played an errant backpass straight to the striker to assist Saïd Benrahma for West Ham's goal.
Wilfred Ndidi and Ricardo Pereira also felt the force of Antonio, who was twice denied by fine Kasper Schmeichel saves before finally, emotionally, breaking Paolo Di Canio's record with his 48th Premier League goal for the Club.
The celebration that followed was unforgettable, as the 31-year-old jogged to the touchline before lifting a cardboard cut-out of himself (who else?!) above his head, mimicking Patrick Swayze (Johnny Castle) and Jennifer Gray (Baby Houseman) in the 1987 film Dirty Dancing.
After that, there was still time for Antonio to score again, taking him onto 49. Only a fool would bet against him making it 50 against Crystal Palace on Saturday, and how he will celebrate that landmark, only Michail Antonio himself knows!
3. Top of the (Premier) league!
For the first time in 15 years, West Ham United ended the day top of the Premier League table.
Granted, it is just two games into the 2021/22 season, but the Hammers' victories over Newcastle United and Leicester City marked just the second time in 26 Premier League seasons that we have won our opening two matches of a campaign. The first was in 1997/98, but back then Harry Redknapp's side only made it as high as third in the table.
The last time West Ham were top of the standings was on 22 August 2006, following a 1-1 draw at Watford, but Alan Pardew's team was knocked off its perch by Manchester United 24 hours later, and we've not been back there since – until now!
4. Brilliant Benrahma… again!
For the second game in succession, Saïd Benrahma scored and assisted in a West Ham United win.
Michail Antonio did likewise, making the pair the first to score and assist in their team's opening two Premier League matches, ever!
Concentrating on Benrahma, the Algerian was weaving his magic all night long, assisting Pablo Fornals' opening goal with a low cross, making two other key passes, completing 91.2% of his passes and working Kasper Schmeichel with both of his goal attempts.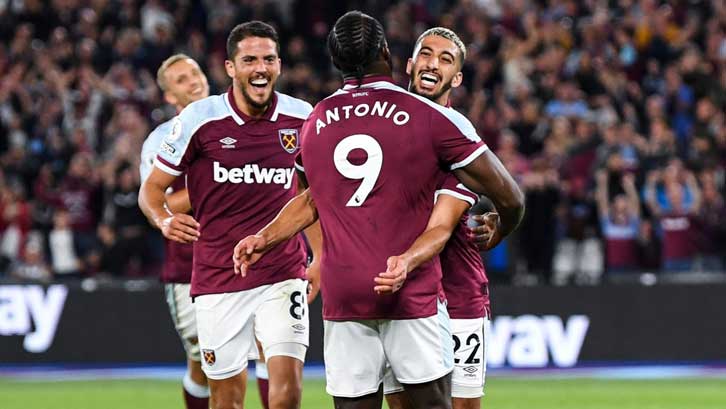 Manager David Moyes has called for the new No22 to show greater consistency in his game and, following a fine pre-season, the 26-year-old is now showing his undoubted talents in the Premier League on a regular basis.
And his highlight of the night arrived eleven minutes after half-time, when Antonio intercepted a back-pass and picked out the winger on the edge of the box, enabling Benrahma to convert with a confident one-touch finish.
The Claret and Blue Army, who love a player with his skillset, erupted, while a broad smile swept across Benrahma's face as he was engulfed by his teammates.
What's more, Benrahma's proud mother and brother, who were present at Rush Greenwhen he signed for the Club last October, were both at London Stadium to witness his big moment!
5. Dominant Declan
While his name will not show up on any scoresheets, Declan Rice was yet again imperative to a West Ham United victory.
As he did at St James' Park last time out, the England international simply stamped his authority on Leicester City, and never let up.
The 22-year-old was dominant, completing more passes and making more tackles and interceptions than any other Hammer. It was his challenge on Jamie Vardy that started the move that ended with Pablo Fornals opening the scoring midway through the first half.
Of the 66 passes Rice attempted, he completed 63, including his assist for Michail Antonio's record-breaking goal ten minutes from full-time.
For anyone who still needs it, this was yet more confirmation that Declan Rice is one of the best midfield players in the country.