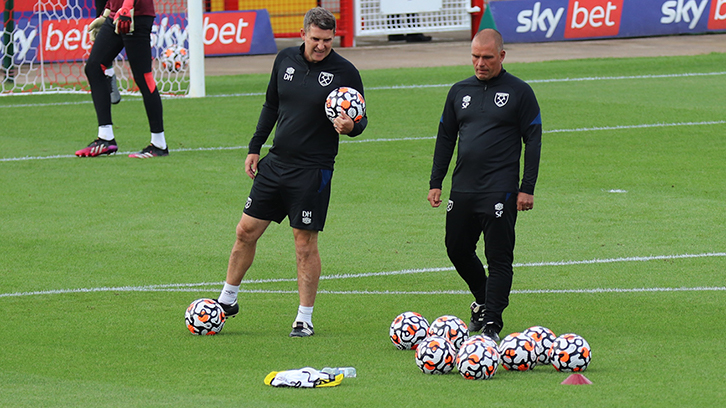 West Ham United U23s lead coach Dmitri Halajko feels Monday evening's pre-season defeat to Crawley Town showcased both the best and worst of his young charges.
The development squad went into the game at the People's Pension Stadium off the back of a superb showing against Southend United, a 5-1 win on Friday night.
Much like in that game, however, the young Hammers started slowly, conceding early to a set-piece finished off by a Crawley Trialist and struggling to match their opponents for tempo or rhythm inside the first 45 minutes.
In the second half, however, West Ham's U23s came out resurgent, plying attack after attack down the wings with full-back Harrison Ashby in particular a ubiquitous threat down the right flank.
They deservedly equalised just before the hour mark through Thierry Nevers' third goal in two games, but allowed Crawley to come back into the game in the final 15 minutes, conceding to Sam Ashford's scruffy winner late on.
Halajko summarised: "I thought it was a really good game of football – really competitive and really high energy. 
"I thought our second-half performance was a lot better than our first-half performance. In the first half, we were a little bit flat and a little bit low on energy, but the second half I thought was far better. I thought we dominated that part of the game and should have scored two or three goals at that point. 
"We didn't manage that and just got caught out at the end, but we're pretty pleased with what we've seen. We don't like to lose games of football, friendly or no friendly, but there were some encouraging performances, especially in the second half.
"There were spells when we were absolutely at it, and back to our best, and there were times when it just dipped below what we'd like. 
"That's where we are at the moment: it's just those consistency levels that we'd like to maintain. At the moment we're a bit up and down, but we've got a few more weeks to get the players right up there."
Chances fell kindly during the period after half-time for the dominant Hammers, yet despite some excellent build-up play, they struggled to convert them into football's most valuable quantity: goals.
Halajko added: "I think we dominated as soon as the second half kicked off for the next 30 minutes. 
"I think in that spell we probably had four really, really good opportunities: one on ones, the goalie made a great save from Harrison… so at that point of the game, we were so far on top. 
"At those points of the game, though, you've got to make them count. You can't be that dominant and only score one, otherwise you've always got a chance of letting your opponents get back into the game late, which is what happened.
"It's really good that we had that spell and reached a really high level, the only disappointment is that we didn't maximise it."
Monday's game also coincided with the release of the 2021/22 Premier League 2 fixtures, with West Ham United's U23s scheduled to kick off their domestic league campaign with a home game against Arsenal.
 
They haven't played [at London Stadium] for a while now [since February 2020] – obviously we couldn't play there last year because of COVID – so for quite a few boys it'll be their first-ever game there

Dmitri Halajko

Rather than their usual home of Rush Green Stadium, however, the game is scheduled to take place on Monday 16 August at London Stadium – home of David Moyes' first-team – and will thus be a special occasion for all involved.
"The lads can't wait," Halajko smiled. "They haven't played there for a while now [since February 2020] – obviously we couldn't play there last year because of COVID – so for quite a few boys it'll be their first-ever game there. 
"It'll be a great experience. Hopefully it'll be one of the first games with fans back again, so people might come out and watch us. That'll give the lads even more of a motivation, even more of a buzz.
"Against Arsenal as well, they're a top team. We played them at the back end of last year and did well against them, so we'll hope for another good performance."