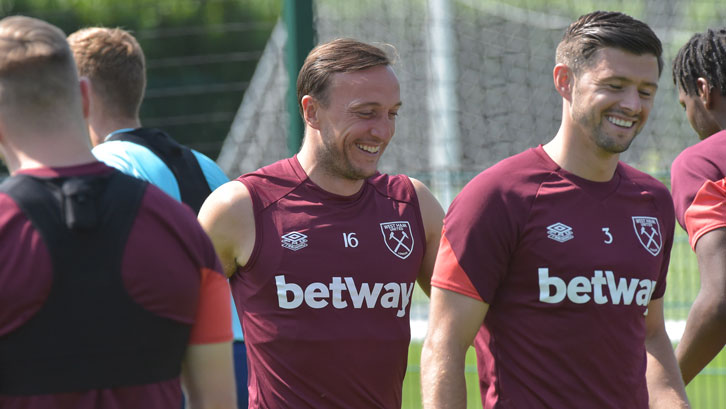 Mark Noble's 18th pre-season as a West Ham United first team player may be his last, but the Club captain is approaching it like the previous 17.
The skipper may be 34 now, but he remains one of the fittest players around, and that is down to the hard work he puts in every summer to prepare for the campaign ahead.
This year is no different, with the midfielder giving 100 per cent every day on the pitch and in the gym at Rush Green, while also doing the right things off it by eating, drinking, resting and recovering his body for the challenges and demands to come.
With four pre-season matches to play before the Premier League kick-off at Newcastle United on Sunday 15 August, starting with a trip to EFL Championship side Reading on Wednesday evening – a game being streamed live on whufc.com – the No16 is cherishing every moment he has left in a Claret and Blue shirt.
Mark, we're three weeks into your final pre-season as a West Ham United player. How's it going so far?
"I was sitting next to Mipo on Monday and I was thinking 'He's 18 and I'm 16 or 17 years in front of him in pre-seasons!' and time does fly!" he smiled. "When you're involved in it like we are now, the weeks tick by slowly because it's tough, the runs are tough and it's hard work, but when I look back over my whole career it only seems like yesterday I was doing my first pre-season.
"It's strange because everything I am doing, I am thinking 'that's going to be my last one of them', but it's enjoyable and it's been a nice opening three weeks."
We've got two matches this week as things ramp up, with Reading away on Wednesday and then a trip to Scotland to play Celtic on Saturday?
"I'm looking forward to our matches this week, but I'm old enough now to know pre-season is literally about getting fit. A lot of people dwell on results, but they really don't matter – it's just about getting fit, staying fit and being ready for the season.
"Everyone approaches pre-season differently. You do your running at the training ground and then everyone gets different things out of the games, so it's another pair of games to get minutes in our legs and get used to the feel of the ball again, because the season comes around quickly."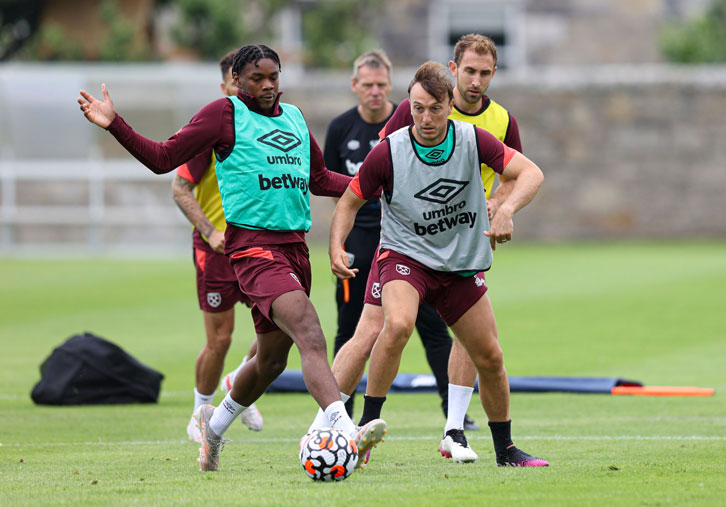 How much are you looking forward to playing at an historic ground like Celtic Park?
"It's going to be amazing to play at Celtic Park for the first time in my career. Obviously it's such a lovely place to go and play and I really enjoy going to Scotland – in fact, I was there three times in the summer!
"I went and played golf up there a couple of times and then obviously we went to St Andrews for our training camp and I loved it up there, and now we're going up there again.
"Celtic Park is one of the most historic and atmospheric grounds around and although it won't be full, I'm looking forward to getting out there on the pitch and taking it all in."
And the squad is getting stronger almost by the week as we welcome our international players back from their summer breaks?
"Obviously we've missed a lot of our players who've been away on international duty and at the Euros and they're slowly dripping back now. We've got Saïd, Pablo and Łukasz back this week, so our squad is coming back together.
"Declan will be the last one back because of how far he and England got, but we're looking forward to having everyone back together again.
"I hope they all come back feeling proud of themselves. The Czech boys had a fantastic tournament, Yarma was fantastic at the Euros and obviously we know how well Dec played, especially in the final when I thought he was the best player on the pitch for 70 minutes.
"They deserve their well-earned break, but we're looking forward to having our whole squad back so we're ready to go in August."