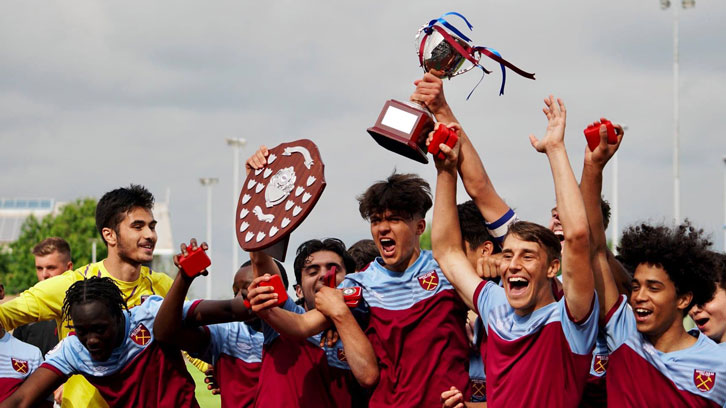 The West Ham United Foundation's Football Programme 16-19 squads have wrapped up their 2020/21 season by winning titles their respective leagues.
The Football Programme 16-19 sees talented footballers aged 16 to 19, who have completed Year 11 education, supported in a two-year full-time education and football development programme. As part of the educational aspect the programme works with SCL Education, which sees participants coming away with 160 UCAS points – equivalent to three A-Levels. 
Due to the COVID-19 pandemic, the 2020/21 season was challenging for leagues up and down the country. However, the West Ham United Foundation squads worked exceptionally hard to remain focused on their objectives, with all three of the Football Programme 16-19 teams subsequently finishing the season at the top of their respective leagues. What is more, the West Ham United Foundation 'Blues' squad achieved a 100 per cent record.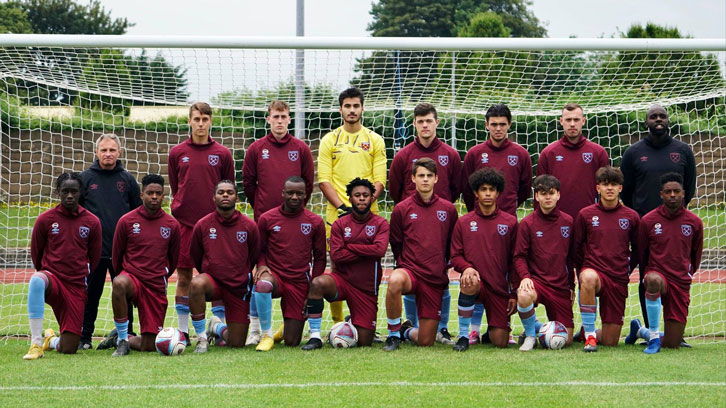 To mark their achievements, the 'Blues' squad were invited to take part in a Champions of Champions game against Grantham Town at the end of June. With the Hammers playing away, the advantage was with Grantham but after a goal-filled 90 minutes, the score remained deadlocked at 3-3. 
As extra-time approached its conclusion, with only a few minutes to play, 'Blues' striker Jake Knight found the back of the net and claimed a dramatic win for the Foundation.
Hammers captain Rowan Dorling reflected: "I think during the 90 minutes we were the stronger team, and we created a lot of chances whilst stopping them creating chances. Fair play to Grantham as they stayed in the game and got a penalty to take it to extra time, but the way we played in extra-time proved we were the stronger team.
"For this season, everyone was just excited to get back to playing football after 2020 being a difficult year and we were all looking forward to the season starting. I think throughout the whole season COVID-19 had affected it and made it a difficult season, but I have to say I'm really proud of all the players for keeping going and working hard at training."
As an extra testament to the squad's dedication and improvement, teammate Wellington Diaz was also awarded the SCL Golden Boot trophy, having scored over 20 goals throughout the season.
On Monday 26 July, there is a trial for those interested in joining the programme for the 2021/22 season. For more information and to book your space email Sam Taylor at [email protected] now!