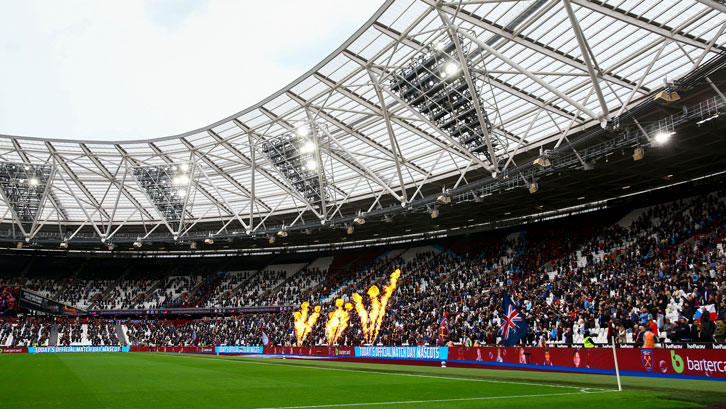 West Ham United can provide supporters with an update regarding digital ticketing and access to London Stadium for the Betway Cup fixture against Atalanta on Saturday 7 August.
The Club is finalising ticketing processes and plans for the 2021/22 Premier League campaign, which includes consulting with the Independent Supporters' Committee (ISC) to gather feedback, while we are awaiting further guidance from the Premier League and relevant authorities. Once finalised, supporters will be contacted directly via email and further updates will be available on whufc.com.
The return of our supporters to matches has been a welcome sight for everyone at West Ham United, with the Club continuing to follow the guidance issued to us, adopting many new protocols which have been put in place to prevent the spread of the virus and, above all, ensure the health, safety and comfort of all of our supporters at London Stadium.
Our fans have been magnificent in following all of the new protocols and information when attending our matches with Manchester United in December 2020 and Southampton in May this year – something which was noted by the authorities who attended the game. The Club is aware that it has been an uncertain time for everyone, with many changes affecting our everyday lives since the emergence of COVID-19, so we would like to say thank you for your co-operation and understanding.
For the visit of the Italian side, who last season finished third in Serie A for the third consecutive year to qualify for the UEFA Champions League, supporters will be able to access London Stadium via the following ways which cater for all, after receiving an email from the Club with their ticket(s) included: 
Download your e-ticket to your smartphone or relevant device for scanning upon entry
Print your e-ticket at home from any computer or device
Head to a clearly designated and exclusive window at the Ticket Office at London Stadium to receive a paper ticket printed by the Club 
Special arrangements will be in place for any supporters who are not able to utilise one of the methods above. Simply contact the Ticket Office on 0333 030 1966, select 'Option 2' and the Club will personally ensure that your individual needs are met
Should you be unable to download your ticket to your digital device or print at home and require to take up the final option above, please arrive early at London Stadium and the Club will endeavour to print your ticket as quickly as possible to ensure your smooth entry to the stadium for this fixture.
As has always been our approach - and particularly throughout the COVID-19 pandemic – we will do everything we possibly can to personally assist our supporters, especially those who are vulnerable or in need of extra assistance.
Looking ahead to the 2021/22 campaign, the Club is still awaiting additional information before we are in a position to confirm final protocols on the issuing of Season Tickets – something we will communicate to supporters as soon as possible.
We will be in direct and personal contact with any supporters who may have concerns over the use of digital ticketing, to ensure all cases are dealt with on an individual basis and that we find a solution for everyone.
As part of our continued dialogue with the Independent Supporters' Committee, we met with them this week to discuss the current situation on digital ticketing for the 2021/22 season, and we can confirm that we continue to take on board feedback via the ISC Ticketing Subcommittee and the wider fanbase, with regard to access to the stadium.
We are also in regular dialogue with the Premier League, fellow clubs, and the relevant authorities to explore solutions in accordance with guidance.
We are aware that some supporters don't have access to a smartphone, or a print at home option, but we will ensure that everything will be done to support our fans as part of our inclusive environment, in accordance with the guidance. This has been reassured in all of our conversations and meetings with the ISC including the most recent one, which concluded with the Club promising to hold a follow-up meeting with the ISC to consult on the alternative solutions that will be available once further information is known.
Full information will be communicated directly to all Season Ticket Holders and match ticket holders in due course, including FAQs and support on hand via the Ticketing and Supporter Services teams.
We will continue to keep all of our Season Ticket holders updated directly as and when more information is known on the protocols and guidance from the authorities for the 2021/22 season.
For any further queries on this matter, supporters can contact the Ticket Office on 0333 030 1966.