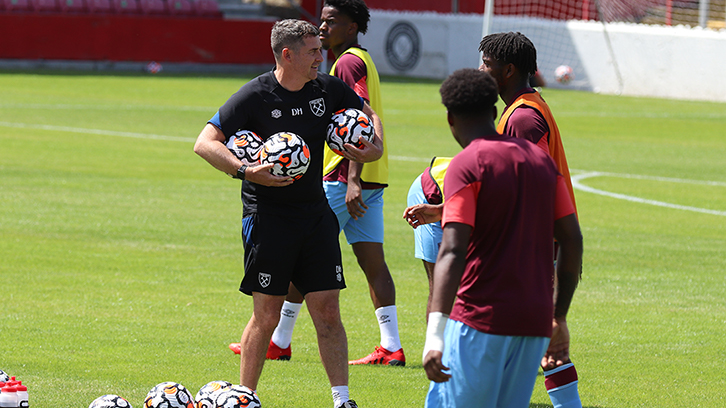 Dmitri Halajko was slightly disappointed in West Ham United U23s' display against Ebbsfleet United in a 2-1 pre-season defeat on Saturday afternoon, but feels they will have learned from the experience.
A week after the development squad kick-started their pre-season programme proper with a productive training camp at Loughborough University – culminating in a 4-1 win over their hosts – they were back in action against National League South side Ebbsfleet.
With the first-team squad not playing a fixture, Halajko was able to name a strong starting eleven for the U23s, but the young Hammers started slowly and struggled to get to grips with their much more experienced opposition.
Ebbsfleet were full value for their 1-0 lead at half-time and, although Nathan Holland's accurate strike drew them level in the opening moments of the second half, a late long ball flicked on caught West Ham's defence on their heels, allowing Elliott Romain to sprint in behind and win it for the home team.
The nature of the fixture – played in searingly hot temperatures in Kent – will have proven a valuable one in the Hammers' development, Halajko feels, with Ebbsfleet's line-up including players like captain Lee Martin, who has over 250 Football League appearances to his credit.
"We're really disappointed in our first-half performance," Halajko explained. "Those weren't the levels we need to get to. I know it's early in the season, but we're not going to look for excuses – we're going to say that wasn't good enough. 
"We looked at ourselves at half-time, had a few words, and started the second half more like ourselves. We got back into the game and I thought in the second half we were the slightly better team. 
"We're disappointed with their second goal – it was quite naive – but the second half was an improvement on the first, where we were nowhere near our levels really.
"We were playing against experienced players and that's why we like these fixtures, because that's what our lads need to play against: people who have played 200 or 300 games and have got a bit of know-how. That's why we've got Southend United and Crawley Town coming up as well.
"We can see if they can get up to that challenge, and we will do when we improve, but today we didn't."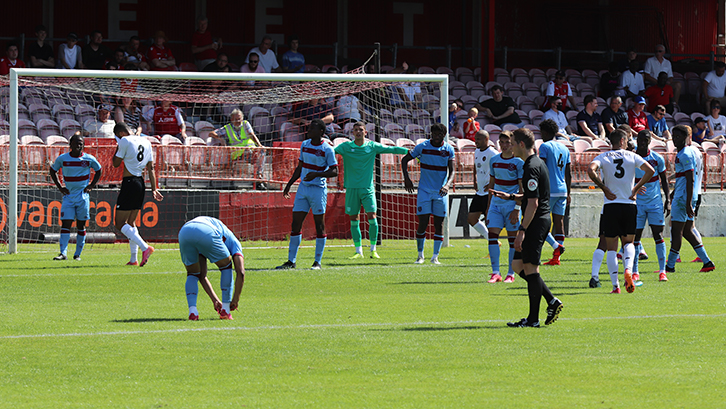 A number of young West Ham players who made the trip to St Andrew's with manager David Moyes' first-team squad were on show in Northfleet, including the likes of Ajibola Alese, Jamal Baptiste, Pierre Ekwah and Nathan Holland.
A grand total of six Academy of Football players also made their non-competitive first-team debuts in this week's friendly games against Leyton Orient and Northampton Town, and for Halajko, such experiences are invaluable in an U23 player's journey.
He added: "Our players have had plenty of sessions and plenty of minutes with the first team, sometimes training with them and sometimes training with us. 
"We're not settled as an U23s team yet, but we weren't really looking for a team performance as such – we were looking for people to bring their best individual game. 
"We haven't really had a training session all together because the first team have been so good in using our lads this pre-season. We haven't got a problem with that at all because their individual development is our priority. 
"It's been a really good opportunity for our lads to go and show the first team what they're about. Today, individually, we were still off what we think our individual performances should be like."
The young Hammers' visit to the Kuflink Stadium was also the first game many of them will have played in front of supporters since the Papa John's Trophy game at Peterborough United in December 2020.
West Ham fans turned up to Ebbsfleet in good number and healthy voice, and Halajko was keen to highlight the impact they made on an entertaining contest.
The lead coach concluded: "It definitely adds something to the game – any game – without a shadow of a doubt. It didn't feel like a pre-season game, and the fans were the main reason for that. 
"From our point of view, if anyone's paid money to watch us play, that makes it not a friendly. Straight away, you need to respect that. It means it's a proper game because people have given up their afternoon and some money to come and watch you play. 
"We didn't want to treat it like that and we wanted to give the people who were in the ground something worth watching."
Next up in a busy pre-season programme for West Ham United U23s is a trip to Southend United's Roots Hall on Friday 23 July.