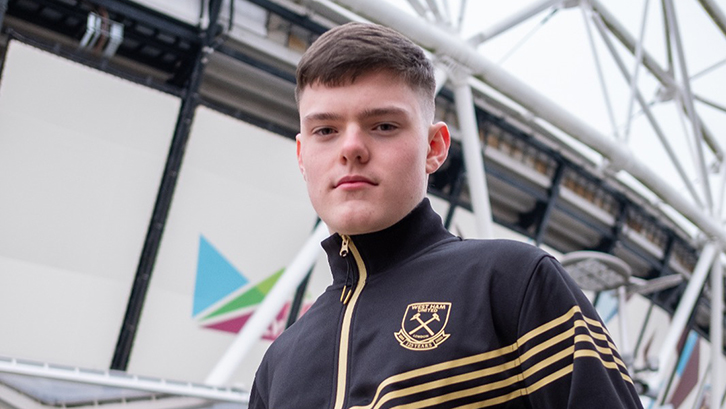 West Ham United's Alfie 'AC RedLac' Calder reached the second day of the European Xbox Playoffs – the tournament to decide which players would advance to the FIFAe World Cup finals – before bowing out of the 2020/21 FIFA Global Series.
The 18-year-old's second full season as a competitive FIFA player, and first backed by a Club or organisation, came to a close after the young Hammer impressed during the group stages of the online Playoffs, but missed out on progressing from the knockouts.
With over a thousand players in Europe having secured 'Verified' professional status on Xbox at the start of the season, RedLac can look back on his season with pride, having secured the 52nd-highest total of Global Series Points in the continent.
The Xbox player subsequently secured qualification for the Playoffs, which began with a Swiss-style group stage, each of Europe's Top 64 players needing to win three out of five games in order to advance.
RedLac got off to the best possible start on Friday, defeating German player PredatorFIFA – representing Bundesliga 2 champions VfL Bochum – 6-2 on aggregate over his first two legs of FIFA.
He then followed this up with a dramatic 7-6 win over Norwegian international FIFA player Rasmussen, representing Oslo-based Apeks, but suffered his first defeat at the hands of Burnley's Brad Colston, 9-3 on aggregate.
In typically tenacious fashion, RedLac bounced back to dominate his next opponent and secure qualification for the Top 32 with a 5-3 win over Israeli team NOM Gaming's NEissaT14.
He concluded his group stage with a loss on penalties to Borussia Monchengladbach's lefti following a 7-7 draw, but the 18-year-old's 3-2 win-defeat record saw him through to the knockout stages and the second day of competition.
 
We made it through the Swiss round and now @AC_RedLac will fight through the KO stages to reach the final ⚒️? pic.twitter.com/t2r4obupIX

— West Ham Esports (@WestHamEsports) July 2, 2021

Luck was not to go his way in the knockout stages on Saturday, however, as a series of narrowly missed chances saw him defeated 7-2 by former eAllsvenskan champion William 'Dejexx' Berg, before his 'Lucky Losers' match ended in a 4-3 loss to Burnley's Colston.
Nevertheless, after a long season which began with the release of the game back in October, the teenager can take great pride in coming within four games of securing a berth at the very highest level of FIFA 21.
Indeed, RedLac's achievements this season have seen him become the first West Ham Esports player to reach this stage since FIFA 18 and Jamie 'Jamboo' Rigden.
RedLac was also within half a leg of earning a call-up to the England international team, the eLions, and has earned plenty of plaudits for his exciting, attacking brand of FIFA – with plenty of his potential still to be unlocked.
RedLac's Hammers teammates, Papsity and Jonas, finished their competitive seasons on 861 (141st on PS4 in Europe) and 389 (198th on Xbox) Global Series ranking points respectively.
For more exciting FIFA 21 and gaming content, follow the official @WestHamEsports accounts on Twitter and Instagram.
Want to step up your game with West Ham's Esports players? Watch our pros in action every week - subscribe to Twitch to learn when they go live.