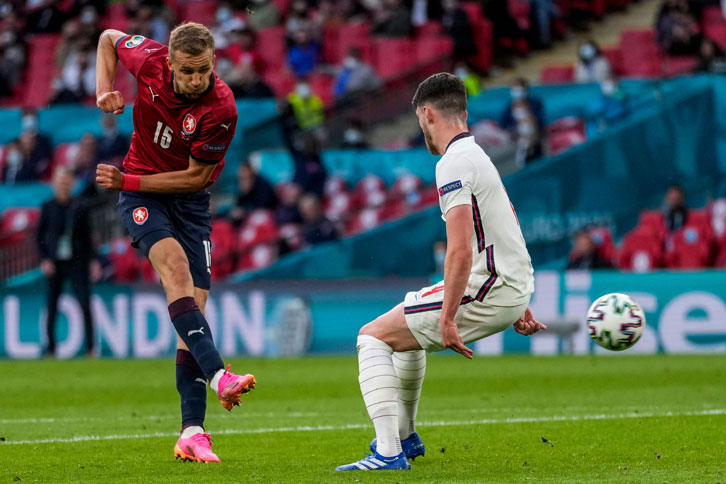 Tomáš Souček said the Czech Republic will take the positives from Tuesday's 1-0 UEFA Euro 2020 Group D defeat by England into the round of 16.
The Czechs were narrowly beaten at Wembley Stadium, where they played their part in a fairly even contest that was settled by Raheem Sterling's 12th-minute header.
The West Ham United midfielder was his usual influential self, providing a calming and physical presence in the centre of the pitch and a goal threat in the opposition penalty area.
We have to learn from that match and use the positives in the match in the next round

Tomáš Souček
Indeed, the 26-year-old had one of the Czechs' best chances of the night, only to curl a shot inches wide after Luke Shaw's clearance dropped to him inside the box – and Souček admitted an inability to take their chances cost his country the chance of securing the point they needed to top the group.
Instead, Sterling's early effort remained the only goal of the night and it was England who finished top, while Croatia leapfrogged the Czech Republic into second courtesy of their 3-1 victory over Scotland in Glasgow.
Those results mean Souček, West Ham teammate Vladimír Coufal and company must wait for Wednesday's Group E and F results before they discover who they will face in the round of 16, and where the tie will take place.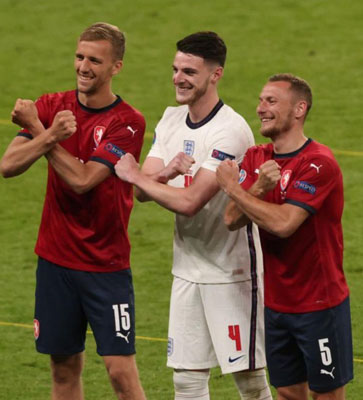 "It was definitely possible to get more out of the match because we lost," said the Hammers' No28, who went up directly against his Clubmate Declan Rice in the first half. "The beginning of the match was dominated by England and in the second half it was much more balanced.
"But we lacked patience and calmness in front of their penalty area. We have to improve that, because the area before the final phase was not good. I think we fought well in the fight against a team with so many stars, we wanted to succeed, but it didn't work out. For my chance I wanted to send the ball inside the post, so it's a pity I didn't succeed.
"We have to learn from that match and use the positives in the match in the next round. We wanted to be first in the group, in the end we fell to third place. But we are in the round of 16 of the Euros, so we will wait for a specific opponent and we must prepare for the match as best we can after that."
Having finished third in Group D, the Czech Republic could still face either Group C winners the Netherlands in Budapest on Sunday 27 June or the Group E winners, who will be either Sweden, Slovakia or Spain, in Glasgow next Tuesday 29 June.