Each week, we'll be firing some of football's true 'need-to-know' questions towards promising products of the Academy of Football.
This week, it's the turn of 21-year-old midfielder Conor Coventry...
Quick Fact: Although typically a deep-lying playmaker, Coventry – a lifelong West Ham supporter born and raised in Waltham Forest, who has been at the Academy since he was ten-years-old – scored on just his second Premier League 2 appearance against Fulham in February 2017.
He then went over three-and-a-half years without scoring for the development squad… but finished 2020/21 as second-highest scorer, with seven goals in 20 games!
 
On the Field
Who got you into football?
My Dad and my Grandad
Favourite player growing up?
Andrea Pirlo, Roy Keane and Andres Iniesta - not bad!
Strongest attribute?
My mindset
Want to get better at?
One-on-one defending
Goal celebration of choice?
'The Lizard' or 'The Scaffolder'!
Favourite training drill?
Possession drills
 
Off the Field
Favourite other sport?
Golf
Favourite account to follow on Instagram?
@thenotoriousmma - that's Conor McGregor, by the way!
You're watching at the moment…
Most recently: The Fall on Netflix
If you weren't a footballer you'd be…
A kitman or a groundsman
Karaoke song of choice?
Thinking Out Loud - Ed Sheeran
If you had one last meal?
Lamb chops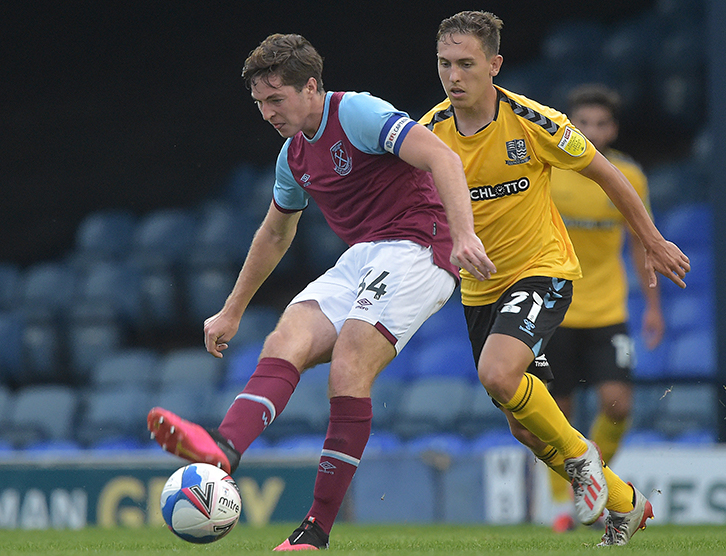 Around the Academy
Best skills?
Nathan Holland
Funniest?
Ben Johnson
Future manager?
Gonçalo Cardoso
Three teammates you'd be stuck on a desert island with?
I'm gonna say Ben Johnson, Nathan Trott and Sam Caiger - Caiger for the entertainment!
Best dressed?
Slim pickings! Aside from myself, Nathan Trott
 
Quickfire Questions
PlayStation or Xbox?
PlayStation
Winter or summer?
Summer
Theme park or beach day?
Theme park
Messi or Ronaldo?
Lionel Messi
Win the Champions League or World Cup?
World Cup
Classic 40-yarder or dribble past everyone to score?
Dribble past everyone and score