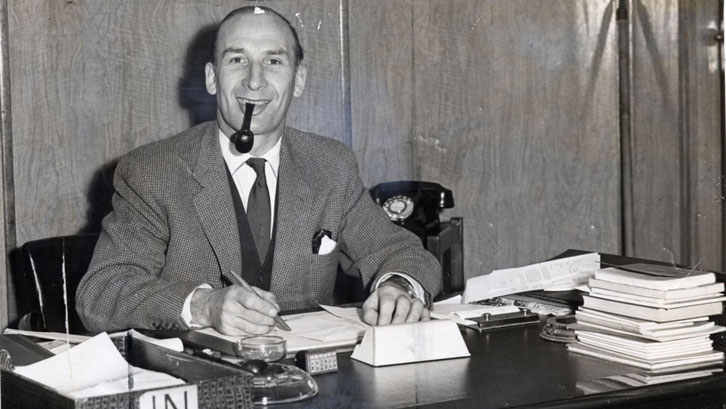 We continue our alphabetic journey through 125 years of West Ham United history with a legendary manager, a prolific but relatively unknown goalscorer and football under the famous Boleyn Ground floodlights…
Fentons
The Fenton brothers, Ted and Benny, became the fourth set of siblings to represent West Ham United when they appeared in the years before the Second World War.
Ted, the elder by four years, having been born in West Ham in 1914, later became the Club's third manager in the summer of 1950. A wing-half for the Hammers between 1932 and 1946, Fenton had previously enjoyed a prolific schoolboy career with West Ham and England.
He played regularly in the Second Division in the seasons leading up to the outbreak of the Second World War, before he joined the Army and served as a physical training instructor in North Africa and Burma.
In all, Fenton had played 179 senior competitive matches and 204 war-time fixtures for the Hammers – the last of which came at Arsenal in May 1946.
On hanging up his boots, Fenton left the Boleyn Ground to become player/manager at Colchester United in 1946, before returning to assist Charlie Paynter two years later.
In 1950, Fenton (pictured, above, at his desk at the Boleyn Ground) was appointed manager and set about building what has since become known the world over as 'The Academy of Football' – the scouting and development of outstanding players.
Working with his captain Malcolm Allison, Fenton instilled new tactics and philosophies on and off the pitch, resulting in an attractive 'West Ham Way' of both living and playing the game of football.
Continental ideas were introduced, with new training methods taking inspiration from other clubs and the famous Hungarian national team of the period.
Under Fenton's watch, the Club unearthed and produced some of its finest-ever players, most notably future England stars Bobby Moore and Geoff Hurst. Seven of the side who won the FA Cup in 1964 had either been developed or signed by Fenton.
West Ham won the Division Two title in 1957/58, returning to the top-flight after a 26-year absence, before achieving an outstanding sixth-place finish in Division One the following season.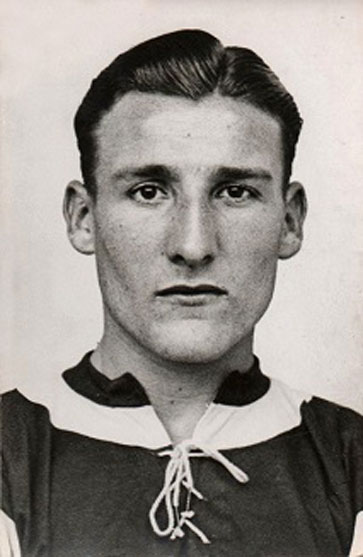 Fenton was sacked in March 1961 after taking charge of 516 first-team matches over eleven years, winning 214, losing 191 and drawing 111.
The long-time Hammer took charge at Southend United, where he spent four seasons before departing in 1965. In retirement, Fenton opened a popular sports shop in Brentwood, Essex, which is still trading today.
He passed away in July 1992, shortly after being seriously injured in a car accident in Leicestershire.
Younger brother Benny, who was born in 1918, represented West Ham, Essex and London as a schoolboy before joining the Irons in 1935. An outside left, he made his first-team debut playing alongside Ted in a goalless Second Division draw with Fulham at the Boleyn Ground on 9 October 1937.
A first goal for the Club arrived the following September, in a 3-2 home defeat by Sheffield Wednesday, and he finished the 1938/39 season with nine goals from 19 appearances.
However, after lining up 22 times in total, he joined Millwall in March 1939, only for his professional career to be curtailed by the Second World War.
Fenton, who joined the Essex Regiment, did pull on the Claret and Blue shirt one more time, scoring in a 7-4 war-time league win over Fulham in 1944, while he also played for Norwich City, Manchester City, Charlton Athletic, Crystal Palace, York City and Cardiff City as a wartime guest.
In January 1947, the younger Fenton moved to Charlton, where he would go on to be made captain and make more than 250 appearances across eight seasons.
In 1955, aged 37, he moved to Colchester United as player-manager and made more than 100 appearances in the Third Division South, before hanging up his boots at the age of 39 in May 1958.
After a short spell managing Leyton Orient, Fenton took charge at Millwall in 1966 and led the Lions to promotion to Division Two the same year.
Fenton's career ended with an administrative role at Charlton. He died in 2000, aged 81.
Footballer of the Year
The Football Writers' Association Footballer of the Year award has been voted for by football journalists since the 1947/48 season, when it was instigated at the suggestion of Charles Buchan, a former Sunderland and Arsenal striker turned journalist and one of the Association's founders.
Two West Ham United players have won the award – Bobby Moore in 1963/64 and Scott Parker in 2010/11.
Moore's recognition came at the end of a season that saw the Hammers win the FA Cup for the first time in the Club's history. The captain started all seven FA Cup ties and lifted the trophy following West Ham's win over Preston North End at Wembley and made 50 appearances in all competitions, scoring two goals.
Parker's award came at the end of a less successful campaign that culminated in the Irons being relegated from the Premier League. Despite the team's struggles, the England midfielder's outstanding performances saw him score seven goals in 40 appearances.
Alec George Foreman
Alec George Foreman made just nine o¬fficial first-team appearances and scored just two goalsfor West Ham United, but he is one of the most prolific goalscorers in the Club's 125-year history.
Born locally in West Ham in March 1914, Foreman played for Walthamstow Avenue and England as an amateur before signing for West Ham in 1939.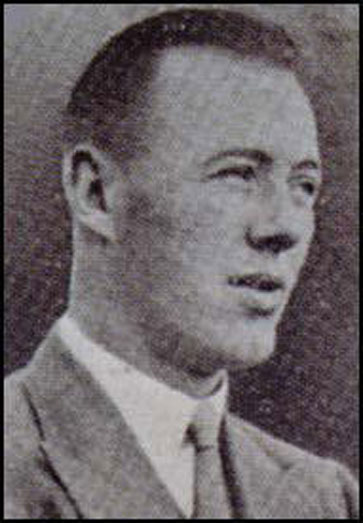 The centre forward scored on his second appearance in Claret and Blue in a 2-0 Second Division win at Millwall in March 1939, but his career was curtailed after six League appearances due to the outbreak of the Second World War.
The 1939/40 season was cancelled and replaced by regional friendlies to save on travel and resources.
Foreman scored an amazing 42 goals in 43 matches, including hat-tricks against Millwall and Portsmouth and four in a 6-2 win at Tottenham Hotspur – one of four victories over Spurs that season!
The campaign ended with a trip to Wembley for the inaugural Football League War Cup final, where Foreman was in the team which beat Blackburn Rovers 1-0, although it was Sam Small who got the game's only goal.
The goals kept flowing for Foreman, though, with 34 in 1940/41, 28 in 1941/42, 30 in 1942/43 and 24 in 1943/44.
By the War's end, he had netted 186 times in 225 matches.
The FA Cup returned in January 1946 and Foreman scored in a 6-0 third-round first leg win over Arsenal, but he would make just two more official appearances before leaving for Tottenham Hotspur.
He died in June 1969, aged 55.
Floodlit football
An enlightening moment in the history of West Ham United took place on 16 April 1953 – the Hammers' first floodlit match at the Boleyn Ground.
The match was not the first time the Club had hosted football under artificial light, with Thames Ironworks FC holding matches at Hermit Road in Canning Town which were illuminated by early electric lighting and played with a ball dipped in whitewash to make it easier for supporters to see!
No records were kept of those pioneering midweek matches, which took place in the final years of the 19th century, but West Bromwich Albion and Arsenal were thought to have provided the opposition.
Nearly 60 years later, the Hammers made another attempt to host football under the lights, with the new era dawning (artificially!) with the visit of Tottenham Hotspur for a 7.45pm kick-off on a Thursday evening.
The match proved a success, on and off the pitch, with a 25,000-strong crowd enjoying the Hammers' 2-1 victory over Spurs, as local newspaper The Stratford Express report noted:
"When the lights were switched on, the crowd saw that the system employed at Upton Park was as good, if not better than any in Great Britain. With the same amount of light as at Highbury, but over a smaller area, watching the football was effortless.
"There were no shadows or blind-spots to fool players or aggravate watchers and this was undoubtedly the greatest innovation to please spectators since the introduction of the white ball.
"West Ham management have really gone all-out to make this a success – and the final touch was the bright, fluorescent shirts of the home side.
"Hammers rose to the occasion magnificently in glorious technicolour. Playing easily their best football of the year, they deservedly beat Tottenham.
"Spurs were in fact beaten at their own game. Perhaps the lights were the cause, but West Ham played short, passing-along-the-ground football, and delighted the huge crowd with the accuracy and speed of their display."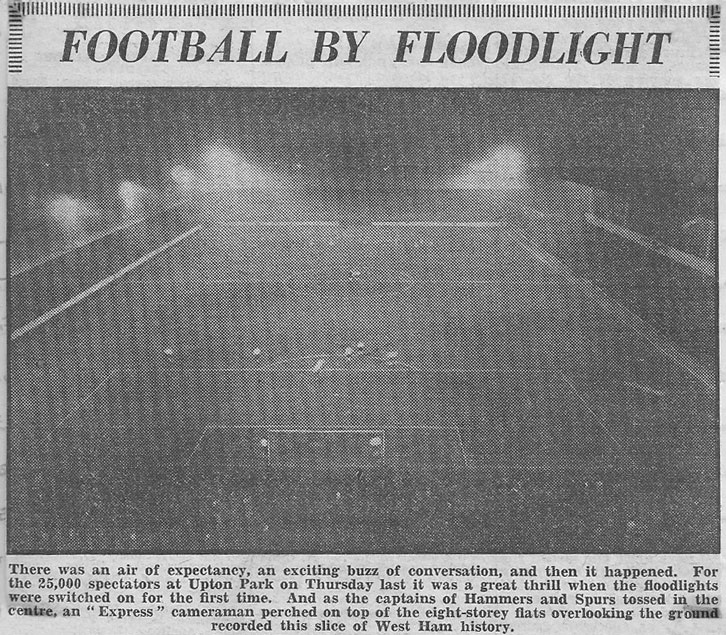 West Ham took the lead on nine minutes when Tommy Dixon collected a pass from Jimmy Andrews and smashed an unstoppable shot past Spurs' England international goalkeeper Ted Ditchburn.
Winger Sonny Walters headed the visitors level a short time later, but Ted Fenton's side would not be denied victory as Dixon and Tommy Southren combined to set up Jim Barrett Jr, who slid home from close range.
For the record, the West Ham team on that historic night comprised Ernie Gregory, George Wright, Harry Kinsell, Derek Parker, Malcolm Allison, Doug Bing, Southren, Barrett, Dixon, Andrews and Harry Hooper.
Having made a successful start to life under the lights, the Hammers quickly held their second friendly four nights later, when they drew 3-3 with Scottish club St Mirren.
Of course, the Boleyn Ground lights were extinguished for the final time on 10 May 2016, following West Ham's unforgettable 3-2 Premier League win over Manchester United.