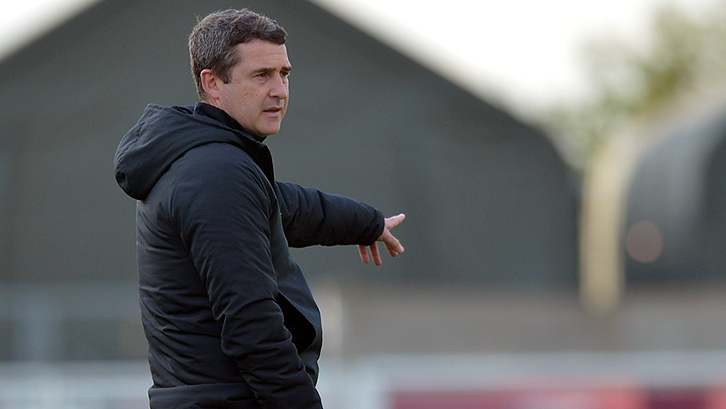 An equaliser in the second minute of injury time saw West Ham United U23s denied confirmation of Premier League 2 Division 1 status in a 2-2 draw with Arsenal on Friday evening.
The young Hammers went into the game knowing that a win would secure their place in development football's top-flight for next season.
As a result, they dominated the offensive statistics on the night, but saw a number of chances go begging in both halves.
The two London teams traded goals in the second half – Ademipo Odubeko heading in from Conor Coventry's corner shortly after the break, before Nikolaj Moller scored from the penalty spot after Folarin Balogun was felled with 15 minutes remaining.
The game's final result looked set to reflect its course when a West Ham Trialist slammed home what looked like the winner in the 87th minute – only for Kido Taylor-Hart to flick home from an Arsenal set-piece in the second minute of injury time.
West Ham's U23s now await the outcome of Monday afternoon's game between Leicester City and Liverpool's U23s; should the junior Foxes win that home game, West Ham would slip beneath them into the finalised relegation zone.
Having done so much so well throughout the game, lead coach Dmitri Halajko was understandably disappointed in its final result.
"It was a game we absolutely dominated," he told whufc.com. "We passed the ball really well and had so many openings and were the better team by far. 
"You really have to come away with three points from a game like that. Arsenal are a good team and we've played them twice and got four points, which is an achievement, but really that should have been six. I thought over both games we were the better team. 
"We're happy with our build-up play but we've got to make those chances count. With the amount of final third entries and penalty box entries we had, to then not get a goal in open play is the part of our performance that's let us down.
"There have been too many games this season where we've dominated and not come away with all three points. That's probably been our biggest weakness all season. When dominating games, being on top, we've got to be more ruthless. 
"There have also been so many positives. That can sometimes make it even more frustrating – it's easier to take if you've been outplayed or outworked, but when you outplay and outwork a team like Arsenal, and you just haven't finished off the last bit, it can be frustrating."
Whatever the final outcome of the league season, West Ham's U23s can draw particular encouragement from the final third of their 2020/21 campaign.
 
We've had lots and lots of youth team players gain minutes at this level, which is great development for them, and hopefully that will stand us in good stead for next season

Dmitri Halajko

Bottom of the standings as recently as mid-March, Halajko's side have impressed with a run which has encompassed four wins and three draws from their last eight games, giving themselves a fighting chance of escaping relegation.
"It's been a good end to the season," the lead coach confirmed. 
"Our form over our last eight games has been close to two points per game – we're in the top three or four in the league in that regard – so we've had some positive momentum and played some good football. 
"The first half of the season was when we were dominating games but not finishing teams off, but it's been a good second half to the season – we built on our first half and improved – and hopefully we've done enough to push ourselves on.
"The players will have had lots of lessons from tonight, and over the whole season. One of the main things about this level is learning those lessons. 
"We've had lots and lots of youth team players gain minutes at this level, which is great development for them, and hopefully that will stand us in good stead for next season. 
"For some of our more experienced players, hopefully we've given them a nice platform to go and break into a senior team next season – either for our first team or, if not, maybe one out on loan."
As for the young Hammers' Division 1 status in Premier League 2, Halajko feels his team have demonstrated that they can certainly compete at that level, regardless of whether Monday's result falls for his side.
He concluded: "It's still undecided, and we'll wait and see how Liverpool and Leicester get on, or whether the Premier League decide to restructure the leagues for next season as they did last year. 
"Then, we'll know the outcome of where we stand, but without a shadow of a doubt we've got good enough players to be playing in this division, and I think we've shown that.
"We've given every team a real game this season and should probably have finished higher than we have. It's been not taking our chances that has maybe cost us."