Michail Antonio's frustration during Sunday's 1-0 Premier League defeat at Manchester United was clear to anyone who was at Old Trafford.
The West Ham United forward gave absolutely everything for the Claret and Blue cause, but was left with nothing due to a combination of determined and physical defending from Harry Maguire and sheer bad luck as the ball would simply not drop the way of Antonio and his teammates.
Despite his best efforts, Antonio had just one shot on goal, which was blocked, while his match-long battle with England centre-back Maguire was ultimately edged by the Manchester United captain, who used all is experience to slow the Irons' No30.
Speaking to West Ham TV, the striker felt the Hammers were a little hard done by, but he is confident the team will bounce back when they host Arsenal at London Stadium next Sunday afternoon…
Michail, you could hear your frustration from the stands during that game…
"It was definitely a frustrating evening for us. I don't know what to say, really. It was one of those games where Manchester United turned up and they played well and had a couple of opportunities but to lose to a corner when we're so good at our set plays is disappointing.
"We keep going and keep pushing on and results have kind of gone our way, so all we can do is move onto the next game and make it right then."
Your battle with Harry Maguire was a really physical one and it looked like he used all the tricks in the book to stop you?
"Harry Maguire is a big guy and I feel like things just didn't go our way tonight and that's why it's so frustrating because ricochets were falling for them and everything was kind of going their way, but we'll keep pushing on and on another day we could have got a result."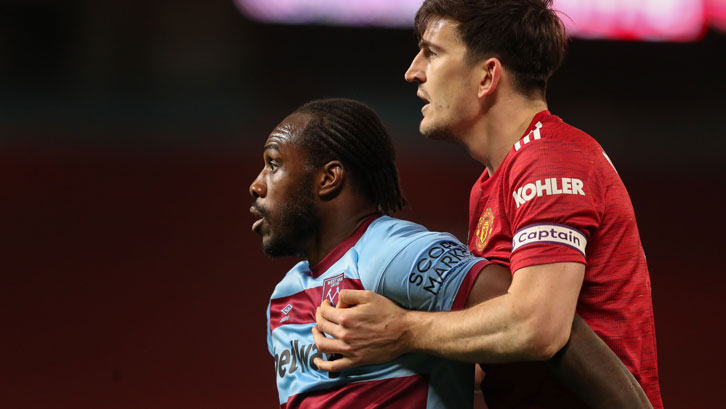 There was some suggestion that we did not open up our attacking play until after we had fallen behind, but you have to keep yourselves in the game, don't you?
"People might say we gave them too much respect in the first half and once we opened up people will say we should have done it earlier, but it's one of those things that if we did open up, they still had a couple of opportunities and hit the post and we could have been 2-0 down and it would have been an uphill battle.
"So, it's a difficult one because on the one hand you could say we showed them too much respect but on the other they could have taken the opportunities that they had.
"What we need to do is keep our concentration and keep pushing ourselves, keep working hard to get the wins and the three points and see where we finish and where we go."
We have not lost back-to-back Premier League games since September, so are you confident we can bounce back against Arsenal next weekend?
"It shows the resilience that we have an in every game we're going to keep doing that and keep pushing forward. Every game we come to, we believe that we can get something from it. We didn't get something today, so hopefully on Sunday we can."
And, as a Londoner, you'll be eager to win a derby?
"I think we owe them something. Over the last couple of games that we've played them, we've played well and they've managed to nick it at the end, so hopefully this time we'll manage to get the three points."