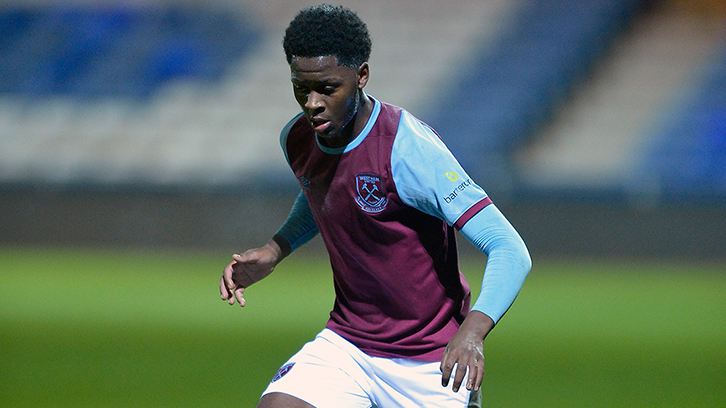 Southampton U18s 1-1 West Ham United U18s
U18 Premier League South
Snows Stadium
Saturday 6 March 2021
West Ham United U18s came within minutes of securing their first league win of the calendar year on Saturday morning, only to be denied by a fortuitous late goal from Southampton at Snows Stadium.
The Irons were seemingly on course to claim a valuable three points on the south coast following Divin Mubama's seventh-minute penalty, but – despite goalkeeper Krisztian Hegyi's spot-kick save later in the half – were denied by an injury-time deflected clearance off Lewis Payne.
With both sides struggling to pick up momentum in recent weeks, it was perhaps unsurprising that the contest proved a tight one.
Yet when West Ham striker Mubama was felled inside the area in the opening stages of the game, the England youth international certainly took his, rolling the keeper the wrong way from the spot to open the scoring.
Shortly after, Southampton had a penalty of their own. Following an impressive double save from Hegyi, the ball was judged to have struck a hand in the resulting scramble. Up stepped Payne with the chance to equalise – but Hegyi yet again produced the save when it mattered.
Sonny Perkins then came close to doubling West Ham's lead inside the first half, seeing a free-kick tipped over the bar by Southampton keeper Oliver Wright, before striking the post with a snap-shot from the subsequent corner.
The Hammers continued to make inroads in the second half without being able to convert from some promising positions, Mubama in particular providing plenty of threat up front.
But as the game ticked beyond the 90-minute mark, Southampton claimed an equaliser when Hegyi – racing off his line to meet a long ball – produced a clearance which cannoned off Payne and hit the back of the net.
 
Obviously we were winning the game 1-0 for a very long time, and I think we looked comfortable

Kevin Keen

"I'm a little bit disappointed with result," U18s lead coach Kevin Keen admitted. "We had two or three good opportunities. It was quite a scrappy game with misplaced passes from both teams and lots of tackles. 
"Obviously we were winning the game 1-0 for a very long time, and I think we looked comfortable. It wasn't as if Hegyi – apart from the penalty in the first half – was having to make that many saves, so the result, overall, was disappointing. 
"We had some good performances out there, though. I thought Levi Laing was fantastic. George Earthy and Divin Mubama – two U16s – were very, very good. Divin obviously scored – and it's fantastic when you've got U16s scoring for the U18s."
With his side conceding such a late blow so soon after an injury-time loss at Arsenal, Keen admitted he hopes his young side can grow from such experiences.
He explained: "There are lessons to be learned in that 1-0 is a very precarious scoreline. 
"If you don't take your chances, or make the most of your possession, it's always going to be difficult and you're always going to leave yourselves open to that happening in the last minute.
"There are definitely lessons to be learned and I hope we learn them very quickly, because it was a game we should have won and, unfortunately, we haven't.
"I think apart from against Arsenal away, the performances recently have been really good. We'll have another tough game next weekend against Aston Villa, because they're a very good team, so we'll need to perform again. 
"The FA Youth Cup's on the horizon but I think it's really important that we get some results in the league, because I feel like in terms of our position, with our squad, we should be better than that. Everyone needs to up their game at the moment."
West Ham United: Hegyi; Robinson, Laing, Baptiste, Forbes (Clayton 58), Potts (Kileba 63), Perkins, Corbett (Earthy 21), Swyer, Trialist, Mubama
Sub: Knightbridge
Goal: Mubama 7 (pen)