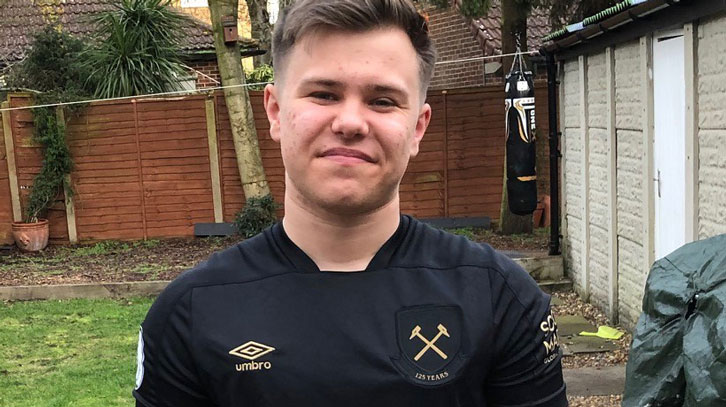 After securing his place on Olly Murs' team, West Ham United supporter Nathan Smoker is preparing for his first one-on-one Battle on 'The Voice' this Saturday night.
The Hammer, who turned 21 on Thursday, wowed Murs and fellow coaches Sir Tom Jones and Anne-Marie with his sensational performance of Tom O'Dell's 'Can't Pretend' in his blind audition.
With the choice of three judges, and with his parents Rob and Rachel watching on from backstage, Smoker opted to join Manchester United supporter Murs' team, citing their similar backgrounds and musical styles, rather than the one-time X Factor star's taste in football team!
For Nathan, appearing live on ITV was the end – and the beginning – of a journey that began when he was a boy.
I would have sung 'Bubbles' at my audition, but it doesn't quite show off my range!

Nathan Smoker
"I have always wanted to be a performer," he told whufc.com. "I started singing when I was small, I went to drama school, then I was lucky enough to get a place in the chorus in 'Oliver' in the West End when I was seven and I absolutely loved it!
"I didn't know exactly what I wanted to do but it came naturally to me and I knew I wanted to be on stage. After doing my A-Levels I went to Birmingham University to study music. I graduated last summer and had planned to do gigs and start teaching, but obviously with the pandemic, the situation put a stop to that. 'The Voice' came along at the perfect time and means I can look towards doing this as a full-time job.
"The auditions first started in March last year and I did four Zoom auditions, then one in-person audition in London. There are about 90 people who get to audition in front of the judges, but I reckon about 10,000 hopefuls start out at the beginning.
"I would have sung 'Bubbles' at my audition, but it doesn't quite show off my range!"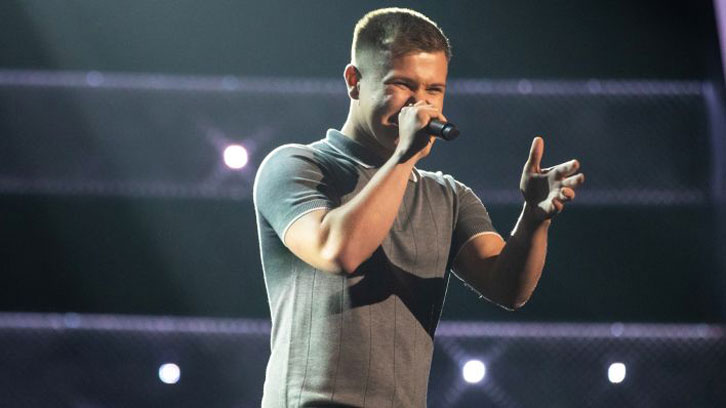 Smoker's memorable rendition of 'Can't Pretend' most certainly did show off his vocal range, leading to three of the four judges – Murs, Jones, Anne-Marie and will.i.am. – to turn around, and Murs to get to his feet during the performance.
Just the third singer to be selected on the first episode of the series, broadcast by ITV on 2 January, Maverick Sabre fan Smoker has had a nervous wait for his first battle. Should he progress, the young Hammer will go through to the Live Shows, where he will vow for the title of 'The Voice 2021'.
As his team continue to excel on the pitch, the former Eltham College student is hoping to give his fellow Hammers more to celebrate ahead of Sunday's Premier League derby with Tottenham Hotspur at London Stadium.
A repeat of his Blind Audition performance, albeit with a different song, will surely give him a great chance of progressing to the next round.
"All you can do is go out there and concentrate on your performance because you can't control if anyone is going to turn, so the face Olly and Anne-Marie turned so early was brilliant because it took a big weight of my shoulders," explained Smoker, who has received a video message of support from his favourite player Jarrod Bowen. "I started smiling and my voice went off a little bit, but I regained it and the big power bit in the chorus was a lot easier because I knew I was going through at that point!
"I would say I had Olly in my mind beforehand and people have compared us – even Olly himself said it! I like the fact he has made his fame by being on a talent show, so in terms of having someone talk me through the process, he's perfect."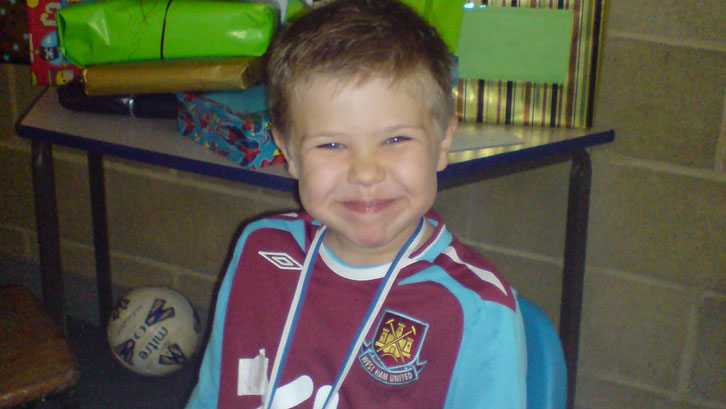 Whatever happens on 'The Voice', Smoker will continue going to watch West Ham as often as possible once the COVID-19 pandemic is over and supporters can safely return to matches.
In the meantime, he is hoping his fellow fans will get behind him, should he get through his Battle to the Live Shows, where public votes could help him progress.
For father Rob, seeing Nathan excel doing what he has loved doing since he was a boy in front of a nationwide audience has been a source of huge pride and, at times, very emotional.
It was 2007 when I first took Nathan to Upton Park. We played Watford and lost 1-0 and he fell asleep at half-time!

Rob Smoker
"As a family, we were originally from Strood in Kent, where my Dad had a pub, and friends in the pub would take me to matches because he couldn't as he was working, so that started my love for the West Ham," he explained.
"In 2000, when Nathan came along, I had to quickly snatch him away from his mother as she is a Chelsea supporter and he's been a West Ham fan ever since!
"It was 2007 when I first took Nathan to Upton Park. We played Watford and lost 1-0 and he fell asleep at half-time! He's never fallen asleep since, though!
"We had Season Tickets for the final season at Upton Park and now we've now got Season Tickets at London Stadium, just opposite the tunnel entrance in the Billy Bonds Stand. We got to every home game, but Nathan tries to go to as many away games as he can, too.
"I wish the musical influence came from his parents, but it doesn't! A lot of the family like singing karaoke and I suppose it started from there for Nathan. He started performing as a boy and got a part in Oliver in the West End when he was seven and he's just kept performing and working on his music.
"We are so proud of him. You can tell from the tears I shed when Nathan was doing his blind audition and the state I was in how proud both I and Rachel are of him. Emma Willis had to give me a box of tissues!"
Rob will hope to shed a few more tears when Nathan takes to the stage for his Battle on 'The Voice' this Saturday evening on ITV 1 at 8.35pm.
You can follow Nathan Smoker on Instagram here.