David Moyes believes the Premier League's two most-improved teams will go head-to-head on Wednesday evening.
West Ham United and Aston Villa both flirted with relegation last season, with the Hammers ending 2019/20 in 16th and Villa only avoiding the drop by drawing at London Stadium on the final day.
Fast forward six months and both teams are in the top half of the table more than halfway through the 2020/21 campaign, with the Irons in fifth and Villa ninth ahead of their midweek clash at Villa Park.
Speaking in his pre-match press conference, Moyes said their improvements have been chiefly down to sensible recruitment, with West Ham adding Tomáš Souček, Vladimír Coufal, Jarrod Bowen, Saïd Benrahma and Craig Dawson and Aston Villa bringing in Ross Barkley, Matty Cash, Bertrand Traore, Emi Martinez and Ollie Watkins.
On the same topic, the manager also explained his decision not to sign a centre forward in the January transfer window, and looked ahead to the return of the Claret and Blue Army when it is safe for supporters to be back at stadiums…
We've had a brilliant January and went unbeaten January up until the last day of the month, so we had an incredible run there, which was great.
The players have started 2021 in brilliant fashion and they've played really well.
We've come up against the champions and a team that's running into form in Liverpool, so we found it tough, but I don't think we'll be judged by our games against Liverpool.
We'll be judged by many other games and the players have done really well, so we've done fine.
Our 2-1 win over Aston Villa at London Stadium in October won't play any part in this game, that's for sure.
We found that game really rough and we were probably very fortunate to win the game in the end at our place.
It was a tough game and Aston Villa have done incredibly well when you think the last game of last season we drew one-each and they stayed in the Premier League with that point.
They've made great strides in a year with very good signings and they've got an improving team.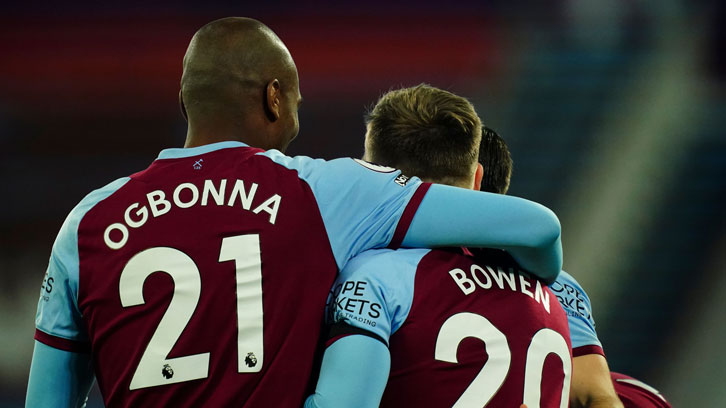 Reflecting on the transfer window and us potentially signing a centre forward, we didn't get one, as simple as that.
We were looking. We want to try to pick correctly. We had money to spend and the owners had money to spend after we sold Seb Haller earlier in the window, so we had that, but we're trying to do things differently here at West Ham and we're not going to follow the same paths that have been followed before.
So, I chose to keep my money and hopefully I'll be able to start another rebuild come the summertime.
I was interested looking at some of the bigger clubs as well, in the period we're in, and they've needed a centre-half or a centre forward but, partly due to the pandemic and the talk about the lower-league clubs needing money as well, as you have to be mindful of what you're spending.
I think it's really important to find out if there is a link between heading the ball and dementia. It's massively important. 
I really hope it's not, I really do, because we don't want to take heading out of the game.
When I was asked about it before, I said 'how often does a player head the ball in a game' and there will be some players who might head the ball ten times or some who head it two or three times a game. If you head it two or three times, is that giving you dementia? If you head it ten times, is it giving you dementia?
The training situation I have had my thoughts on for a while. I would hope the ball manufacturers could possibly come up with a training ball which is the same flight and weight which could be used for heading practices in training.
In the old days, the centre-halves and centre-forwards would do a lot of heading practice, but I'm not so sure we're doing quite so much of that at this present time.
I think Aston Villa's improvement all comes down to recruitment and improving the players they have got.
Dean Smith said last year they brought in one or two players who didn't quite work or took time to settle but, after scraping through last year, this year they have signed very good players and greatly improved players in their team like Jack Grealish, John McGinn, Tyrone Mings and Ezri Konsa.
Grealish is a really improved player. From my point of view, he's probably the bets player in Premier League at this momnt in time. He's shown what he can do and really done such a big job for Aston Villa so, for me, he's playing as well as any player in the Premier League.
Then they've added to it with people like Ollie Watkins and one or two others as well.
They've got a good side and recruited very well and that's the reason why they're in the position they're in.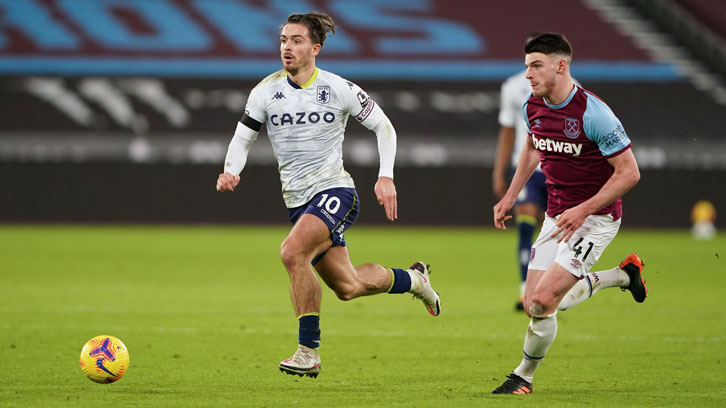 We're going to do the best we can, try and be as high in the table as we can and we're try and win every game if that's possible, but we're certainly not going to set ourselves unreachable targets.
We were sensible in the first half of the season and we will continue to be sensible in the second half of the season.
You'll remember the Club spent £200m and people were saying 'this is great, we're going places' and it's actually not worked that well.
When you talk about recruitment and who you bring in, you have to get it right.
We brought in Souček, Coufal, Bowen, Benrahma and I want to try to add to that and continue to make it better
What I'm not going to do is sign players who, if we're being honest, have just come in to appease people.
The owners have been great and the Seb Haller money is there if we chose to spend it. We tried it, but the type of players we wanted to bring in weren't available.
I'm told there have been more away wins than at this stage of any previous Premier League season.
After the first lockdown we were watching German football and there were lots of away wins and everyone was saying so, but when we came back from lockdown it actually didn't show up in the final nine games. It was pretty normal.
But we're seeing it more this season. I don't know if it's to do with the crowds not being present and it making away games easier to play in not having the supporters against you and getting less refereeing decisions going for you.
For different reasons, that could be it, but I don't have any one real solution for it.
I can't wait to get the West Ham United supporters back because they have a much improved, new, energetic team and when they come back they'll see that and have something to shout about.
For a club like Sheffield United who were newly-promoted last year, their supporters were a big help to them and drove them on. I do think your support can make a big difference and, for example, Sheffield United are missing their support.
We hope we get supporters back as quick as we can because I think they're coming back to see a much better team now.