A goal on his West Ham United debut was fitting reward for all the sacrifices and difficult decisions Oladapo Afolayan and his family have made to give him the best possible chance at forging a successful career.
At 14, Afolayan turned down a contract with Chelsea to concentrate on studying for his GCSEs. A year later, he then moved to Canada with his family and trained with Toronto FC, before returning to England to embark on civil engineering degree at Loughborough University.
His performances for the illustrious university's football team attracted interest from professional clubs, but he instead opted to join National League part-timers Solihull Moors to enable him to continue with his studies.
That was February 2017, and a year and 15 goals later he was signed by West Ham's world-famous Academy. Injuries have slowed Afolayan's progress over the last three years, but the striker has stuck at it, with the support of his family, and Saturday's strike to complete the Irons' 4-0 Emirates FA Cup fourth-round win over Doncaster Rovers was a moment neither the 23-year-old, nor those who have guided him, will ever forget.
It's a good moment and I can't wait to see my family and share it with them

Oladapo Afolayan
"It's been a long time coming," he told West Ham TV. "I've worked my socks off for the last three years, had a few serious injuries and just worked to get back to full fitness and full sharpness. I've been able to do that this season and I'm just happy it's paid off.
"One thing my family have always shown me is openness and that there are lots of different paths you can take to a place and after I left Chelsea as a schoolboy I wanted to do my GCSEs, so I went to Barnet as it was closer to me.
"We then moved abroad and I went to Toronto, then I came back home and went to university just trying to get a degree and play football at the same time. Solihull Moors came in for me and that was an opportunity to play at another level for me. I kept on playing and ended up getting the move here!
"I know my family would have been at home watching. When I told them I was involved they were very happy for me and when I left this morning my Dad was just sat in the front room with nothing on the TV – I think he was more nervous than me!
"It's a good moment and I can't wait to see my family and share it with them. I've got a lot of friends out there who have been there for me through my long journey so to get to this moment shows that hard work has paid off."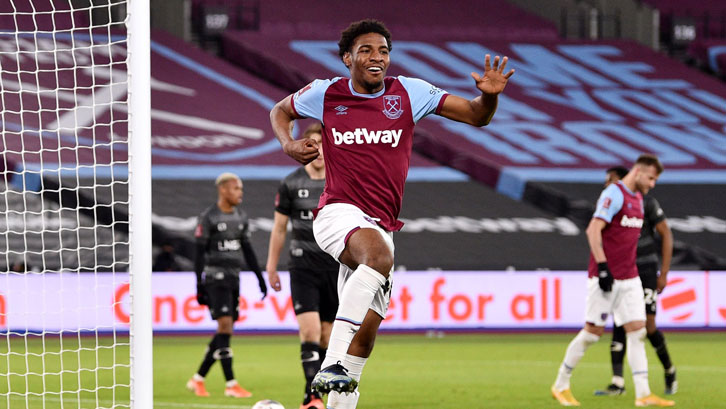 Afolayan's goal at London Stadium was the result of good forward play as the No40 followed up to score after Ryan Fredericks' powerful shot was parried by Doncaster goalkeeper Ellery Balcombe into his path.
"The gaffer said to me to get forward and get in the box and when Ryan had the ball I knew he was either going to shoot or cross it, so I just wanted to get in the box and I'm just happy I was in the right place!" he smiled.
What made the young striker's debut even more impressive was that it came less than 24 hours after he had completed an hour for the Hammers' U23s in a Premier League 2 fixture with Tottenham Hotspur at Rush Green!
"With the 23s we've had a few games cancelled and some time off because of COVID things, so I was just preparing for that game as normal, but I was obviously aware the game today was on," he explained.
"I went into the game on Friday night hoping to help win the game for the team, but after 60 minutes I came off and Dmitri told me I was on the bench today, so I was a bit: 'OK cool!'. So I came here today and tried to be ready, really."
With his life story, it was no surprise that when his big moment arrived, Afolayan was ready, and he'll be ready again when further big moments arrive in the future.