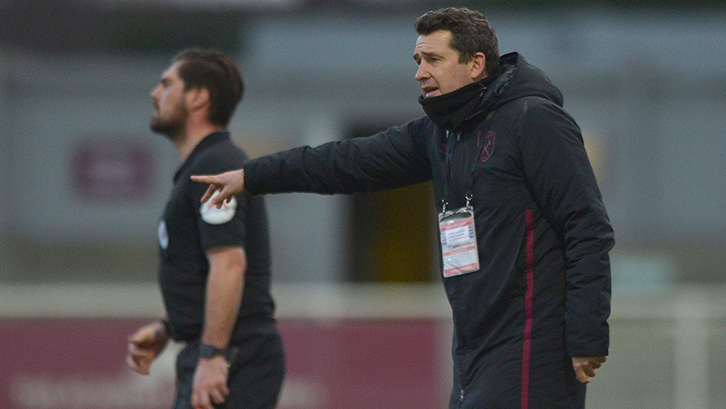 West Ham United U23s lead coach Dmitri Halajko was pleased to see his players return to competitive match action during Friday evening's defeat to Tottenham Hotspur U23s.
Following precautionary measures taken by the Academy of Football, the Premier League 2 match arrived over a month after the young Hammers' previous fixture – the 2-1 defeat away at Everton on Monday 14 December 2020 – with training only resumed earlier this month.
As a result, the U23s had enjoyed less time to get back up-to-speed than Friday's visitors, but went toe-to-toe with Spurs in a first half which was keenly contested, if light on chances.
Midway through the second period, however, Tottenham struck twice in quick succession, with substitute J'Neil Bennett sliding in a cross with his first touch of the ball before netting a deflected shot just three minutes later.
West Ham rallied and pulled one back through Jayden Fevrier with seven minutes to go – the winger collecting a pass from Sam Caiger before cutting inside and crashing a shot in off the woodwork – but it was not to be their day in the end.
"First of all, it was great to get back out there," Halako told whufc.com, "It's been a month since our last game and we've had to have a disjointed programme recently, so it was great to get ourselves back playing. 
"I think there were lots of other positives throughout the game: the work rate that the lads got through, and the effort, and the intent that they had were fantastic, you can't fault them for that.
"Probably the biggest disappointment was the two goals. We feel they're soft and we feel we could've, and should've, done better with those.
"But there were lots of positives in terms of what we tried to do – we just came up a little bit short against a good Tottenham team."
In a match of fine margins, those two crucial moments were what made the difference, according to Halajko.
The lead coach expanded: "It's the same in most football matches: it's that penalty box that makes the difference. We had some chances that we should've scored and we didn't, and then we gave away two goals where we felt, in the penalty box, we should've done better.
"With especially Spurs' second goal, in the build-up to be fair to them, they had some very, very good play, but then the way we defended it around the edge of the box is what we're not happy with.
"The same with the first goal – the delivery for it was good, but we feel the way we defended our box was not so good."
Given the circumstances, Halajko gave credit to the attitude displayed by his players, having seen them apply themselves rigorously to the challenge of the task in hand.
That half of West Ham U23s' side comprised of U18s players was further testament to the Academy of Football's commitment to progressing its young talent towards new, challenging opportunities in the game.
He said: "Physically, the lads haven't had as much time to prepare for this game as we would've liked in an ideal world, but at the moment nobody's living in an ideal world, so we have to get by and to the best that we can in this situation.
"I think the lads showed that, with everything you set them, they will put everything into it. 
"The other big positive about tonight was that we had five youth team players on the pitch. Of our outfield players, that's 50 per cent of our team playing at least an age group up. They only had maybe one in theirs, so we were a young team today. 
"That's a big positive – for five youth team players to play at that level, today there might've been bits they struggled with, but in the long term that will really hold them in good stead going forwards for their development, experiencing this standard of football so early in their careers."