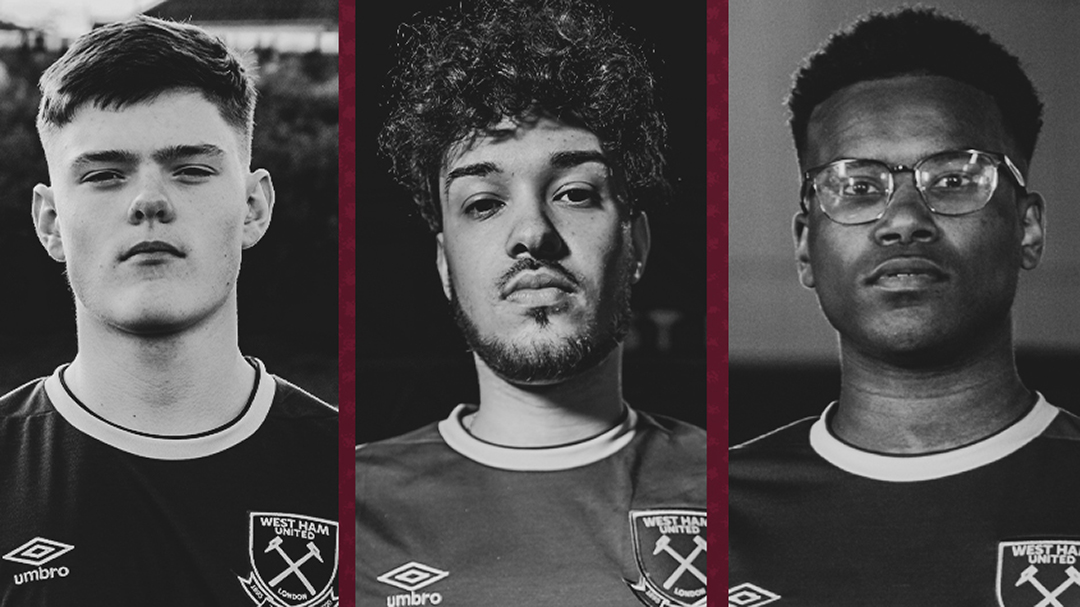 West Ham United's Esports stars return to individual competition over the weekend as they look to secure a berth at the second Global Series European Qualifier tournament this season.
With all FIFA and Esports tournaments residing online under the current circumstances, the Hammers are eligible for five FIFA 21 Qualifier competitions over the course of 2020/21, which are being held in lieu of the in-person Champions Cup events of years past.
These major competitions contribute a significant amount of 'Global Series Points' to players' overall global rankings for the game, with qualification a straight knockout – also highly competitive – affair over the course of Saturday and Sunday.
PlayStation4 player Curtis 'Paps' Poole and Xbox One players Jonas 'Jonna' Ghebrehiwot and Alfie 'AC RedLac' Calder are representing the Club on the global circuit this season, and thus are this weekend vying for a slot at their first major competitions of the campaign.
The former two Hammers head into the qualifying matches fresh off the back of their second-consecutive third-place finish in the latest round of Club World Cup matches – an excellent result which puts them in a promising position within their group.
All three will need to reenergise however for two long days' worth of individual match-ups over the course of this weekend's double-elimination tournament.
 
I'm feeling confident. I've been practising quite a lot, playing all week, and I've got into a good sleeping pattern, so hopefully I can win some games!

Alfie 'AC RedLac' Calder

For 18-year-old RedLac, in only his second year as a professional FIFA 21 player, the end result could be a first-ever major in the game.
"I'll be playing in the Champions Cup 2 qualifiers on Saturday and hopefully Sunday, which is obviously on the run to the Global Series Playoffs," he told whufc.com. 
"I'm feeling confident. I've been practising quite a lot, playing all week, and I've got into a good sleeping pattern, so hopefully I can wake up early, get some practice in and win some games! 
"It's the second set of qualifiers and the first experience of them, in November, was really good. I finished in the top 65-96, which was Losers' Round 8 – one match off reaching the next day of matches, which was unfortunate. 
"I've learnt to push through that one more game, have that last bit of energy to finish it, and come back the next day refreshed to go again. Obviously that would give me a few hours' break, some sleep, and the chance to come back reequipped for the next day.
"It would mean a lot to qualify as it would be the first bit of success for me on the FIFA scene as I'm only young. I've not had that much professional experience – only around a year – so if I made it through it'd be really big for my season and could put me into the Playoffs at the end of the year, which would hopefully be an in-person event. 
"Hopefully I can do well for West Ham and show my capabilities."
A full round-up of results and reaction will be available on whufc.com on Monday morning.
For more exciting FIFA 21 and gaming content, follow the official @WestHamEsports accounts on Twitter and Instagram.
Want to step up your game with West Ham's Esports players? Watch our pros in action every week - subscribe to Twitch to learn when they go live.