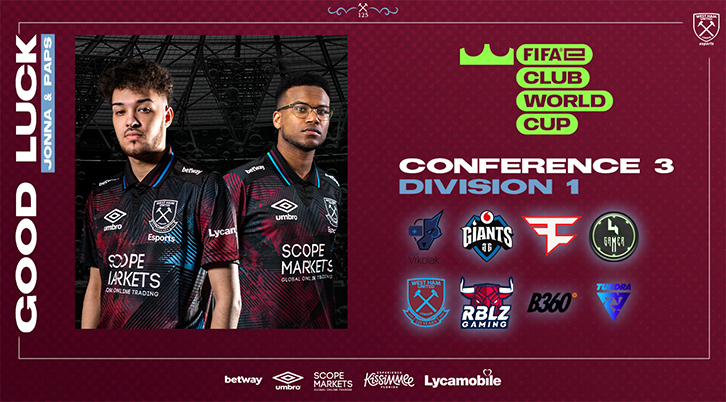 West Ham Esports made a strong start to their FIFAe Club World Cup 2021 qualifying campaign, attaining a third-place finish in Division 1 of Conference 3.
The first of four rounds of qualification fixtures – the next of which will take place on Thursday 7 and Friday 8 January – saw the Hammers get off to an excellent start to the highly competitive FIFA 21 competition.
Curtis 'Paps' Poole (on PlayStation4) and Jonas 'Jonna' Ghebrehiwot (on Xbox One) both enjoyed some standout results in the top tier of their Conference – which effectively serves as a qualification group.
With each conference structured as a double-elimination knockout tournament, the Hammers went into Round 1 of qualifiers seeded third, opening their campaign with a clash against Vodafone Giants, one of Spain's largest professional Esports organisations.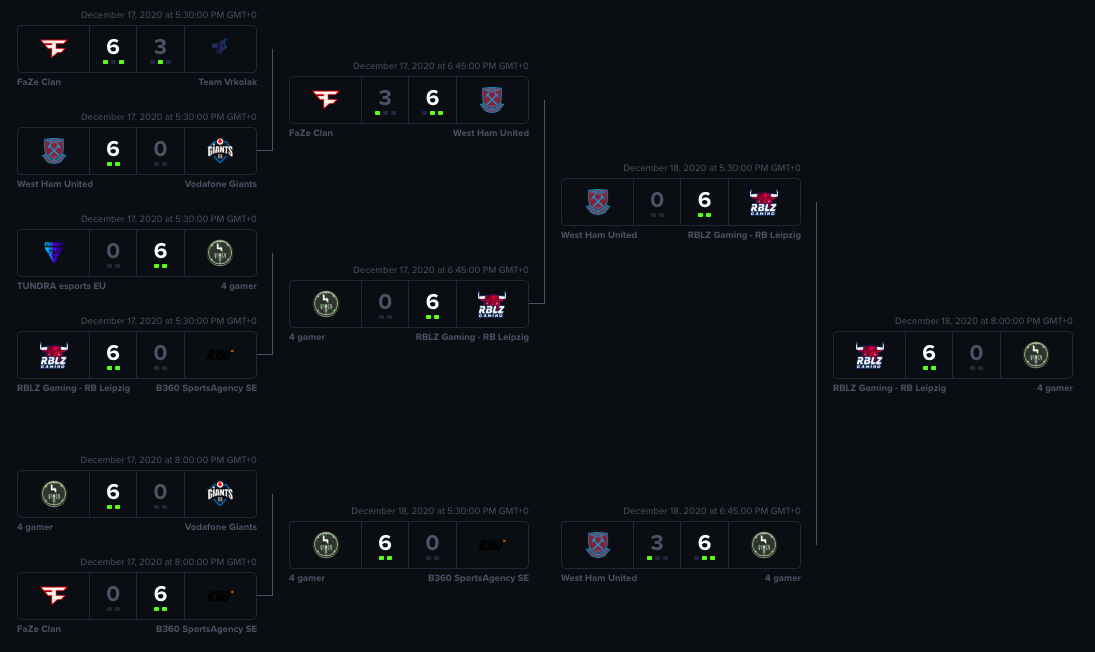 Paps and Jonna made light work of the prestigious opposition, however, seeing off Toni 'TojoR' Martin 5-0 and former world champion Alfonso Ramos 'herzex' Cuevas 1-0 respectively to take the best-of-three tie.
The Irons then came up against arguably the pre-Conference favourites, FaZe Clan, in the semi-finals, and three closely-fought legs of FIFA 21 ensued.
After Paps had initially gone down 2-1 to Tassall 'Tass' Rushan – a Club World Cup bronze medallist with FaZe in 2019, and last season's ePremier League finalist for Arsenal – Jonna kept the tie alive with a 4-2 win on penalties over former Hammer 'Jas' Singh following a 1-1 draw.
In the deciding leg – with the console determined by the toss of a coin – Paps took on Tass once more and played a superbly controlled game of FIFA to see off his oppositition 1-0.
The victory ensured West Ham would Day One of qualification with at least a third-place finish guaranteed – an excellent result, given the quality of team within the Conference.
Their opponents in the Winners' Bracket semi-finals were Red Bull Leipzig Gaming, dark horses for the tournament spearheaded by Richard 'Gaucho10' Hormes, a quarter-finalist at last year's competition with Borussia Monchengladbach.
The German team were in sensational form throughout the course of the Conference, and took both legs against West Ham Esports to advance to the final – which they would win by a healthy margin.
As a double-elimination tournament, West Ham could have joined them as they faced French team 4Gamer, but this time penalties did not go in their favour.
Jonna lost out to 'koalaboiteux' 5-2, Paps won his first leg against NKantee 3-1 – but then suffered an agonising loss on penalties to the same opponent following a 1-1 draw.
 
We finished Top 3 in the first week of eCWC. Disappointed but it's still a good start I guess. We'll be back in a few weeks after the Christmas break! ??

— Paps (@Papssity) December 18, 2020

The results mean that West Ham have guaranteed their place in Division 1 for the next round of games and pick up 200 Consistency Points – an excellent start to their qualification campaign, with three more mini-tournaments to go.
After four weeks of these qualifiers, the top two teams in Division 1, plus the top two teams in the Conference in terms of Consistency Points, will qualify for 2021's Club World Cup Playoffs – the last qualification stage before the main event next summer.
Relegated from the Hammers' Division are Team Vrkolak and Tundra Esports; they will be replaced by Division 2 finalists Serious Esports and Burnley FC Academy, who are both promoted.
West Ham Esports have never qualified for the FIFAe Club World Cup, with only Manchester City (twice) and Wolverhampton Wanderers representing the Premier League in the competition's three-year history.
American team Complexity are the defending 2020 champions.
West Ham Esports' progress can be chartered via the official Club World Cup website.
For more exciting FIFA 21 and gaming content, follow the official @WestHamEsports accounts on Twitter and Instagram.
Want to step up your game with West Ham's Esports players? Watch our pros in action every week - subscribe to Twitch to learn when they go live.