David Moyes said his West Ham United squad had done well to overcome a number of setbacks to secure a hard-fought 1-1 draw with Crystal Palace.
The Hammers lost Fabian Balbuena to injury in the build-up to Wednesday's derby at London Stadium, where the recent increase in COVID-19 restrictions meant the 2,000 supporters who had hoped to attend were unable to do so.
With Jarrod Bowen and Aaron Cresswell also carrying knocks against a Palace team who had thumped West Bromwich Albion and drawn with Tottenham Hotspur in their previous two matches, Moyes was pleased with the way his players stuck to their task, particularly after falling behind to Christian Benteke's first-half header.
With Manuel Lanzini adding purpose and composure following his introduction as a second-half substitute, and Vladimir Coufal holding Eberechi Eze and Wilfried Zaha at bay, West Ham improved, and were rewarded when Sebastien Haller equalised from Coufal's cross with an outstanding overhead kick.
Benteke was then sent-off, but the Hammers could not quite fashion a winner, leaving Moyes with a mixture of emotions when he talked to West Ham TV.
We didn't play well tonight.
We looked a bit flat all round, maybe because when we played Leeds, as people might know we didn't get the flight back. We had to drive back because of the fog and just maybe a lot of those things caught up with us. 
We've picked up two or three niggles in training - Jarrod Bowen twisted his ankle, Fabian had a little groin strain and Aaron Cresswell was nursing a hip injury so we've had two or three injuries behind the scenes.
It's no excuse for the performance, ma'm ybe it's a part of a reason for it.
It's not a bad result. I might be wrong but Crystal Palace are a wee bit of a bogey team for us here.
We've had struggles with them recently and games have been tough against them. We didn't play well in the first half but we improved a bit in the second half and scored a good goal.
Vladimir Coufal was exceptional tonight.
He's had a really difficult baptism really, because if you look at the players he's has to play against since he's turned up - really good wingers - but he's a dedicated boy, he loves his football and trains hard every day so I'm really pleased for him. He's started his West Ham career really well.
He put in a great ball for Seb and he actually delivered three of four very good crosses in the first half too, I have to say.
Good on him, we know he's capable of that and we know Seb's capable of it as well. I'm pleased he got it.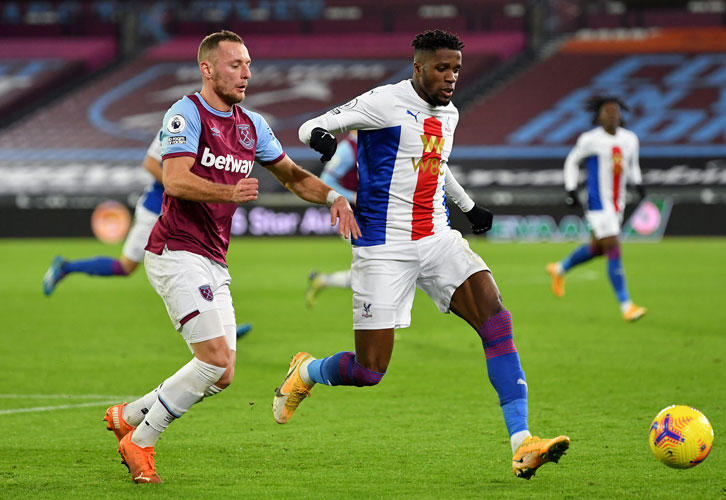 Seb has got that technique. He has the ability to get his legs up, he's athletic and I loved the goal.
I'd have liked him to get a tap in in the first half when the goalie parried one out, when nobody was on it to get the rebound!
We can't demand much more off the boys because they're playing great overall.
It's getting them back to playing well because we've played really well up to now. Manu got us on the ball and allowed us to manipulate the ball a bit better.
Merry Christmas to all the Hammers and a Happy New Year if we don't see you before then, but we missed you tonight.
Tonight was probably the night we could have done with a bit of support. We didn't play well and could have done with that.