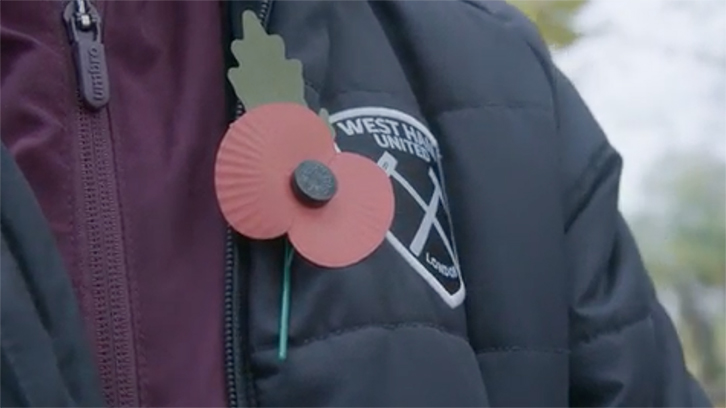 West Ham United's youngest footballers will pay their due respects in a number of ways this Remembrance Weekend, furthering the holistic development they receive through the Academy of Football's tutelage.
Traditionally, the Under-12s have participated in the Premier League's annual Christmas Truce Tournament, which sees young squads come together to participate in an education-led competition played in Ypres, Belgium each year.
While the Christmas Truce Tournament cannot go ahead this year, the Academy remains committed to educating its youngsters on the importance of Remembrance Weekend.
At professional development level, the Under-23s will pay tribute to the fallen prior to their Premier League 2 fixture at home to Liverpool on Friday afternoon.
Both sets of players will wear shirts adorned with poppy stickers, while a centre circle cover will be in place prior to kick-off, in commemoration of those who bravely laid down their lives for us.
The U14s will also attend a short Remembrance Service at Little Heath on Sunday morning, during which a wreath will be laid.
Taking place directly before their behind-closed-doors fixture, this private service has been arranged in partnership with Norwich City Academy and Reverend Philip Wright.
An Academy video is also being produced telling the story of the West Ham Pals – young men recruited at the start of World War I who hailed from east London, and thus became recognised for their Club affiliation.
More than 1,000 men signed up to the 13th Battalion of the Essex Regiment by February 1915, and they went on to fight bravely in France alongside the 17th Battalion of Middlesex Regiment, also known as the Footballers' Battalion.
Throughout the First World War, the West Ham Pals could be heard shouting "Up the Irons", a battle cry that became synonymous with the Battalion.
Their stories and sacrifices will be marked in the video, which will be circulated to Academy youngsters and published on whufc.com.
West Ham United's Head of Education, Oli Lethbridge, discussed the importance of providing a diverse programme to youngsters.
"A holistic education, as well as a footballing development programme, allows young players to undertake educational projects, where they can learn about something that is so important to this country's history," he explained.
"Then, within their roles as being young role models, they can use that voice to raise awareness in the local community."