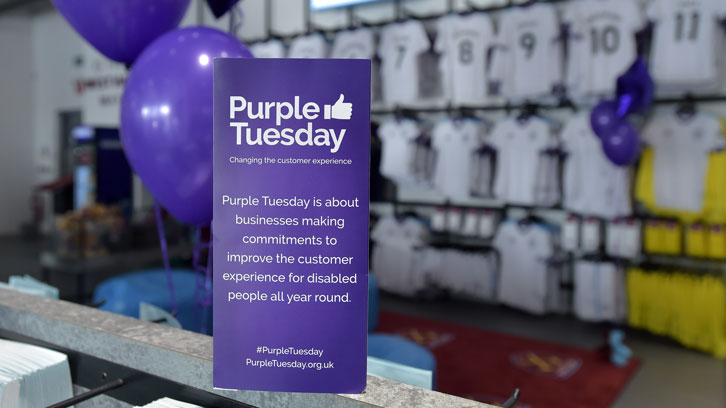 West Ham United has today, on Purple Tuesday, announced that it has committed to undertaking a new programme of upgrades to its online store, improving accessibility for all its users.
The Club is a proud and long-standing supporter of Purple Tuesday and is committed to changing the customer experience for disabled people. Purple Tuesday is an initiative which sees organisations around the UK come together to promote accessibility and support inclusivity. 
Last year, the Club promised to introduce a sensory hour in its stores, a relaxation area and induction loops. With these improvements delivered, the focus is now turning digital. With the impact of COVID-19 pushing more people to online shopping in 2020, the Club is now looking at ways in which it can make its online store even more accessible.
Previously the Club has worked with the Disabled Supporters' Board to carry out an audit, testing and development of the main whufc.com site, to improve accessibility on those pages. This resulted in changes to colour contrasting, keyboard accessibility, video and a range of other improvements. These improvements have been carried over to the Club's email communications to supporters, which include text which will be picked up by screenreader software and can be displayed in different sizes or translated, alongside noticeable, clickable links.
Purple Tuesday is a fantastic initiative and I'm proud that the Club is continuing to support it

Vice-Chairman Baroness Karren Brady
The Hammers will now go on to audit the online store, focusing on specific functions such as product pages, checkout pages and information pages. Following this, the Club will use the audit report to develop the site and deliver the accessibility upgrades. The final stage will be to work closely with supporters with accessibility needs and Skye Cloud as the Club's first Official Virtual Private Server Partner, to assess the improvements.
As well as being a Purple Tuesday supporter and its first official partner, Skye Cloud are certified as being Committed to Disability Confidence. As the Club's website host, they will be using their Disability Confidence and technology platform to ensure the availability and accessibility of the site going forward.
David Griffiths, a member of the Disabled Supporters' Board said: "As a child I watched Moore, Hurst and Peters. As a teenager I watched Brooking, Devonshire and Bonds. As a man I watched McAvennie, Cottee and Martin. Then my sight disappear forever. I thought my West Ham days were over - I heard about Di Canio, Noble and Ashton through my radio only.
"Then I learnt about the West Ham Accessibility Team. Now I attend games using accessibility buses, I receive an in-stadium commentary for Visually Impaired supporters and I have extra space not just for a carer but my Guide Dog. Now my Guide Dog joins me alongside everyone else, celebrating West Ham goals, wagging his tail and grabbing his blanket.
"Just as importantly, West Ham have reached out to me. Working hard to make sure that I and other Visually Impaired Supporters can access their website using our screenreaders. Now I am a Blind Hammer!"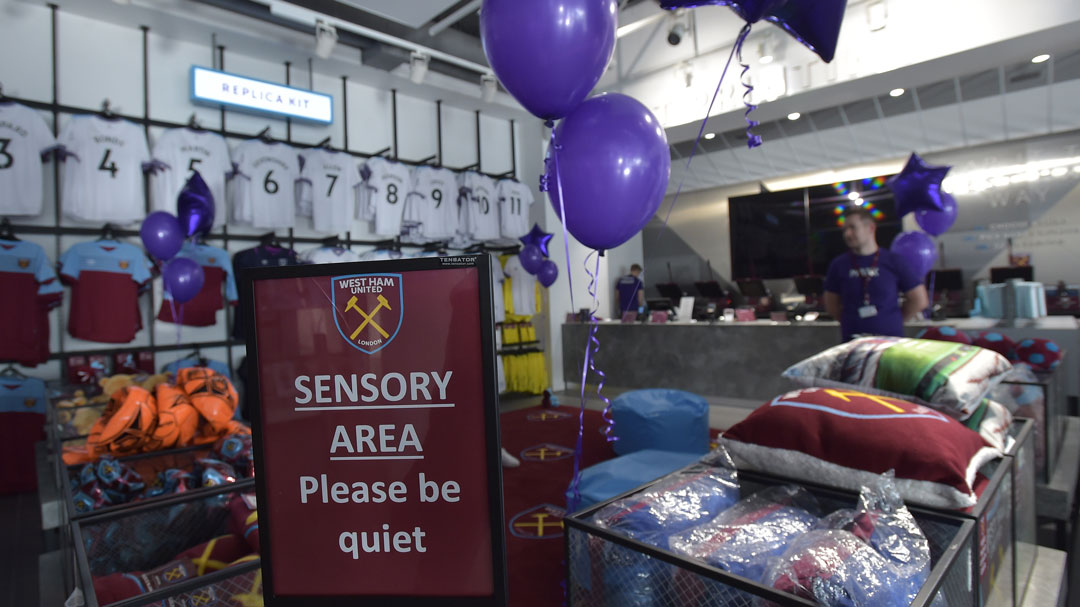 West Ham United Vice-Chairman Baroness Karren Brady added: "Equality is at the heart of everything we do at West Ham United and it is very important that, especially now during the COVID-19 pandemic, our Club is accessible to everyone, even from home.
"Purple Tuesday is a fantastic initiative and I'm proud that the Club is continuing to support it, by again making another commitment to constantly improve what we do. As ever, we'd like to thank our accessible supporters for their brilliant input and contribution, helping ensure that these upgrades make our websites as user friendly as possible for all our fans." 
Mike Adams OBE, CEO of Purple and the creator of Purple Tuesday said: "COVID-19 has shone a very bright light on the growing importance of technology in our everyday lives and an absolute need to be digitally accessible. West Ham United is showing real leadership with their Purple Tuesday commitments this year which will be applauded by all disabled people as an example for others to follow."