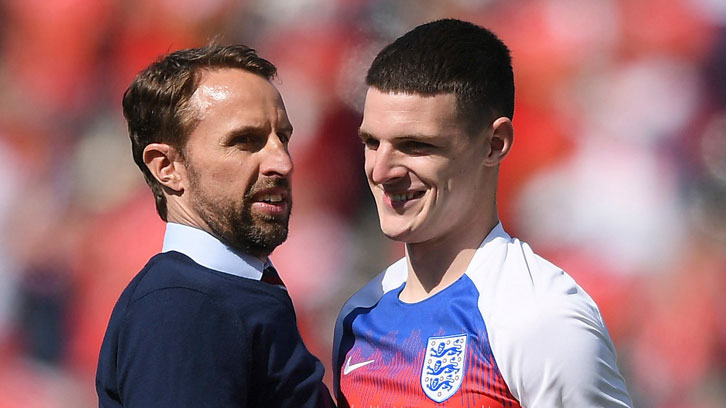 'Maturity' 'responsibility', 'professional', 'huge potential', 'great mentality', 'wants to learn' and 'has the respect of the group'.
Those were the glowing terms England manager Gareth Southgate used when asked to sum up the impact Declan Rice has made since breaking into the Three Lions squad in March 2019.
At 21, the West Ham United player has become a central, increasingly influential member of the national team, starting England's last five competitive internationals, and clearly impressing Southgate.
He has huge potential and the reason he has that potential is because he has a great mentality and desire to keep improving

Gareth Southgate
"With us (England) we are delighted, pleased with how he is developing," the England manager enthused. "We have leaders who are older players, but he is a younger one.
"He is a good professional, wants to learn, wants to work for the team, digs in for the team, is getting more vocal on the pitch. He has the respect of the rest of the group.
"When young players like him and [his England teammate and best friend Mason] Mount have the respect of the group because of the way they play, and for what they give the team it is a significant step forward for them.
"You can tell that in training with the way players are happy to give them the ball, and the respect they show.
"He has huge potential and the reason he has that potential is because he has a great mentality and desire to keep improving. He has other good examples among the senior players here. He knows the ones to follow and that is a good start."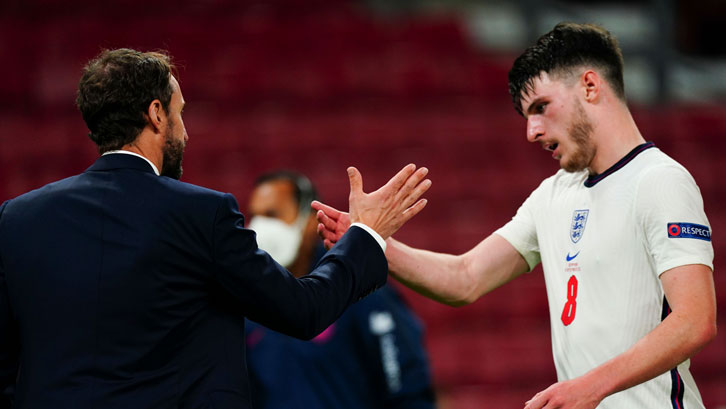 Southgate himself knows a lot about what Rice is experiencing, having gone through a similar career path himself, breaking into the Crystal Palace team as a teenaged defender, before switching to a deep-lying midfield role and being appointed captain and called-up by England.
The 50-year-old has respect for the way his young charge has risen to every challenge, while also having the maturity to take time out and replenish his mental and physical reserves during the enforced three-month COVID-19 break from competitive football earlier this year.
"He loves being at West Ham, proud to play for them and loves working with manager and coaching team," Southgate, who was capped 57 times and featured at two UEFA European Championship and one FIFA World Cup finals.
"To have additional responsibility of captaincy is brilliant and tells you also a bit about him as a person. For someone that young to be given the captaincy tells you the maturity he has, the responsibility he takes.
"I think there were times midway through last season when he was visibly taking everything on his shoulders. The break for lockdown came at a good time. He was able to think things through, recover physically and take a step back to realise not everything depends on him."