Geoff Pike, who celebrates his 64th birthday on 28 September, made 368 appearances in Claret and Blue and is one of only five heroic Hammers who helped West Ham United to both FA Cup glory in 1980 and a record-breaking third-place finish six years later...
Dear John

It is 1966 – aged nine, I was still a few months too young to be training with West Ham United but I'd somehow got caught up with the next year group and, although youth-team coach John Lyall realised that, he still let me join in with the older kids.
I thoroughly enjoyed that first session but when it ended, I feared the worst when he called me over. I shouldn't have worried because he just smiled and said: 'Make sure you come back here next Thursday, son!'.
John would have a massive influence on both my footballing career and my life from that moment onwards.
A decade later, coming on as a half-time substitute for the 'flu-hit first-team, I made my debut in a 1-2 home defeat against Birmingham City on 6 March 1976  – the first of 368 outings I would make for the Hammers over 12 seasons.
Later, when I'd retired from the game after short spells with Notts County and Leyton Orient plus a stint with the Professional Footballers' Association, I was visiting John at his farmhouse in Suffolk, when he said: 'You know what? Somebody like you should be working for the FA'.
I'd never thought about going down that avenue before but that was the driver and inspiration for me to get an interview at the Football Association, where I ended up as a Coach Developer for a dozen years or so.
I've got lots to thank John for – his man-management was second to none – and it's impossible not to recall my favourite moments at West Ham United without weaving him into most of my stories. 
Clever boy Pike!
On Monday 16 May 1977, we had to win our final match of the season to guarantee safety against a Manchester United team who were playing Liverpool in the FA Cup final that weekend.
Pauline – my wife-to-be – was sitting in the stand knowing that I was flying to the USA next morning for a second summer playing in the North American Soccer League for Connecticut Bicentennials, against the likes of Pele, Eusebio, Franz Beckenbauer and George Best.
Alongside the Hammers fans in the sell-out crowd of 29,904, she witnessed our terrible start, when Gordon Hill put United ahead inside 30 seconds.
Frank Lampard equalised and just before the interval Lou Macari conceded a penalty. We'd missed a few in the run-in and being young and naïve, I'd volunteered to take them, scoring twice from the spot and netting five times overall in our last ten games. But, disastrously, I blasted this golden opportunity over Paddy Roche's crossbar.
Unusually, there was no half-time team-talk but heading out for the restart, John called everyone together, pointed at me and announced: 'If you're going to do this for anyone, do it for him'. Great psychology! Within eight minutes, I'd put us ahead with a 20-yarder that made me feel I'd justified my starting place.
With Pop Robson then scoring twice, we went on to secure the 4-2 victory that meant we avoided relegation.
Pauline had never left England – yet alone flown – and afterwards I offered her the choice of coming to America or staying back in the UK, where I'd send money home to help pay for our wedding? We got married in 1978!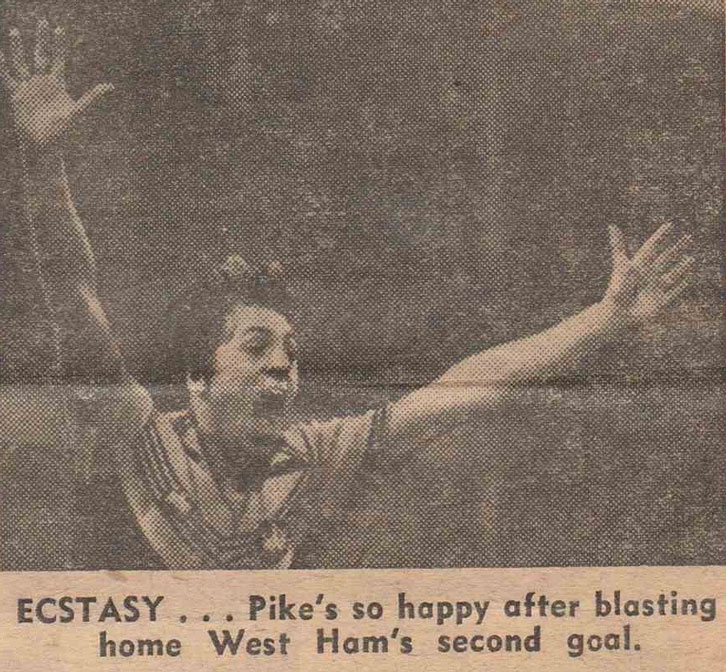 Great Expectations
When 10 May 1980 came around, Pauline was eight-and-a-half months pregnant as she sat at Wembley praying that she wasn't going to go into labour during the FA Cup final! Although I'd now played 113 first-team games, scored against West Bromwich Albion in third round and netted my seventh goal of the season against Charlton Athletic five days before the final, I didn't know whether I'd be playing against Arsenal until the day before, when John announced the team on the Friday lunchtime. I just didn't consider myself a first-team 'regular'.
It was an unbelievable feeling to win the FA Cup and I'm really proud to be associated with the last Hammers team to lift that famous old trophy.
In football terms, the win over top-flight Arsenal was the best day of my life and the springboard for our subsequent years of success, culminating with our record-breaking 1985/86 season.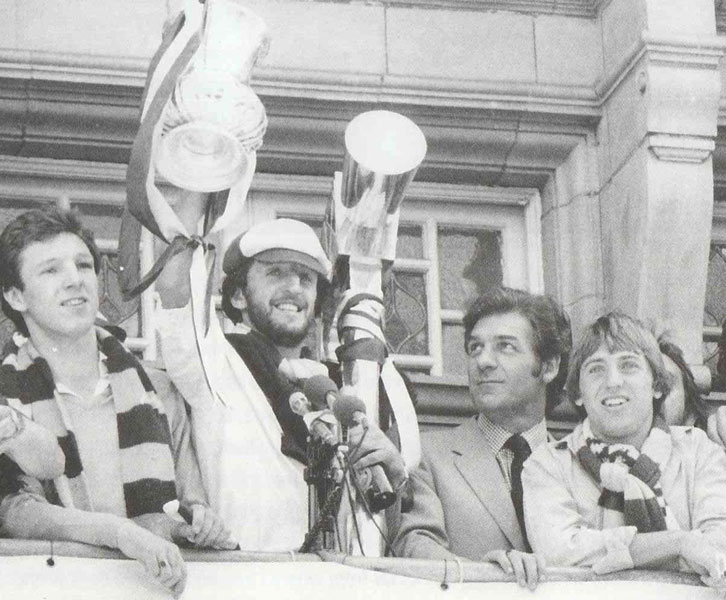 But the birth of our first son – Anthony – three weeks later, quickly put football into perspective.
He's about to celebrate his 40th birthday and, year-on-year, I realise how long it's been since that day out at Wembley.
A fortnight or so after the final, Ronnie Boyce asked: 'Have you put your name down to take the FA Cup home?' My entire family – including my nan, my late cousin Michael and my baby niece – came over to our house and I treasure the precious, priceless photographs of them holding or even sitting (!) in the trophy. It was simply surreal. If the kids in Gorseway, Rush Green had known what was going on that day, they'd have been queuing down the street!
Ever-present Pike
John Lyall rarely lost his temper but when referee Clive Thomas allowed Liverpool's 117th-minute opener to stand in the 1981 League Cup final, he want mad!
We'd already played the Reds at Wembley in early August in the FA Charity Shield and now we'd found ourselves back beneath the Twin Towers facing an extra-time defeat.
Alan Kennedy's long-ranger flew over a flattened, clearly offside, Sammy Lee, who was lying in the six-yard box in front of Phil Parkes. Thankfully, justice was done, when Ray Stewart – calm as ever – forced a replay from the penalty spot with the last kick of the final after Terry McDermott had handballed.
At the final whistle, David Cross had to hold John back – I'd never seen him so emotional and animated.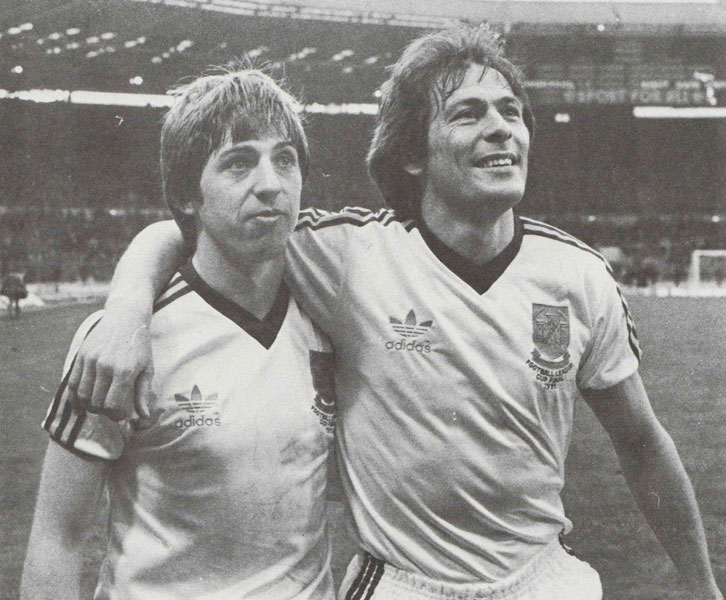 While I'd had my doubts about being selected for the FA Cup final against Arsenal ten months earlier, I'd been confident of starting against Liverpool. After all, I'd played in every one of our first 49 games of a 1980/81 campaign that would see us win the old Second Division with record points, while also making it to the European Cup Winners' Cup quarter-finals, too.
Previously, I'd been in and out of the team but now I was holding down a starting spot and felt I'd 'arrived'. I forged relationships within the team, going on to be ever-present in that season's 61 matches.
We were in the midst of a hugely successful era for the Club, while, three Sunday newspapers gave me top marks for my Wembley performance – it was good to know that press now recognised my contribution, too. 
The Office
Nestled between the 'Home' and 'Away' dressing rooms at the Boleyn Ground was a small room that doubled up as an office.
In February 1982, I knocked on the door to see John Lyall ahead of the weekend's game at Southampton. A massive Kevin Keegan fan, my Mum, Eileen, had really been looking forward to that match but now she was seriously ill.
'Mum's unconscious in Oldchurch Hospital with a brain haemorrhage and I'm not in the right frame of mind to play on Saturday,' I said. John, who knew Mum well, paused, looked me between the eyes and replied:
'What would Mum want, Geoff?' More great psychology! After talking to my Dad, I found myself at The Dell explaining the situation to Keegan during the pre-match warm-up.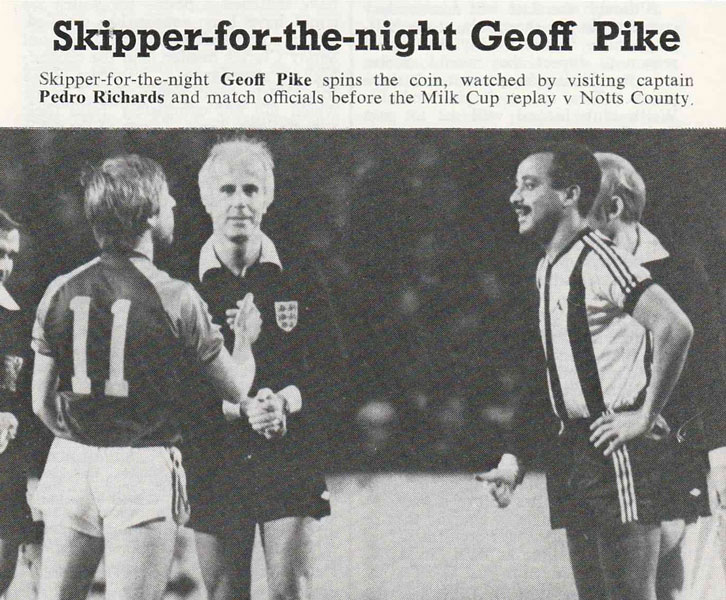 After league-leaders Southampton had won 2-1, there was a knock on our dressing room door. In walked Kevin with a signed programme, which proved a great tonic for Mum when she eventually came around. A fantastic gesture from a fantastic footballer.
Then, in December 1982, Ronnie Boyce called me into that Boot Room, where he told me that – in the absence of Billy Bonds and Frank Lampard – I was skippering the side that evening against Notts County in a Milk Cup fourth-round replay. We won 3-0 and I kept the job for victories over Swansea City and Tottenham Hotspur, when Tony Cottee made a scoring debut and I found the net, too.
Having been at the Club since I was just nine-years-old, it was a massive honour to captain West Ham United and a phenomenal opportunity, too.
Ghostly goals and Hammers headers
I scored 41 goals for the Club and a couple of curious ones stand out. I netted in the infamous 'ghost game' at the Boleyn Ground in October 1980, when only 262 spectators saw us beat Castilla CF 5-1 in the Cup Winners Cup first round, second leg tie behind closed doors. For once, players' voices could be clearly heard on the TV highlights and, when I opened the scoring against the Spaniards with a low 20-yarder, Billy Bonds chased me to the Chicken Run shouting: 'What a flippin' great goal that was.' Or words to that effect!
Then, in March 1986, we went to Manchester United for an FA Cup fifth-round replay having drawn 1-1 at Upton Park. United thought they'd already done the hard bit but we'd other ideas and, on 18 minutes, Mark Ward curled an out-swinging corner to the edge of the area, where I sent a looping 18-yard header over their five-feet, seven-inch 'keeper Chris Turner and four-feet, nine-inch left-back, Arthur Albiston, on the line!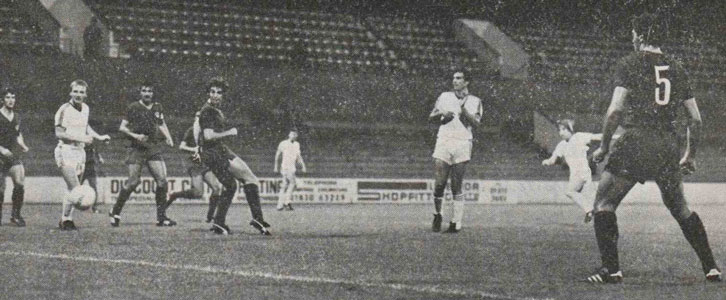 Following our 2-0 victory Mark Ward and myself concocted a story that we'd been practising that move in training all week. Fans still want to talk about that header, while I always love reminiscing about our playing days with former team-mates, too.
We enjoy each other's company and, whenever we meet as a group, it's like we've never left the dressing room. Alongside Phil Parkes, Alvin Martin, Ray Stewart and Alan Devonshire, I'm only one of five combined FA Cup winners and Boys of '86 and I'm so thankful that John gave me the opportunity to play for West Ham United.