Robert Snodgrass is determined to force his way back into David Moyes' Premier League line-up after making his first West Ham United appearance in six months.
The Scottish midfielder returned to action in Tuesday's 3-0 Carabao Cup second-round win over Charlton Athletic, having missed the Hammers' nine post-lockdown matches through injury and been forced to watch his teammates secure the Club's top-flight status.
With five goals and five assists in 24 Premier League appearances before the enforced break, Snodgrass was in fine form, and the 33-year-old believes he still has plenty to offer.
I've done a lot of conditioning work with the medical team and pushing myself to the max to try and get back and push the lads who are playing

Robert Snodgrass
"It's obviously been a hard few months and very disappointing," he told West Ham TV, referring to his absence. "Last season, I felt my goals and assists to games ratio was very good and I felt I could come back from the lockdown and be fitter, but I probably pushed myself too much and it's the price you pay sometimes when you push yourself.
"I got a slight back injury and a quad injury and it was something I'd never really experienced before in my career. I had never had anything like that, but I'd done a lot of road running and different things and tried to push myself and I took the gamble to try and come back stronger, so it was disappointing to miss the latter part of the season and watch the lads, who I thought were terrific.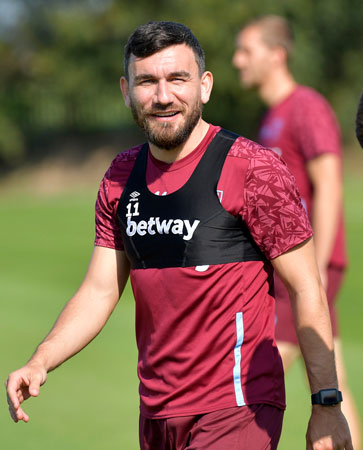 "I've just been trying to build myself back up and that was my first game in a while. I could have played 90, no problem, as I've done a lot of conditioning work with the medical team and pushing myself to the max to try and get back and push the lads who are playing, because I still feel I've got so much more to give.
"I've got that vast experience and I tried to come back, dust the cobwebs off and put in a good performance, so it was a great result and I felt we could have had six or seven against a good side with a good manager. I think the lads have got to take confidence from that because it was a good performance and one we needed after the Newcastle result."
West Ham return to Premier League action at Arsenal on Saturday evening – the start of a run of six matches against teams who finished in the top eight last season.
Snodgrass knows points will not come easy, but says manager and fellow countryman David Moyes is doing everything he can to instil confidence and a winning mentality into the squad he inherited in December last year.
"The manager has challenged the players because of how well we finished last season, and why not?" the No11 asked, rhetorically. "You need to demand high standards of yourself and your teammates.
"The manager has been here for probably eight or nine months and he is trying to get his ideas across and getting the lads thinking like a top-half-of-the-table team and we've definitely got the ability, but it's just about the belief.
"It's about starting the season well. We've got some tough games coming up, but the lads finished last season well and got some great results against some great sides, so why not?"