With the clock rapidly ticking down to Sunday's big Premier League kick-off against Manchester City, Pablo Zabaleta is relishing an enthralling opening weekend clash between his two former clubs.
"I'm really looking forward to the game," insists the 37-year-old defender, who made 80 appearances in Claret and Blue after joining the Hammers from City in summer 2017.
"I've been so proud to see West Ham United doing so well in the Premier League, while qualifying for Europe, too. From the first moment I arrived, it's been what everyone at the Football Club has wanted and I'm really pleased for the fans, the players, the manager, the owners…
"Last season, I watched the Hammers play Sevilla in the UEFA Europa League and saw just how hard it has become for opponents to play against this David Moyes team. The manager has done another brilliant job since he came back to London Stadium and West Ham certainly suits his style perfectly. David will know that he needs to continue maintaining the consistency and, as we're seeing, he's always looking to improve his squad, too.
"Believe me, everyone at West Ham United needs to really enjoy these good times."
I've been so proud to see West Ham United doing so well in the Premier League, while qualifying for Europe, too.
With the FIFA 2022 World Cup finals scheduled to kick-off in Qatar in mid-November, the 2014 runner-up also predicts yet more 'good times' ahead for newly-appointed Club captain, Declan Rice.
"As soon as I walked out for my first training session with West Ham, I could see that Declan was a different player to any other 18-year-old around," recalls the vastly-experienced 58-times capped former Argentina international. "He'd only just made his debut in the final match of the previous season [at Burnley in 2016/17] but already he had an incredible maturity, mentality and technical understanding of the game.
"And during these past two years since I've left the Club everything has changed for him – today, Declan's an established England international and captain of West Ham United. He's a great lad with a nice family supporting him and I truly hope that he continues to enjoy his football while keeping both feet firmly on the ground. Declan's got another 10/15 years at the top and it's so important that he keeps himself surrounded by those good people."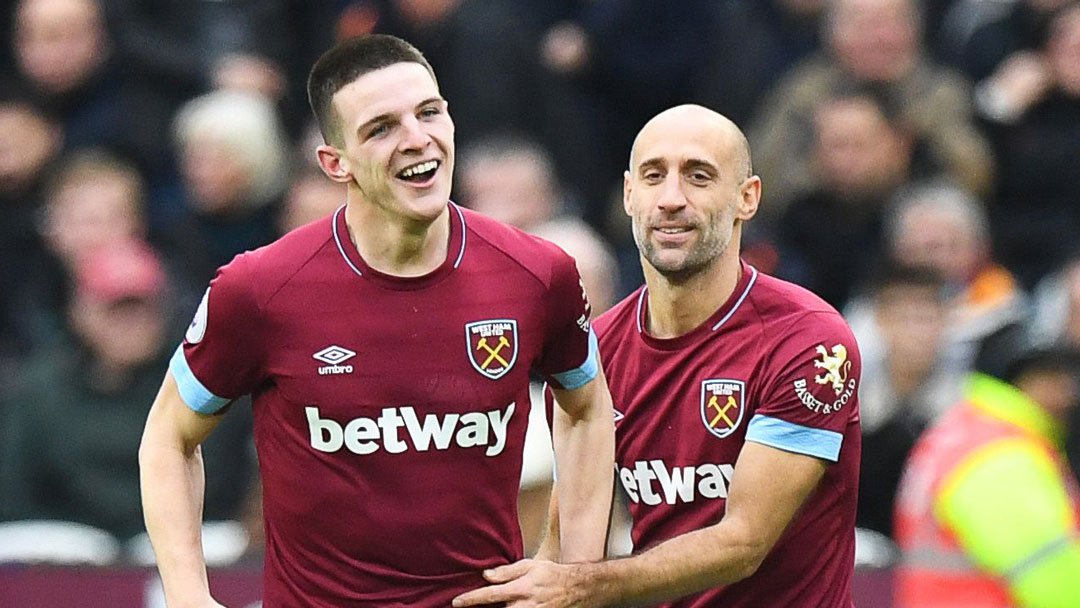 Having won every domestic trophy during his nine-season, 333-game stay at reigning champions City, ironically, it was on the Etihad Stadium stage, where the curtain unwittingly, and finally, fell on Zabaleta's distinguished career in February 2020.
"Retirement had been the last thing on my mind that night but, looking back, it was destiny that after 12 years in the Premier League, I ended up playing my last-ever game at Manchester City for my only other English team, West Ham United before then getting injured," contends Zabaleta, who now lives in Barcelona with wife, Christel, plus their two sons Asier (seven) and Julen (three).
"I tell people that I love Spain for the lifestyle and England for the football. I'm enjoying my American TV punditry work for ESPN, while studying for my coaching badges and acting as an ambassador for City, too.
"Thankfully, following the pandemic, the world's opening up once more, so I'd love to fly over to see my old teams in the Premier League and, who knows in this life, we may even end up living in England again, one day," concludes Zabaleta.
"Meanwhile, I wish everyone at both West Ham United and Manchester City all the very best for this coming season."
*Don't miss our full, exclusive interview with Pablo Zabaleta, who turns the pages on his West Ham United Scrapbook in Sunday's Official Programme, which is available to buy now here.