Alphonse Areola has been named Carabao Cup Player of the Round for his sensational performance in West Ham United's fourth-round penalty shootout win over Manchester City.
The France international was in unbeatable form on a famous night at London Stadium, pulling off superb agility to make saves from John Stones' close-range header and Raheem Sterling's deflected shot, and showing quick reflexes to kick clear just as Ilkay Gündoğan looked set to score as the Irons earned a hard-fought goalless draw in normal time.
Areola, who had also shut out Manchester United in a third-round win at Old Trafford, made seven saves in total, before then forcing Phil Foden to put City's first spot-kick wide of the target and paving the way for West Ham's 5-3 shootout success.
The 28-year-old has yet to finish on the losing side for the Hammers, winning both Carabao Cup ties he has started and helping David Moyes side take seven points from the three UEFA Europa League Group H matches he has featured in.
And the loan signing from Paris Saint-Germain was naturally delighted to have his performance against City recognised…
First of all, how does it feel to win the Carabao Cup Player of the Round award?
It's amazing for me. It's not just player of one match, it's all the matches in the round, which is fantastic. Lots of games, lots of big players, so I'm really happy to receive this award.
You were forced into making a number of saves. Which do you feel was the best of the lot?
"It is quite difficult to choose one in particular! Maybe the header from John Stones, but every save is important of course, and it was good to stop City scoring at crucial times in the game.
"My team-mates helped me a lot, we managed to keep that clean sheet, and it was an amazing feeling in the end to win the penalty shoot-out, the atmosphere in the stadium was unbelievable."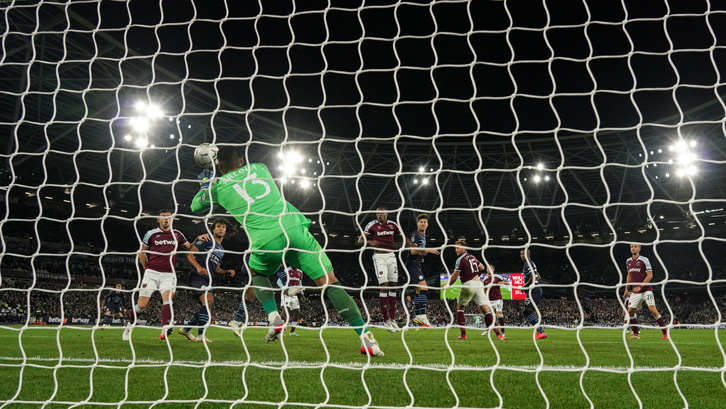 Manchester City had a lot of possession and created quite a few chances. How well did the back four handle that and how tough is it to maintain your focus against that sort of pressure for 90 minutes? 
"This is our job, you have to be focused for 90 minutes and more, especially as a goalkeeper. We are used to being under pressure in that way, and we work together as a team to try to stop the opposition from scoring. The guys in defence help me, I help them, and the end result for the team is really good.
"It is very nice for me to receive this trophy, but the award is for the whole team really."
How did it feel to play in front of a full stadium and hear the roar of the crowd at the end? Did the support of the fans help you during the match?
"We really felt that atmosphere, playing against Manchester City, one of the best teams in Europe, which we knew would be tough. The fans did a great job in helping us and we gave them the result that they wanted.
"We also had lots of our younger fans and children at the match, which was very special. For some, it might have been their first ever game, so it was good to be able to create that memory for them. They are the future of the Club's fans and it is so good to have them cheering for us."
City hadn't lost in the competition for five years. Being the team to end that run, does that make the victory even sweeter?
"Of course, we knew it was a big victory against a big team in this competition. We have a very good group, and I think if we keep pushing each other and working this way, at the training ground, and playing 100% in every game, then I think we can go far in all of the competitions we are in. Let's keep going like that."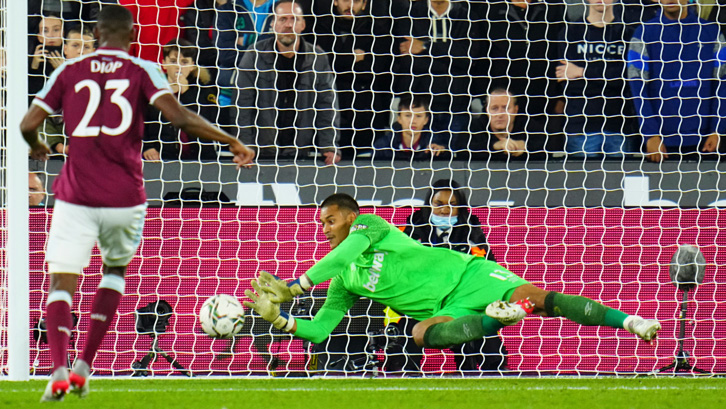 You've been drawn against Tottenham Hotspur away in the next round. What are you expecting from them and how confident are you of getting another positive result?
"Obviously we won in the last game we played against this team, but since then they have changed the manager, so now they will have a different philosophy.
"We will see. It will be tough but we are confident. We have lots of games before that one, so we have to focus on every game, and we will prepare for that game when the time comes."
Is winning the Carabao Cup a priority for the team? What would it mean to give the Club some silverware?
"It would mean everything. All the competitions we are in, we want to win. That's what we are here for and why we are playing football. We want to win titles, and to win the Carabao Cup would be great for me, the Club and our fans."
You seem to have settled in well at West Ham, with four clean sheets from five games. Are you hoping your cup form can lead to opportunities in the Premier League?
"Of course, that is the aim but for now I am very happy with how things are going. The manager brought me here to challenge with the other goalkeepers and he has given me opportunities to play in some big matches. #
"I am coming here every day with a smile, happy to work with Łukasz, Darren, David and Xavi – we call this the goalkeepers' union! We are all here to help the team in any way we can, every day we are pushing each other to be ready, and I am really happy with this.
"I have been welcomed very well, my team-mates and the staff were incredible when I arrived, and we have a French group who have really helped me to settle in. But I am also talking with Pablo and Manu in Spanish, and in English with the rest of the guys, so it helps being able to communicate with everyone.
"It's a fantastic group and a fantastic Club."