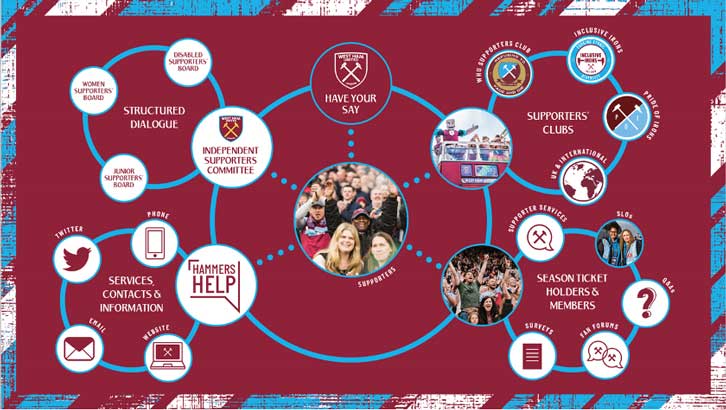 West Ham United is fully committed to the new Premier League Fan Engagement Standard (FES), a framework which is designed to build on existing work undertaken by the Hammers and all other Premier League clubs.
The development of the FES was initially endorsed at the Premier League AGM in June 2022, when all clubs unanimously agreed to follow the framework, which will help create consistency across the league for Clubs designing and implementing their own individual approaches to fan engagement. For full information on the FES, please click here.
West Ham United is proud to have millions of passionate supporters worldwide who engage with the Club in many different ways. In whatever way our fans choose to follow the Hammers, we are committed to providing the best supporter experience for all – whether that be on matchday, across our many digital platforms and online communities, assisting with day-to-day enquiries, feedback and surveys, through supporters' group meetings, or working together with you to support some amazing fan-led community causes, the relationship we have with you is so important to us.
Since 2011 the Club has been proactive in consulting with supporters, evolving our model to its current form. We are delighted to be among those clubs who have paved the way forward in this area, having worked together with several West Ham United supporters' groups and the Football Supporters' Association in 2020 to create the Independent Supporters' Committee (ISC), undertaking a detailed consultation process, with regular dialogue and meetings between all parties.
Supporter consultation is led at the highest level of the Club by Vice-Chair Baroness Brady and all of our supporter consultation forums will meet with representation from the Club's Board of Directors, with responsibility for engagement led by our Nominated Board Level Official and Executive Director, Tara Warren, supported by our Head of Supporter Services, Jake Heath. The Nominated Board Level Official and Head of Supporter Services regularly attend meetings, with Supporter Services being the key point of contact for fan engagement, supporter liaison, general service enquiries, and support for our fanbase.
West Ham United Vice-Chair Baroness Brady said: ''It is crucially important for us that we engage with as many of our supporters as possible – in many different ways and from across the entire fanbase. We want to give every one of our fans a voice to share their feedback and views with us here at West Ham United.
"At West Ham we take a proactive approach to encouraging feedback from our supporters and, while we are already immensely proud of our model of consultation with supporters' groups, we acknowledge the criteria within the Premier League Fan Engagement Standard. We will be fully engaging with our fan groups to further evolve our model working alongside our supporters, so that together we can continue to ensure that supporter consultation remains central to the Club's fan engagement strategy."
Steve Applebee, Chair of the West Ham United Independent Supporters' Committee, said: "The ISC acknowledges the Premier League's announcement of a Fan Engagement Standard. We look forward to consulting with the Club on the proposals, which will hopefully enable us to provide an improved level of fan engagement for West Ham United supporters with the Club."
The Club will publish its Fan Engagement Plan ahead of the 2023/24 season and will be consulting with supporters' groups on future plans together on Wednesday 29 March 2023. For further information head to the 'Next Steps' section below.
Every supporter's voice, view and experience is valued equally and the Club have created many ways for supporters to contact us and share feedback. The ISC acts as an official conduit between the Club and West Ham United supporters' groups in matters of consultation alongside the Club's wider areas of fan engagement, including our dedicated Supporter Services team, 50-strong Matchday Supporter Liaison team, the Hammers Help Twitter handle @westhamhelp, Hammers Help Centre, Disabled Supporters' Board, Junior Supporters' Board, West Ham Women's Supporters' Board and Official Supporters' Clubs, as well as surveys, personal communication, points of contact, and the reintroduction of the Hammers Hub, created in direct response to fan feedback.