West Ham United players will create a unique version of The 12 Days of Christmas with a bumper community drive of festive activities this month to help lonely, elderly and vulnerable people in East London and Essex.
The initiative - starting on December 13 and running until Christmas Eve - will mark the third anniversary of the Players' Project, the ground-breaking concept where players from the Club's men's, women's and Academy teams pledge their time to help local people and good causes.
The Club can also confirm today that the Project has achieved its target of giving £28million to the local community since its launch, with the players now having dedicated more than 1,000 hours of their own time in that process.
While we recognise everything we have achieved, we have never been more determined to do even more

Vice-Chairman Karren Brady
Much of this has been achieved in the past 18 months and against the backdrop of some of the most challenging times known to everyone, with the boroughs surrounding the Club disproportionately impacted by the COVID-19 pandemic. 
During this period, players have continued to engage through phone calls, video calls, letters, messages and in-person activities where possible, engaging with more community groups than ever before. 
While West Ham United has demonstrated unequivocal support for key areas of need in order to make a difference wherever possible, we are particularly proud of the significant progress continuing to be made across the four pillars of Equality, Health and Wellbeing, Poverty and Environment.   
Milestones achieved include:
The Stop the Hate initiative, run in conjunction with Show Racism the Red Card to combat hate crime and discrimination, has engaged 10,000 children across East London and this academic year it has expanded into Essex.
The Advantage scheme, devised by our team alongside NHS professionals in order to improve the mental health of young people detrimentally impacted by the pandemic, has grown rapidly and is now being replicated by Liverpool, Manchester City and Crystal Palace. 
Reached our target to double our commitment to the Tackling Holiday Hunger programme in the past year, delivering investment of £100,000 through the scheme in the past year. This brings our investment to £260,000 and has provided over 13,000 meals; aiding children who might otherwise go without food and activity through the school holidays.
In September, we joined Planet Super League's Cup 26 competition, encouraging people across the community to score points for their football team by completing environmentally-friendly activities in a bid to help raise awareness and tackle climate change, with West Ham United being the best performing club in the Premier League and fifth best overall.
The 12 Days of Christmas initiative will reach out to various sectors of the community and will celebrate these four pillars. Featuring players across all Hammers teams, the 12 Days of Christmas drive will include West Ham United Foundation groups supported by the Players' Project, including Any Old Irons, the Tackling Holiday Hunger Project, and will also include school children and NHS workers.
The Club has now pledged to enhance its commitment in these four key strands with new programmes and areas of delivery to continue to support the most vulnerable in our community as we move forward, including ambitious plans for enhancements at our Beckton Community Hub, which will enhance our impact in the local area and advance our role as an anchor institution. 
As a result, we will be welcoming many more individuals and community groups to our facilities – increasing the 50,000 people reached across the East London and Essex area each year and ensuring our doors are open 365 days a year, especially for the more vulnerable members of our community.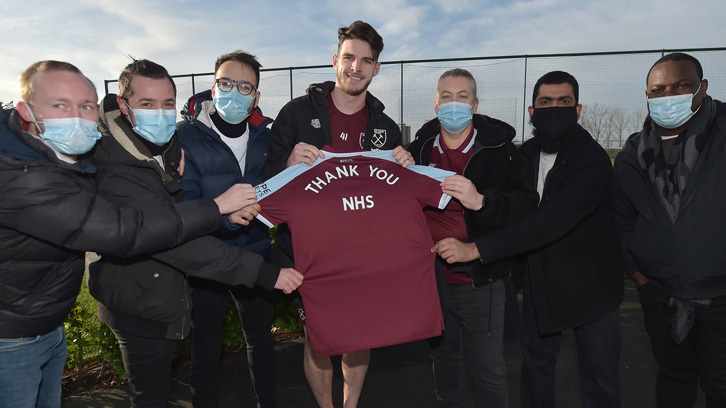 Club captain Mark Noble, who will be focusing on Tackling Holiday Hunger as part of his involvement this month, said: "The 12 Days of Christmas is a carol everyone knows. This is our own take on it and, over 12 days, myself and the players from across the teams will be involved in community initiatives and outreach.
"For most of us, Christmas is a time for family, love and giving. But unfortunately, for many people, it can also mean struggle, loneliness and hunger. By focusing on these initiatives, we hope to help raise awareness and give something back. This is at the heart of our Club and everyone important it is to play our part and make a positive difference.
"I am incredibly grateful and proud to have been involved in the Players' Project since it began three years ago. It is great that all the players have the opportunity to be involved, whether they are a seasoned pro, or a first year professional. It's vitally important to us. I have never needed to ask my team-mates to buy into it, I don't have to – we are proud to support the community, it is in the DNA of this football club."
West Ham United Vice-Chairman Karren Brady added: "The dedication the players and staff have shown to help the community which West Ham United serves is truly special, and we are proud of them all.
"When we launched the Players' Project, we obviously had no idea that we would soon be in the grip of a pandemic, so to see how it has helped over the last 18 months is humbling for everyone at West Ham United. 
"While we recognise everything we have achieved, we have never been more determined to do even more, especially in light of the issues that have been in sharp focus throughout this time. That's why we are increasing our commitment yet further to support those most vulnerable in the wake of the pandemic and are looking forward to even bigger things from The Players' Project in the coming years."