Michail Antonio, Pierre Ekwah, Krisztián Hegyi and Brian Kinnear gave their support to young people involved in the West Ham United Foundation's National Citizen Service (NCS) Social Action programme. 
Forward Antonio, midfielder Ekwah and goalkeepers Hegyi and Kinnear joined young people involved in the scheme in a skill booster session, in which the four players interviewed the participants before taking part in a question-and-answer exercise.  
The NCS programme, which has been delivered across east London and Essex by the Foundation, provides support for 15 to 17-year-olds in their personal development, helping them to forge connections and have a positive impact on society.  
As part of the Club's Players' Project Antonio, Ekwah, Kinnear and Hegyi met with teenagers to help hone their skills, before presenting each participant with their respective graduation certificate.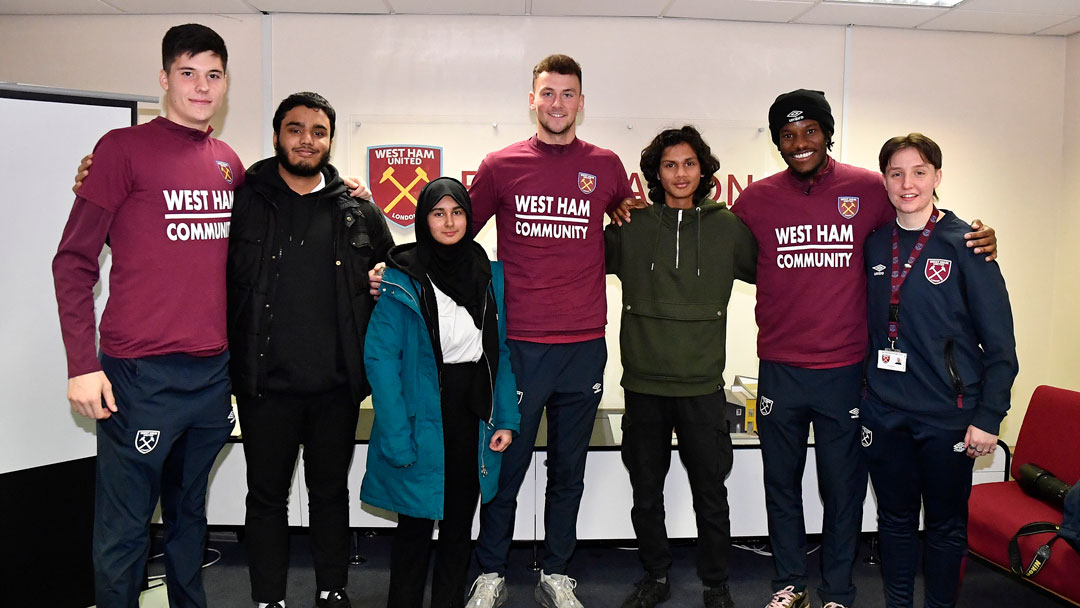 "It was good to meet these young people," Antonio told whufc.com. "We got to do some ice-breaking games and learn about each other. It is always quality to do these kinds of things and show these kids that everyone has setbacks. 
"Everyone has had bad times and what matters is how you deal with those setbacks and move forward, and it was important to show them that we've all had hard times. It was a really good event." 
For 20-year-old Ekwah, the opportunity to share his own experiences with people not much younger than him was an inspiring occasion.  
The Frenchman said: "When you're a footballer and you're doing a career that many people would like to do, you're a role model to people and we can have a big voice and offer guidance to other young people. 
"I really enjoyed this event and talking to these young people. It was a nice chat about their ambitions and goals. Myself, Krisztián and Brian aren't that much older than them so we can relate to what they've been through. A person older might not quite remember how things were but we, as young people too, really relate to what they were saying. It's a great scheme for us to be involved with."
Abu-Bakr has been involved in the NCS scheme through the Foundation, and found the advice shared by the players helpful as he prepares for the next stage of his life. 
"It was really insightful to hear from the players about their lives and challenges they've had, such as coming over from other countries, and playing for West Ham United," he said. 
"With the young ones too, hearing about how they balanced their education with football, it was really interesting and we appreciated the advice they gave us." 
Ruth Kennedy, Youth Engagement Coordinator at the West Ham United Foundation, said: "Before the players came in, there was a real buzz around our session here. We have a group that has a real interest in football and they were really keen to hear about the players' experiences and how they've overcome struggles in the past.  
"Our skills booster programme runs throughout the year and these young people come in and focus on employability, personal development, job searching and interview skills. With the players coming in, our young people were able to interview them and vice versa, and it made for a really interesting and enjoyable session."
For more information on our youth engagement programmes, please contact our Youth Engagement Coordinator Ruth Kennedy by email at [email protected]