One particular corner of Cyprus has been Claret and Blue for over half-a-century.
The supporters, staff and former players of Enosis Neon Paralimni (Youth Union) will be cheering West Ham United in Thursday's UEFA Europa Conference League round of 16 first leg with their Cypriot First Division rivals AEK Larnaca on Thursday evening.
The reason dates back to 1969 and two brothers, Dasos and Dimitris 'Jim' Parnerou, who had moved to east London from the town of Paralimni in south-eastern Cyprus in the late 1940s and become big Hammers.
Dasos's son Marcos and his brother Alex, who grew up in Green Street, pick up the story…
"In 1969, Paralimni won promotion to the First Division and the two brothers wanted to do something for the club. They were playing in blue and white, but my father and uncle were fanatical West Ham supporters and they thought they should play in Claret and Blue!" said Marcos.
"Dasos and Jim had a steak restaurant at 377 Green Street and a lot of the players would come in. It was called the Tam O'Shanter and it served the best steaks in the East End of London in the 1960s! They also had a second restaurant in Ilford called the Sombrero, which the players also used to visit.
"They were both born in Paralimni and they wanted to help their hometown club because they had nothing. They had a dirt pitch and they supplied the seeds to make it one of the first pitches in Cyprus to have grass.
"Then, in 1971, Bobby Moore arranged for the kits West Ham wore in the First Division in the 1970/71 season to be sent to Paralimni, and Enosis wore them in 1971/72!"
Since then, Enosis's story has followed a similar path to the Hammers, with ups and downs, cup final appearances and a steady flow of talented young players into the first team.
Alex said the Parnerou family retains close ties with both clubs, with family members based in both London and Paralimni and regularly travelling between the two to attend matches.
"We take a lot of pride in it, because they are our home cities, our clubs and both play in Claret and Blue," he smiled. "We appreciate neither have done too well this year, but we're hoping both will stay up this year!
"Our fathers have both passed away now, but the legacy lives on and it's great for Paralimni."
It's a long relationship and one we're very, very proud of
The close links between the clubs are also strengthened by former Hammers Mark Noble and Brian Dear, who are both regular visitors to south-eastern Cyprus.
Members of the Parnerou family are godparents to 1965 European Cup Winners' Cup winner Dear's children, while Noble has a holiday home ten minutes' from Enosis's home stadium and has got to know the club's President Kyriakos Ttikkis and his staff.
On Wednesday, Noble was guest of honour as West Ham were formally welcomed to Cyprus at Paralimni Municipal Stadium.
There, President Ttikkis, Vice-President Photis Triaros, first-team manager Marinos Satsias, their staff and players, supporters and members of the 1971/72 squad who first wore Claret and Blue hosted an historic ceremony.
"For 50 years now, we've been using the same colours, so it's a very emotional moment for us and a pleasure to have West Ham United in Cyprus and to be here in our venue," said Mr Ttikkis, who took charge in 2021 and immediately led Enosis to promotion back to the First Division. "We hope we can now develop more our relationship.
"It's a long relationship and one we're very, very proud of and we have a lot of fans supporting West Ham United in our local community.
"We had a great team in the 1970s and 1980s, at the same time West Ham was competing at a very high level, so emotionally we feel we are part of West Ham and for the fans and our old players, it is a very important moment.
"We are doing well and have historically been a club which invests a lot in its Academy and infrastructure, and has a similar philosophy to West Ham, and we believe we can do much better in the future."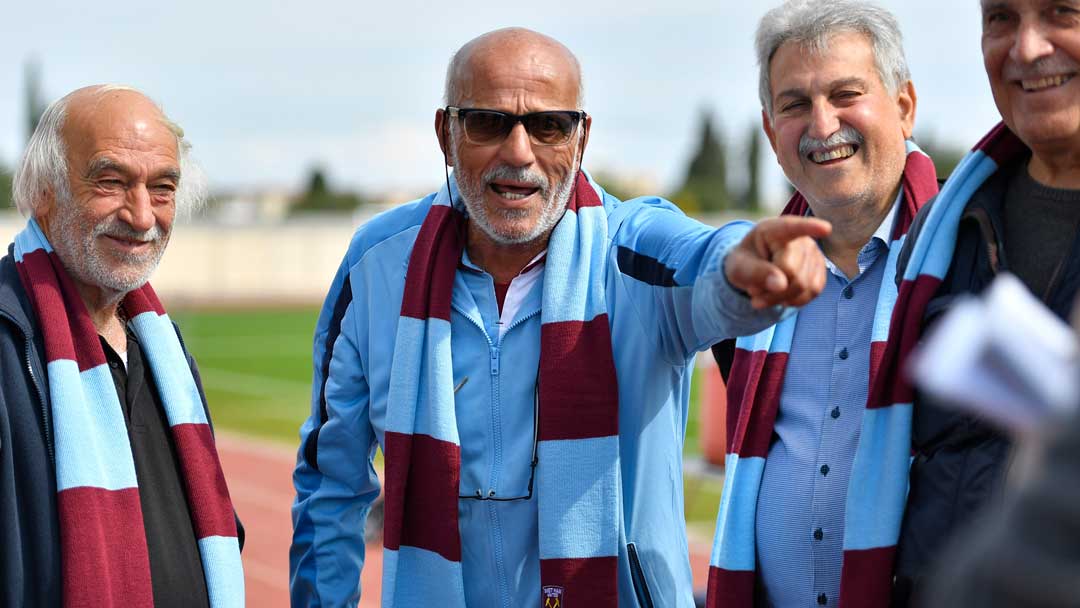 Now all their 70s, goalkeepers Demos Constantinou and George Farkonas, defenders Avraam Ttofas, Shialis Tsoukkas and Kallis Flouris, midfielders Adamos Loizou and Demetris Economou Koudas and forwards Giannis Kkelis and Kyriakos Tsoukkas reunited to share stories of their promotion and their love for the Club which gave them their colours.
Constaninou, who was eager to show he has lost none of the skills which saw him play for Enosis in the UEFA Cup and be capped for Cyprus in the 1970s, summed up the special relationship which endures between the club he played for, and another 2,000 miles away that he has come to love.
"West Ham and Enosis Paralimni are in the same way. In 1971, we had a new coach, Svatopluk Pluskal, from Czechoslovakia, and we started wearing these new colours of West Ham," he recalled.
"Under this coach and in these colours, we became one of the best teams in Cyprus and everybody said Paralimni play good football. We didn't win any cups, but have played in four finals, played four times in the UEFA Cup, and we are very proud of our team. Many of our players have played for the national team and elsewhere in Europe, and we are proud that Cyprus's all-time leading goalscorer Michalis Konstantinou is from Paralimni.
"With this colour, West Ham has a lot of supporters in Paralimni and their lives are Enosis and West Ham!"