Declan Rice and Jarrod Bowen's stories have been told many times over.
To recap…
Rice was released by Chelsea at the age of 13, having spend his childhood playing for the Blues alongside his best friend Mason Mount. On the same day, he turned down a trial with Fulham to try out for West Ham United, was signed after one session, and has gone on to become Club captain, an England international and one of the best midfielders in the Premier League.
Bowen left local club Hereford as a boy before having unsuccessful trials with a number of EFL clubs. He returned to Hereford, helped keep the Bulls up, joined Hull City as a teenager and became one of the hottest properties in the EFL. After two-and-a-half superb seasons with the Tigers, Bowen joined West Ham in January 2020 and has gone on to become an England international and an indispensable member of David Moyes' side.
Ahead of the Hammers' final Premier League game of a second marathon season featuring more than 55 matches in all competitions, the two teammates and friends sat down to reflect on a challenging 2022/23 campaign full of ups and downs for both, on and off the pitch.
Jarrod, what's it been like this season, especially being involved in such an intense relegation battle involving nine clubs at times?
Bowen: "That's what it was. It was just a couple of results to get ourselves out of the position. We knew that, we knew it wasn't going to be easy and results weren't going to be handed to us. But I think we've picked up some really important results – look at the Fulham away game where we weren't at our best but we won 1-0 and managed come away with three points. Even the week before we had Southampton at home and it was a one-goal margin again. So those were massive results for us to get us out of the position were in. It was and is so tight down there and we said we want to finish the season on the high."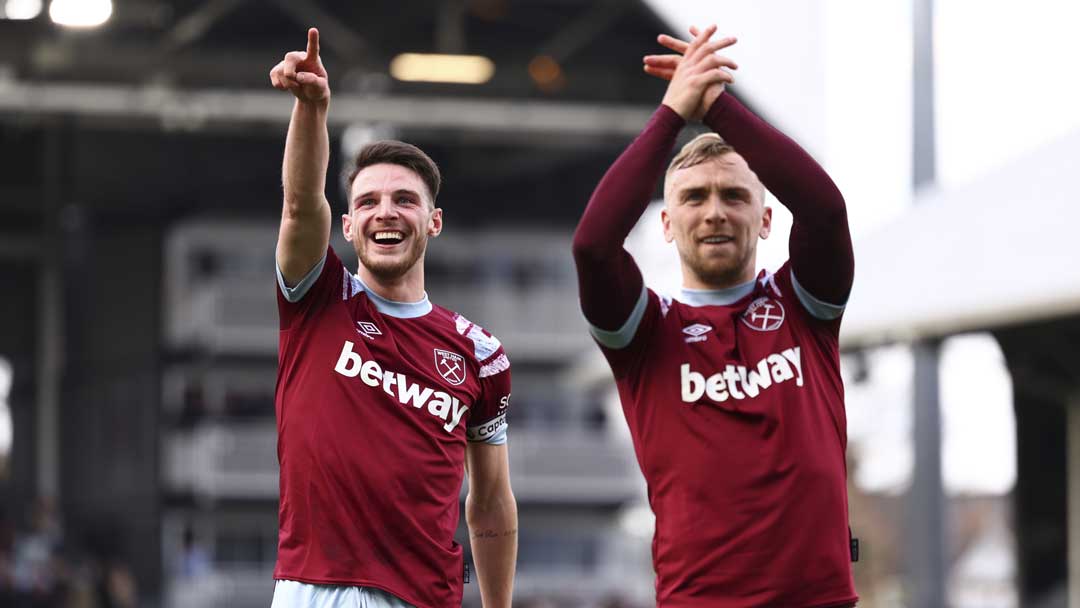 What has this season been like for you, Dec, being in a relegation battle for a large part of the season, but so dominant in Europe – opposite ends of the scale?
Rice: "I've aged about ten years, honestly! It's been so stressful. Just because staying in the Premier League is the most important thing. You're just constantly always worry about other teams around you. If another team picks up a result, we'd come in here and talk about it over breakfast. If we didn't pick up a win and other teams were starting to push above us, it was horrible at times, but I think we picked up form at the right time, got massive points from big games and obviously, I think Manchester United at home was the one that we set our sights on and we managed to deliver a big three points. It's been tough at times, but we've also had the European campaign as well, which has been amazing from start to finish."
Right, let's talk about how well you two know each other! Dec, what's your favourite thing about Jarrod?
Rice: "I like just how calm he is as a person and how he treats everyone the exact same way, whoever it is. I think that's a really strong quality to have. He's the same with everyone and I think that's a really strong quality to have as a person, so if I can take something from him, it would be that calmness and how he is, to be honest.
And Jarrod, what's your favourite thing about Dec?
Bowen: "Just the way he is around the changing room. If you come in and we've lost the game, of course we're disappointed, but Dec is always upbeat and different and that's why everyone looks up to him and everyone adores him."
Rice: "I might get a second date, here!"
Bowen: "I think you will! It's just his humour and the way he's always bouncing and always bubbly and has always got a smile on his face and I think that's what everyone loves about him."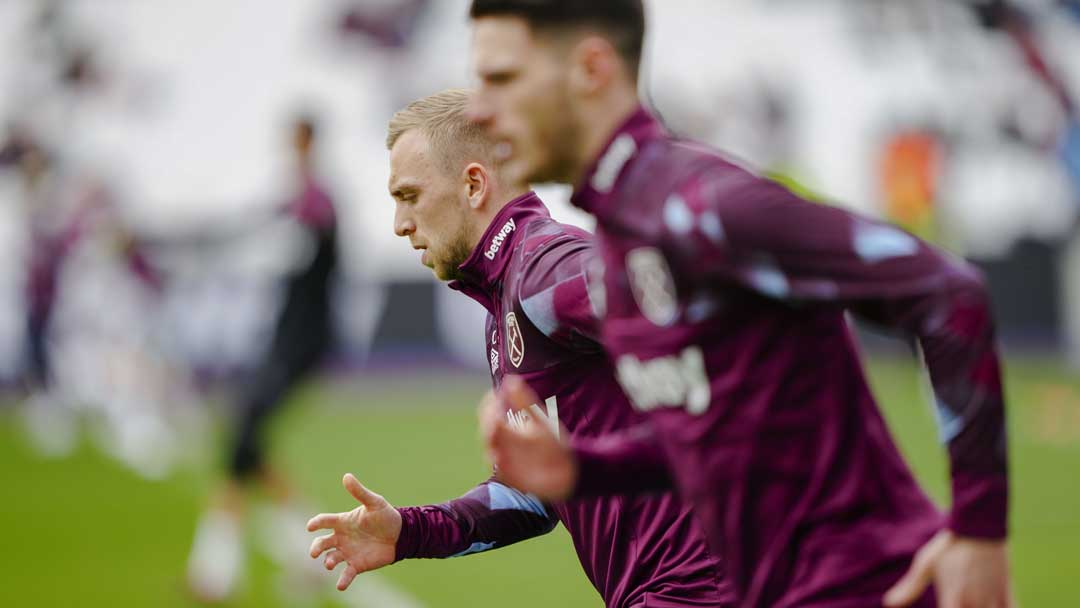 How important have the fans been this season for you, Dec?
"Since I've come into the team, the fans have been so passionate. They wear their hearts on their sleeves, and in a way they're like the players, really. As fans, they bring so much energy. They've been through so many ups and downs, but we've definitely had more ups in the last three years than we've ever had in my time in the team. They have been a massive positive and you felt their energy as well. The other night in the semi-final and against Man United, the place was rocking. I've said it before, even away from home, they don't stop singing. Some of the away journeys they've had this year, to go away and spend their money to come and watch us, to miss work and things like that, we really do appreciate it. And I know I definitely tried to tell them that as much as possible, so they're amazing."
Dec, what has been your favourite moment of the season so far?
Rice: "My favourite moment for West Ham this season has to be my goal the other day against Gent at home! I don't get many of those moments. I could have said a team one, but with that goal I was due one where I picked up the ball and ran the whole way. Just the way it happened and the roar after it, then I heard the BT Sport commentary and I must have watched it 100 times! That was definitely my best moment of the season."
Jarrod, how did it feel to score on your home debut against Southampton back in February 2020?
Bowen: "Yeah, to score that first goal, especially coming from the Championship, big things were expected of me so to get that first goal was a relief, more than anything. It was the first time I experienced that that roar because my first two games were Liverpool and Man City away, so to score in my first home game and actually feel that atmosphere was really special."
Seeing your boy made my night. This is what it's all about! Would be a pleasure to sign it for you ❤️ https://t.co/thpAIhHvUX

— Declan Rice (@_DeclanRice) May 7, 2023
Dec, a clip of you giving your shirt to a young fan went viral recently. Tell us about what happened?
Rice: "It was just natural in the moment. A load of fans always say 'can I have your shirt?' at every game, and I had promised it to Marcus Rashford, but when I saw the lad I thought 'he has to have the shirt'."
Bowen: "I just watched it and it's so special."
Rice: "With me, I've got three nephews and one niece, so I've always had kids around me, and my brothers, so I think I've been brought up to be a good person. I was once a little boy, so to see one crying about me, I can't believe it. I don't think I take it all in, because I do what I do in a way. I didn't realise his Dad was recording until right at the end, but what a lovely moment to capture, so it's really special."
Finally, Dec, there is also a Nigerian song by the rapper Odumodublvck, which is called 'Declan Rice' and you recorded yourself singing it!
Rice: "Do you know what? That was after a win! I know the words! My mates are buzzing off it, they don't stop singing it and sending it to me. The way it's come around is crazy. The story how he wrote it about me is mad and he said 'it's because you're an underdog, your pathway and how hard you had to work to get where you've got to and in my situation in Nigeria, there are so many artists who have followed the same path' like Wizkid and Davido, and he admires how I've become a mainstay in the England team. When he sent it to me a few days before release, it was crazy! It went mental, so we're in talks about linking up this summer, so let's see what happens!"