It's been another outstanding season for all associated with West Ham United Football Club – on the pitch, and in football Gaming to boot!
Building on the strides made forward during 2020/21, during which the Irons received a whopping eleven FIFA 21 Team of the Week nominations and 14 'Special' West Ham items to boot, the Hammers' performances this year have continued to yield boosts for players' in-game presences this year.
There have been no fewer than 17 'Special' West Ham items released this season, with numerous upgrades reflecting the Hammers' contention in the latter stages of a major European competition for the first time in a generation.
Indeed, after last season we revealed the 15 highest-rated Hammers in Ultimate Team History, we're back this year – an eleventh such season – with an updated list.
For fairness, we've not included 'Icon' cards – special items which celebrate former players and legends of east London – but we have included 'Special' cards, which can be released by EA to reflect popular players or special occasions.
We're also excluding cards the personalised 'Pro' cards given to every professional footballer at the start of each season, which feature the maximum possible rating of 99 OVR (so if you ever come up against a 99-rated Jarrod Bowen online, you know you're taking on the real deal!).
 
Nos. 12-15 (89 OVR)


Declan Rice (Numbers Up) – FIFA 22
Jarrod Bowen (Road to the Final) – FIFA 22
Andriy Yarmolenko (Europa League Showdown) – FIFA 22
Mark Noble (FUT Captains) – FIFA 22

Four new entries to this list came courtesy of our popularity in FIFA 22 in recent months!
The second of four 'Special' cards received by West Ham United's vice-captain this season, Rice's 'Numbers Up' started off as an 87-rated card, but recently reached the heady heights of 89 after a pre-planned boost to his passing – to the maximum 99 – took effect.
If there were any card which reflected the Hammers' progression, Bowen's 'Road to the Final' card – released in March – started out at 86, receiving incremental upgrades all the way up to 89 as the Irons progressed throughout the knockout stages of the Europa League. While the No20 likely would have reached at least 92 if his team had lifted the trophy, the offensively gifted card proved one of the most popular West Ham items of the season.
Yarmolenko similarly saw his ratings boosted thanks to the Irons' European exploits; his 'Showdown' card ahead of our quarter-final first leg against Olympique Lyonnais would have risen to 90 had we won at London Stadium, but a 1-1 draw against the Ligue 1 side saw the Ukrainian – plus Lyon midfielder Thiago Mendes – receive a one-point boost.
Then, last month, Noble's FUT Captains card arrived as part of a celebration of heroes who wore the armband for their Club and country – and few have been as heroic in Claret & Blue as the 34-year-old Canning Town-born skipper. With four-star skill and four-star weak foot ratings, this Item could truly do it all.
 
Nos. 9-11. (90 OVR)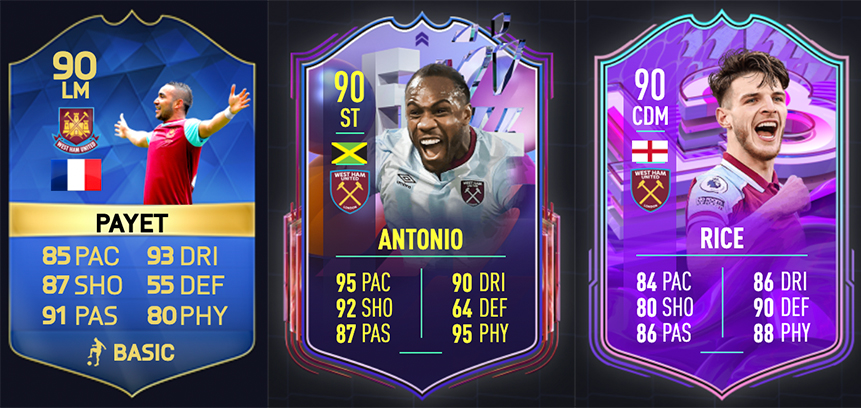 Dimitri Payet (Premier League Team of the Season) – FIFA 16
Michail Antonio (Fantasy FUT) – FIFA 22
Declan Rice (FUT Birthday) – FIFA 22
 
Named in the 2015/16 Premier League PFA Team of the Year by his fellow professionals, forward Payet was simply irresistible in the 2015/16 season. The Frenchman recorded nine goals and nine assists in just 27 Premier League appearances – the kind of numbers which led to three upgrades during the campaign, and this brilliant Premier League Team of the Season card.
Then, in March of this year, Antonio received the kind of card his real-life attributes have more than warranted over the years: a dynamic item which shifted from an initial 88 to 90 courtesy of his contributions to the Hammers' recent Premier League matches, Antonio's 'Fantasy FUT' card offers a lethal combination of 95 pace, 92 shooting, 90 dribbling, and 90 physicality.
That came within days of Rice being awarded a 'FUT Birthday' card in celebration of the anniversary of FIFA's Ultimate Team mode, with the popular player Fulfilling the criteria of the 'Gullit Gang' with ratings of 80+ in all six of the midfielder's base stats.
 
No8. (91 OVR)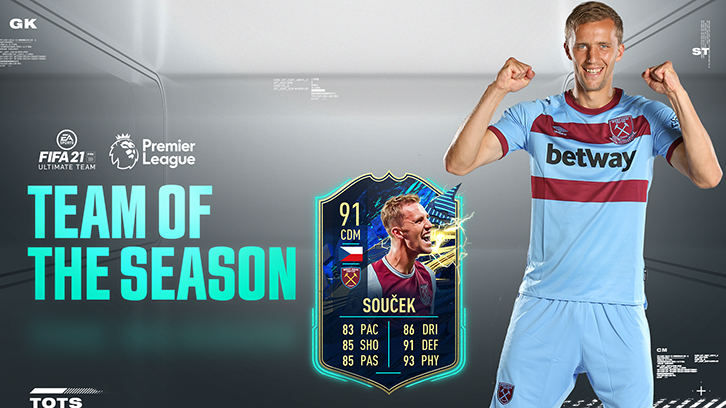 Tomáš Souček (Premier League Team of the Season) – FIFA 21
 
A popular Premier League player card got a whole lot more popular last year, when Souček was named in the FIFA 21 Premier League Team of the Season, capping a fine individual campaign from the 26-year-old.
The Czech Republic Footballer of the Year was a consistently excellent performer over the course of his first full season in English football, 2020/21, scoring nine times in 33 league appearances to bolster the Irons' quest to reach Europe, and recording a hat-trick of Team of the Week inclusions in FIFA 21 to boot.
 
Nos. 5-7. (92 OVR)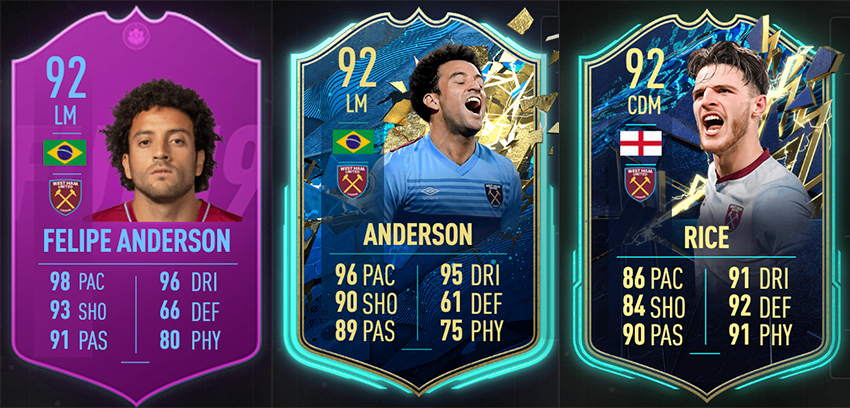 Felipe Anderson (SBC Reward) – FIFA 19
Felipe Anderson (Community Team of the Season So Far) – FIFA 20
Declan Rice (Premier League Team of the Season) – FIFA 22
 
Twice named as an SBC reward, FIFA fans simply couldn't get enough of the tricky winger Felipe Anderson in-game during his time in east London. 
The Brazilian forward's high-ranking skill moves and razor-sharp attacking attributes saw Anderson released as a challenging SBC reward in FIFA 19, before the Brazilian maestro was picked by popular vote during 2020's lockdown for a repeat in the FIFA 20 Community Team of the Season So Far.
Then, just last week, Rice's remarkable season was recognised with an inclusion in the FIFA 22 Premier League Team of the Season, with the No41 also recording the most successful tackles, interceptions and completed passes of any West Ham player.
The 23-year-old Academy of Football graduate was therefore voted by supporters worldwide into his second Premier League Team of the Season in EA SPORTS' premier football gaming title, having previously been selected in FIFA 19.
 
Nos. 3-4. (93 OVR)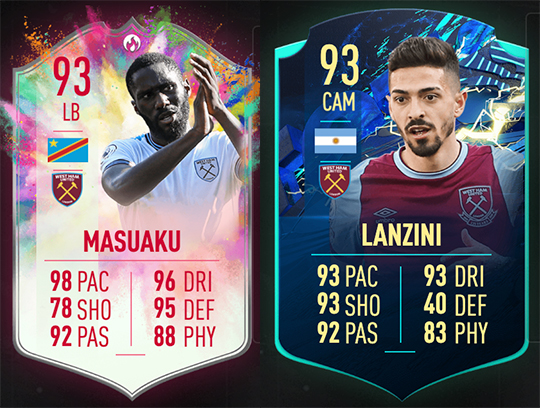 Arthur Masuaku (Summer Heat Showdown) – FIFA 20
Manuel Lanzini (Team of the Season Moments) – FIFA 21
 
It's good to be the king – and Masuaku reigned supreme when, in flash polls over July 2019 following Project Restart, FIFA players were asked to pick between two players from opposing sides in a number of Premier League fixtures. 
With the Hammers' final game against Aston Villa chosen, 'Summer Heat Masuaku' beat out Villa's Trézéguet, this card was released – and a top-class left-back was adopted by professional FIFA players worldwide.
That same adoption then became widespread a year later with the June 2020 release of Lanzini's 'Team of the Season Moments' card, celebrating his incredible last-minute equalising goal against Tottenham Hotspur with a card featuring some unbelievable stats.
The Item was hailed as one of the greatest Objectives rewards ever seen in FIFA.
 
Nos. 1-2 (94 OVR)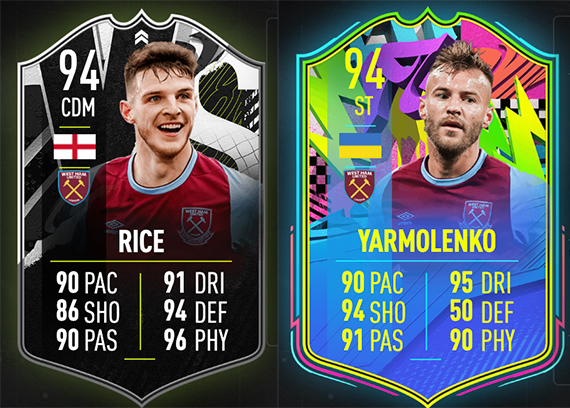 Declan Rice (Showdown Nominee) – FIFA 21
Andriy Yarmolenko (Summer Stars) – FIFA 21

Surprised? We were too, given how late in the FIFA 21 off-season this pair of souped-up Items arrived in the football Gaming cycle last summer.
First up came Rice's Showdown Nominee card which, in a similar manner to Yarmolenko and Masuaku above, saw the midfielder paired with an opponent from a high-profile fixture: on this occasion, days before he faced Italy's Jorginho in the run-up to the UEFA Euro 2020 final at Wembley Stadium.
Sadly, the England man never got the plus-two boost to his stats which his Chelsea counterpart did for lifting the trophy, but a 94-rated card is befitting of a man whose tremendous performances spirited his country all the way to their first final in some 55 years.
Yarmolenko, meanwhile, was highlighted in the 'Summer Stars' initiative a week later, having also starred at last summer's Euros with two goals during Ukraine's memorable run to the quarter-finals.
The Item was released as part of FIFA 21's season-concluding 'Festival of FUTball' event and, with a four-star weak foot and magnificent abilities in all base stats except defending, was perfectly suited to a footballer of undoubtedly exquisite abilities.

For more exciting FIFA 22 and gaming content this season, follow the official @WestHamGaming accounts on Twitter, Instagram and Twitch.