There are surely few Premier League midfield tandems more effective than Tomáš Souček and Declan Rice.
The West Ham United duo have not missed a minute of the Hammers' 26 top-flight matches, leading their team's challenge for a top-six finish.
Souček is the third-highest scoring midfielder in the Premier League and has won more aerial challenges than any other top-flight player, while Rice ranks third in interceptions and has captained the Irons to 13 impressive wins.
The pair have played alongside one another for just over a year, but their natural understanding on the pitch makes it look like they have been teammates for many seasons. Unsurprisingly, the Czech Footballer of the Year is a big fan of the England international, and simply loves playing alongside him.
I know Leeds run everywhere when they can, but I know we are also able to run well too, me and Dec, so I believe we will beat them with our qualities

Tomáš Souček
"It's great that together we've found a common way and our balance is very good because we could be similar players, but we can do both attack and defence together," he explained. "It's not like one of us is more offensive and the other one is more defensive.
"It's a very good balance between each other and it's a big advantage for our team that both of us can cover the pitch and run everywhere. We can go box-to-box from the defence to the attack and one of us knows the other one will do it, so there's a great balance between us."
Souček can see similarities in the way Rice's career is developing to the way he came to the fore with former club Slavia Prague, where he broke into the first team at 20 and quickly established himself as an integral figure in his side's success before doing likewise at international level.
Just 22, Rice is now captaining West Ham and has won praise for his leadership from David Moyes, Mark Noble and even England manager Gareth Southgate – praise endorsed and echoed by his midfield partner.
"I know he's a really good leader on the pitch and in the changing room as well," the 26-year-old confirmed. "He's a really good guy and everyone knows how hard he works and the other guys are inspired by him and what he can do for us.
"I am seeing him every day in training, so I know his quality and I think he will show us much more in the future because his qualities are incredible.
"For us and our team, he's really important."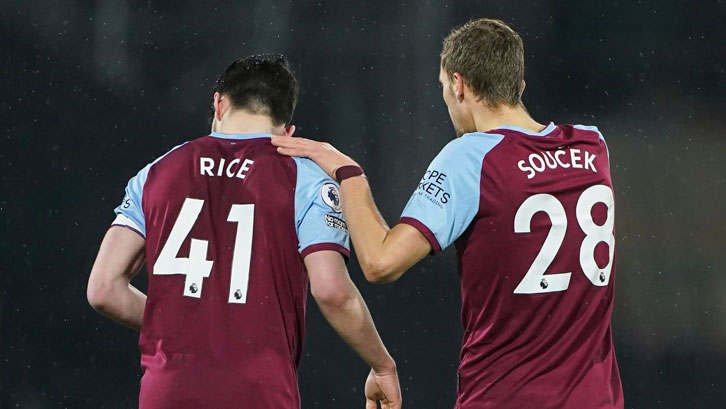 On Monday evening, Souček and Rice's qualities will be needed again to slow Leeds United, whose unique approach under Marcelo Bielsa sees their players flood forward at every opportunity.
"I remember the game against Leeds when we beat them 2-1 and it was very hard but my partnership with Dec was great at Elland Road and I hope we show the same again on Monday," he said.
"I know they run everywhere when they can, but I know we are also able to run well too, me and Dec, so I believe we will beat them with our qualities, not only by running but by keeping the ball as well."