The Evening Standard's long-serving West Ham United correspondent Ken Dyer shares Tony Gale's recollections of his infamous FA Cup semi-final sending-off against Nottingham Forest from his new autobiography 'That's Entertainment'...
The 1990/91 season was generally a good one for Billy Bonds' West Ham United.
With a total of 87 points, the Hammers finished second behind Division Two winners Oldham Athletic and so were promoted back to the top-flight.
They also had a great FA Cup run, edging past third round opponents Aldershot after a replay and then beating Luton Town in the fourth round, again after two games.
A narrow 1-0 win over Crewe Alexandra put West Ham in the quarter finals where, in a pulsating tie, they beat Everton 2-1.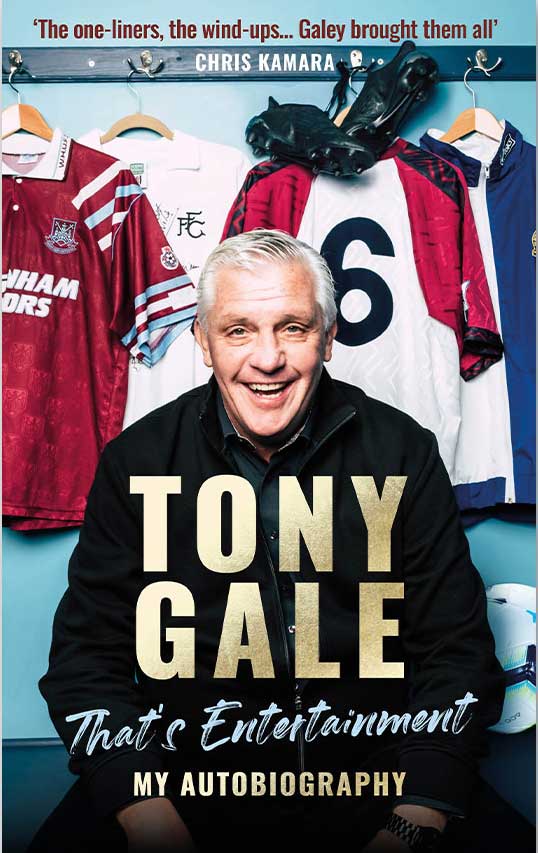 I was fortunate to be covering West Ham that night and after central defender Colin Foster had volleyed the Hammers into the lead, Stuart Slater scored a second from 20 yards.
Stuart was in irrepressible form that night I remember, just as he was a season earlier when, as the final whistle sounded in a match against Sheffield United, their defender and later manager Chris Wilder, shook hands and said: "That's the closest I've been to you all night!"
West Ham were drawn against First Division Nottingham Forest in the semi-final at Villa Park.
It was always going to be a tough challenge against a Forest side that went on to finish eighth in the First Division but it became a whole lot tougher after 27 minutes.
Who better to take up the story than Hammers' defender Tony Gale, in a chapter titled, Refs, Red Cards and Revelations, in his recently published autobiography 'That's Entertainment'.
First though, a few words from Tony on his manager that season, 'Bonzo.'
'The 1990/91 season was Bonzo's first full one in charge,' he writes, 'and it was as if he gave us our old West Ham back.
'Bill was always a leader of men but also a man of few words. He simply made decisions, honestly and correctly.
'I genuinely believe, because he loved the playing side so much, he underestimated what a good manager he was and perhaps never realised just how much we looked up to him.'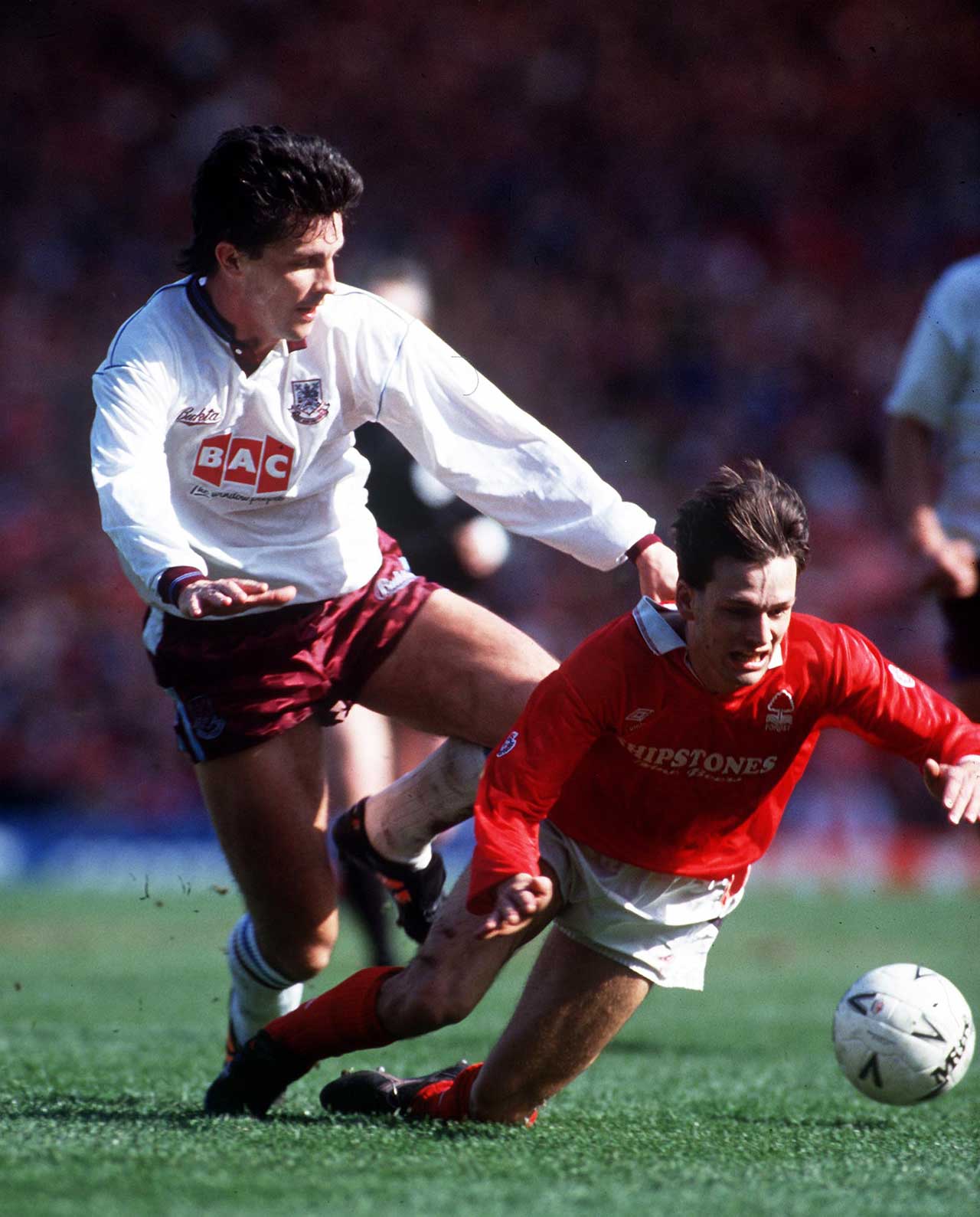 Tony had passed a fitness test the morning of the game so partnered Colin Foster at the heart of the Hammers' defence.
He writes: 'We started the game and we were quite comfortable. It was a sandy pitch at Villa Park and it was hard to get the ball moving.
'Gary Crosby was playing up front (for Forest) with Nigel Clough and on 27 minutes the ball gets played wide at an angle and me and Gary both try to get in front by putting our arms in front of each other.
'I'm about six inches taller than Gary and my arm has come a little bit higher than him and we've got in a tangle and both hit the deck.
'I fell awkwardly and thought I'd put my shoulder out but as I got up and wiped sand off myself, I thought, I wonder which way that free-kick is going.
'Next thing Keith Hackett amazingly sprinted over, looked at me and pulled out the red card. He didn't say a word to tell me what I'd been sent-off for, or even make eye contact.
'I shouted a load of expletives at him and then said: 'You're joking. I didn't even know which way that foul was going to go.
'I got ushered away to the tunnel with Tony Carr, who was one of the youth team coaches at the time.'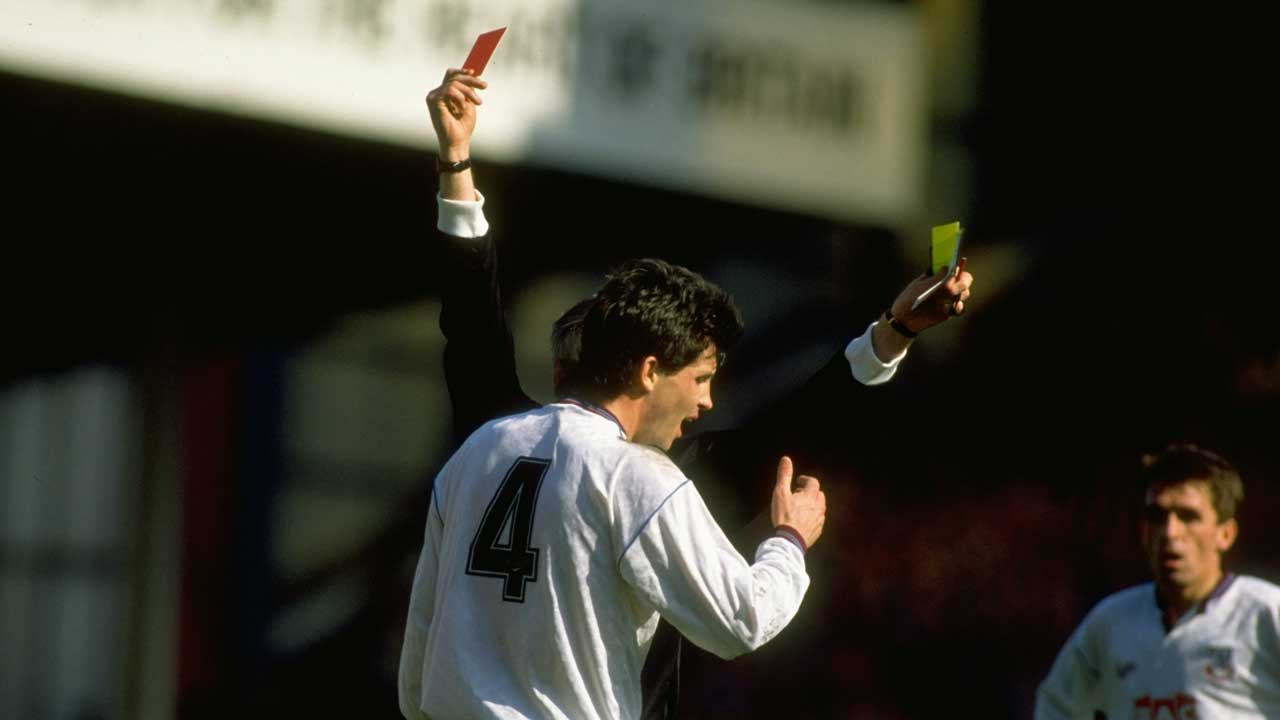 Tony ended up walking up and down the corridor since no-one could find the key to the dressing room.
'While I'm shouting and hollering,' writes Tony, 'I see one of the BBC analysts who had a screen and he said: 'Terrible decision Tony. Is there a few words you'd like to say to the BBC?'
In fact, Tony had just two words in reply, the second being 'off.'
Down to ten men, West Ham went in at half-time with the score at 0-0, having hit the post through George Parris. Cue the Churchillian half-time Bonzo pep talk.
'Lads,' said Bonzo, 'that was one of the worst decisions I've ever seen in my life. If you don't do it for yourselves out there, or your families, or all those people watching on telly, you do it for your mate there. You do it for him.'
But, as Tony writes, 'they went out and lost 4-0!'
Some 23 years later, Tony was asked to appear in a TV show with by then former referee Keith Hackett.
He writes: 'What? You're having a laugh. Are you crazy? Hackett killed that match and our chances of winning the FA Cup. I've gone on and on and this geezer says: 'We'll give you two grand to come on the show.'
The reply was immediate. 'What time do you want me up there?'
Reporting on the game, I remember it clearly, the Tony Gale incident, West Ham's second half capitulation – but most of all I remember the Hammers' fans lustily singing throughout the second half – as well as the snaking congas up and down the terraces.
Magnificent!