Tomáš Souček is the epitome of a team player.
West Ham United's towering midfielder ranks in the Hammers' top three in minutes played, distance covered, aerial battles won, and clearances, interceptions and tackles made this season.
While the Czech Republic international would like to add goals scored to that list after scoring just once so far, he says his own personal ambitions are secondary to those of the team.
And, with West Ham fourth in the Premier League, top of their UEFA Europa League group and through to the Carabao Cup quarter-finals, Souček is delighted with how the Hammers are performing so far this term.
"I'm very happy because we made a big step last year with how we ended and everyone accepted more responsibility this season again," he confirmd. "I'm happy we did well at the start in each competition, in the Premier League, Carabao Cup and Europa League also, but we need to go game by game and carry on in this way. I'm happy with how we play, how we developed our games.
"Of my performance, I'm more of a team player, so if the team is working well then I'm also happy. Of course, some people say I should score more goals, but it's football. I was lucky last year in many moments and this season I am doing more work for the team and if the goals come I will be happy, but if not and the team continue to do well then I will also be happy."
And while he is not one for crowing about his personal performances or achievements, Souček is still rightly proud of what he has done for Club and country over the past few years.
After winning a succession of trophies with Slavia Prague, the 26-year-old joined West Ham in January 2020, helped the Irons steer clear of relegation, then scored ten goals to lead the Londoners into Europe and was rewarded with last season's Hammer of the Year award.
Meanwhile, he has become just as integral for his national team, captaining his country at UEFA Euro 2020 and being named Czech Footballer of the Year in both 2019 and 2020.
Then, at the start of October, Sky Sports ranked the midfielder as the seventh best player in Europe's top five leagues over the past 12 months in the broadcaster's respected Power Rankings.
"It's nice to see!" he confirmed. "I saw it also and I saw some of the names around me and it was incredible. Many of my friends were sending it to me and congratulating me, so I was very proud.
"Last season went incredibly well for the team and also for me personally. It was one of my best years, but now I need to prepare for this season and the future, as the past is behind us."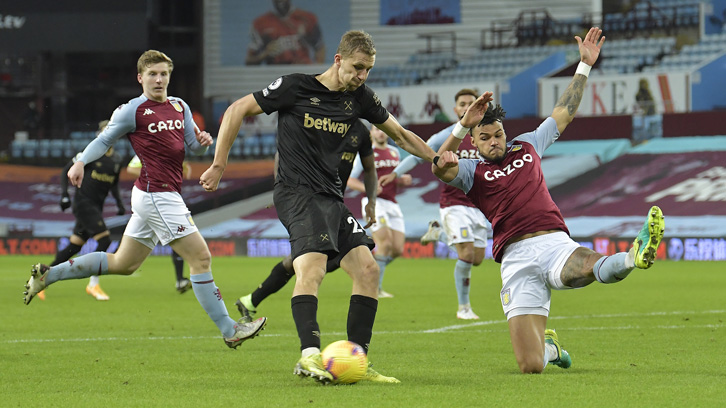 Talking of the future, after winning four games in three different competitions without conceding a single goal since returning from the October international break, Souček and his teammates are in Premier League action again this Sunday afternoon, when they travel to Aston Villa.
The No28 was on target in a 3-1 win on the Hammers' most-recent visit to Villa Park in February this year, and he is planning to draw on the memory of that game and help his team collect another three points this time around.
"I remember the last game against Aston Villa as we played very well and I hope we will do the same because the result was fantastic and the way we played was also great," he recalled, "but this will be a new game and we know that Aston Villa needs points also, so it will be a very hard game.
"I hope that we do good work like we have over the last two weeks because our confidence is very high, but we need to go into this game knowing everything is possible.
"If we win, we know we can be very high up in the table, but we also know we have to prepare for each minute of the game and I believe that we have enough quality in our team to win."