David Moyes has offered fitness updates on several members of his squad ahead of our UEFA Europa League quarter-final tie with Olympique Lyonnais.
The Irons head into their first match at this stage of a major European competition since 1981 with a mostly clean bill of health, according to the West Ham United manager. 
Jarrod Bowen, who returned from a four-match absence with a heel injury to start and score the winner against Everton at London Stadium on Sunday, came through that fixture unscathed.
The manager will be hoping he makes a similar impact against Lyon in the first leg of the quarter-final, which kicks off in east London at 8pm BST on Thursday.
Moyes also offered an update on the fitness statuses of full-backs Ben Johnson – absent from the matchday squad against the Toffees – and Vladimír Coufal, Coufal, who underwent successful surgery on a groin injury in February, and who was subsequently named on the bench at the weekend.
"Jarrod Bowen's trained," Moyes confirmed. "He seems fine. 
"He was involved in the game [at the weekend] and he's not picked up any other injuries, so I'm expecting Jarrod to be fine.
"Ben Johnson's trained so I'm hoping that he will be okay. 
"Vladimír [Coufal] we've brought back. We're still not totally convinced he's 100 per cent [fit], Vladimír, so he might just need a bit more time.
"[Manuel] Lanzini is suspended [for the first leg] but he has trained a little bit today for the first time [since he was involved in a car accident last week]. 
"We're beginning to get one or two back which will be helpful, but at the moment we seem to be okay."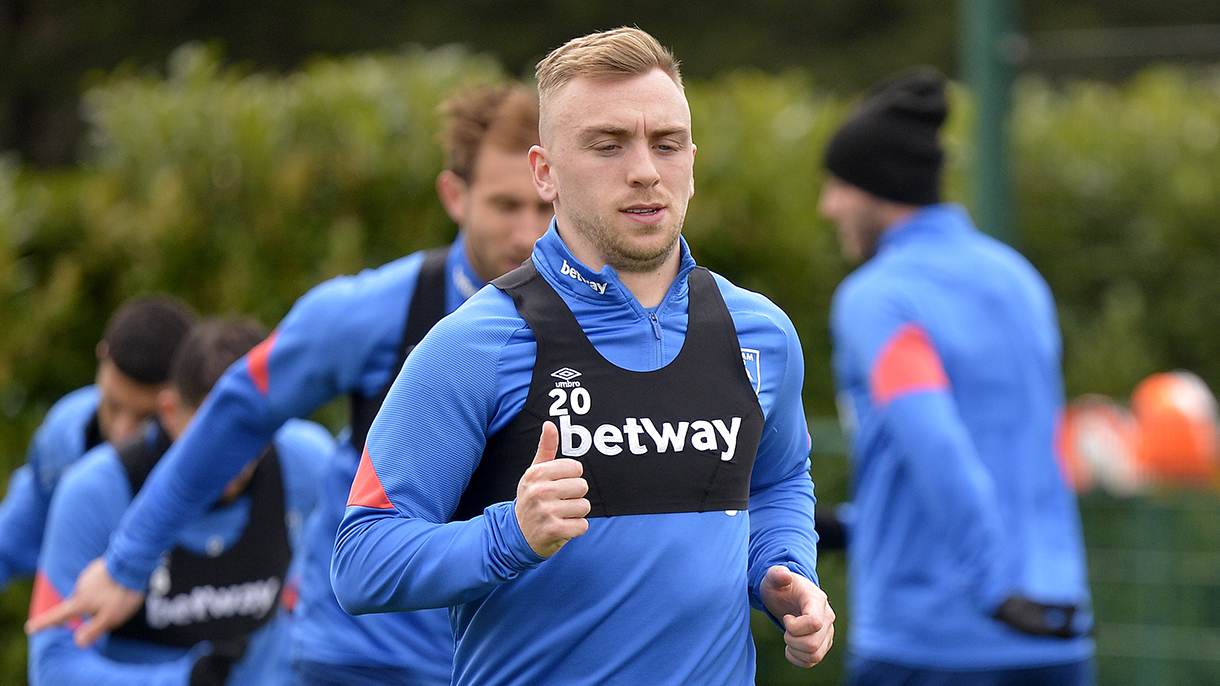 Moyes is hoping that Bowen – who is currently in the midst of his finest top-level season to date, with 13 goals and eleven assists in 40 appearances in all competitions – could be a match-winner against Lyon over the two legs.
While the timing of Bowen's most recently injury did preclude him from prospective international selection last month, Moyes reiterated that the forward – who missed the round of 16 tie against Sevilla – has all the attributes required to star on the continental stage.
The manager continued: "I'm not worried about his fitness, but when you've been out for five or six weeks, sometimes your first game is okay – it's the one or two games after which can be the harder ones. I'm hoping he'll be fine in everything he does.
"It's really good we've got him back because he got us a goal on Sunday and he's played a huge part. I said at the weekend: 'Who knows if he'd have been in the England squad or not for the games just gone?' 
"It's really sad that he missed the opportunity to find out if he would have been, but overall he's been really good for us.
"He offers us width, which is where he's been in his career. He's played off the side, but he's also been someone who can score goals and to have players in those areas… 
"In days gone by, the No9s were always the key goalscorers. Nowadays, you can get people scoring goals from inside-left, inside-right, so Jarrod gives us that.
"More importantly for us, he's improved as an all-round footballer, and generally his positioning and the job he does for the team has greatly improved. 
"He's taken time coming from the Championship to grow into a Premier League player, but I've got to say his contribution this year - and last year - has been excellent. 
"Last year he had quite a few goals, got a few assists, and he's doing it again this year which is really good for us."