David Moyes spent most of the broadcast section of his Friday press conference not talking about Thursday's 1-0 UEFA Europa League Group A win over Olympiacos, nor Sunday's Premier League fixture with Nottingham Forest.
Instead, the manager was asked question after question about VAR, its implementation, the debate over recent decisions, errors and apologies, and the reactions of managers who are contractually obliged to speak about those incidents within 20 minutes of the final whistle blowing in Premier League matches.
Moyes explained that managers are caught in a situation whereby they want to be able to have their say but, with emotions often heightened after 90 – or now often 100-plus – minutes on the touchline, they are loathe to share their honest opinions for fear of running foul of the authorities.
When he was not being asked about VAR, the manager was also asked to reflect on Thursday's victory that kept his team top of their Europa League group, comment on the job done by Forest boss Steve Cooper, Mohammed Kudus's impact, and for his team news ahead of Sunday's game at London Stadium…
Another tough European game won
I think it does a disservice to say that the result was more important than the performance against Olympiacos, when you consider the opposition.
Sometimes people think it's easy to win these games but let me tell you, unless you're in the seat and you're taking the team, there are no easy games in Europe. I've never found an easy game in Europe yet. I think this year we've probably got the toughest group we've had and that proved to be the case last night. It was a very tight game but fortunately we got the victory.
Too early for team news
I really don't know yet in terms of injury news ahead of Sunday's game. The early press conference makes it really difficult for me to give any update.
With Kurt Zouma, we'll have another look this morning. As I said, I've not really the chance to get in and assess and hear what the medical staff have said yet, but hopefully he's making some progress and getting closer to playing.
You can only win the one in front of you, so we will have to try and play well.
Thursday/Sunday
I don't think our recent fixture list has been any different than what we've had in recent seasons, but ultimately, it's still very difficult.
To be playing the games regular is tough, but look, we'd rather have it. I think everybody wants to be in Europe, to be in one of the European competitions if you can do it.
If you can be in the Champions League you, you might be fortunate and get a Tuesday/Saturday or Tuesday/Sunday game. In this competition you can only ever have Thursday and, you can only ever have Sunday, really, for the games so it makes that sort of difficult thing to deal with but we've dealt with it pretty well in the last couple of years.
It's not easy in the Premier League games, but we're giving it a really good go.
Midweek wins
I think every game is really important and you have to win.
You can only win the one in front of you, so we will have to try and play well. Nottingham Forest are a decent team and they had a great result last week, so we're going to have to play well.
Yes, we'd like to improve on a couple of recent results but in between that it's easy to forget that we beat Arsenal in the EFL Cup in the midweek and then we had a win in Europe last night.
So, when you put all those games together, of course the Premier League will always be the games we look for, but there have also been some very good wins in the mix of that as well.
Forest building
Steve Cooper has done a brilliant job at Nottingham Forest.
I don't think I was surprised by it but, overall, they did great last year to keep them up and they look as if they're building this year.
They've bought a lot of players over the last two years and kept moving the team on, so I think they've done a good job.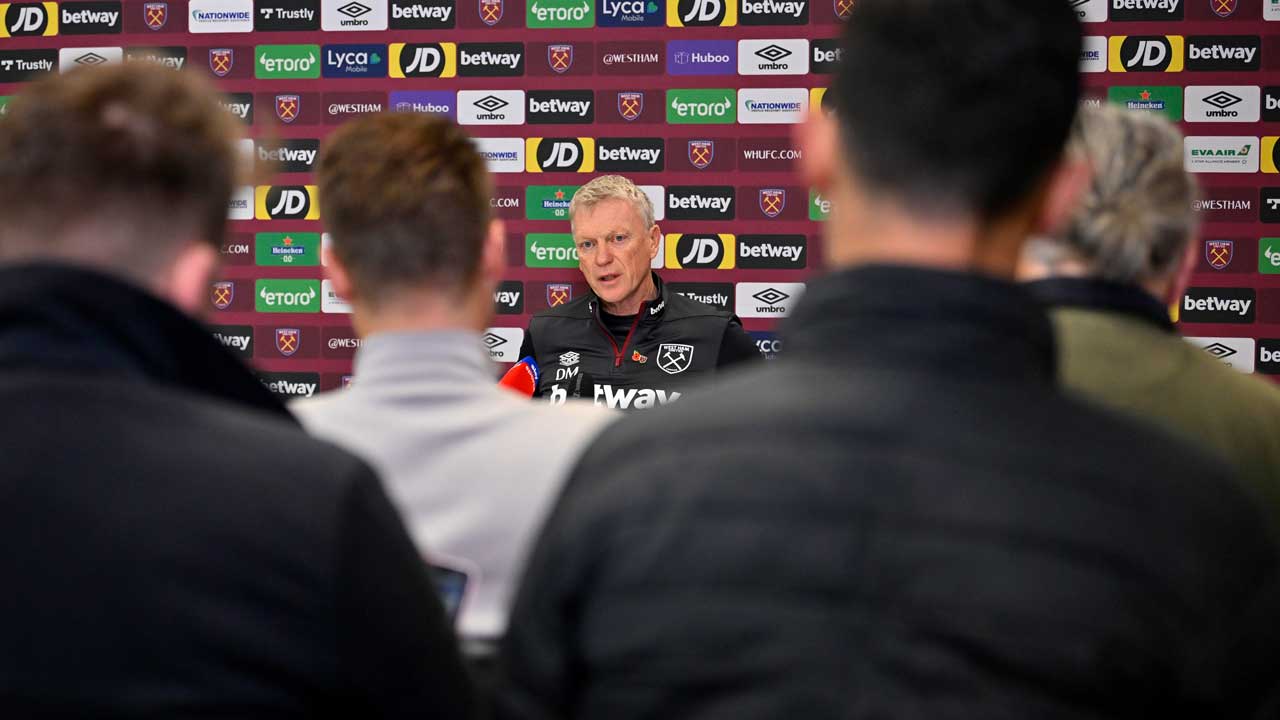 VAR, VAR, VAR
I think we're all pretty disappointed with lots of aspects [of VAR], but I think we're also very much in favour of trying to make it work.
I just think that we've all been disappointed with probably some of the officiating as well this season, but, look, my single opinion wouldn't matter a jot and they'll do what they need to do. When we're putting [our opinion] over it's not getting much clout at the other end.
Managers will be fined for speaking out of turn. You're asking me questions, which I could get fined for speaking out of turn [by answering honestly and emotionally], mainly [within] 20 minutes after games, which could get me in trouble because they're about referees and officiating. So, most of the managers don't want to say anything about it. I would hope journalists and Sky, for example, would respect the managers and don't put them in those positions. But if clubs or managers choose to have an outburst, then that's their choice, they can do that.