Kamarai Swyer has made a significant impact in West Ham United U23s' last two matches. 
In both the win over Brighton & Hove Albion, prior to the international break, and Monday's victory against Tottenham Hotspur, the midfielder scored just minutes after entering the field of play as a substitute. 
Swyer's respective finishes against the Seagulls and Spurs were West Ham's third goal on both occasions, and the 19-year-old is relishing his recent goalscoring form for the development side.
"I think it was a really tough game against Spurs," Swyer told whufc.com.
"We got the job done though, and we did what we needed to do. It was a good performance from the lads. We had to dig in deep and I'm proud of the fight we showed to get the three points. 
"I just saw Sonny [Perkins] drawing the defenders. He had won the ball on the half-way line and I tried to sprint to support him. It was a smart pass from him and thankfully I was there to finish it off. 
I want to show what I can do when I come on and get minutes on the pitch. I want to do the best I can.
"That's two goals in two for me now and I'm really pleased with that. I just want to keep it up. That's all I can really do.
"I want to show what I can do when I come on and get minutes on the pitch. I want to do the best I can and scoring goals is always a good way to do that."
The Premier League 2 win over Tottenham was secured thanks to goals from Perkins and Thierry Nevers either side of half-time, before Swyer added the third shortly after. Max Robson's late strike was nothing more than a consolation for the visitors.
Reflecting on the game, the midfielder said: "It was good to get that goal before half-time. 
"The first half was really tough and we had to take our time a bit to suss them out. We weren't playing at our best for a lot of the first half so to get that goal before half-time stood us in good stead for the second half.
"It was a great finish from Sonny, we know he has that in his locker.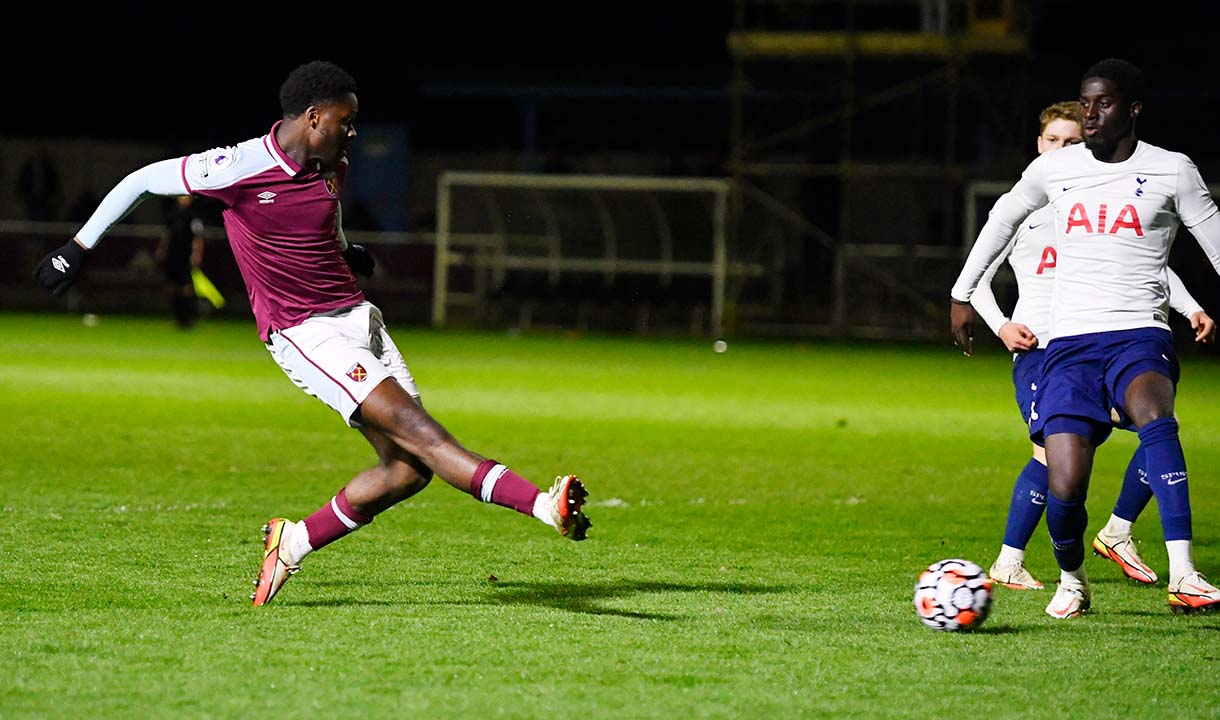 "Getting the second goal so quickly was so important too. We knew they would come out in the second half with all guns blazing so Thierry scoring for us early in the second half definitely helped us. It probably settled us a bit and took a little out of them."
Consecutive wins, along with results elsewhere, mean the U23s sit second in Premier League 2 Division 1. The group are six points behind table-toppers Manchester City, but hold two games in hand over the leaders, with a five-goal inferior goal difference. 
Swyer knows the next couple of weeks, which is filled with fixtures across league football and the Premier League Cup, will be critical to West Ham's chances of achieving something special.
He added: "It's Blackburn away on Friday and we have a lot of games in really quick succession. It's a tough couple of weeks because there's so many fixtures and we want to get through them as strongly as we can, collect wins and keep pushing.
"It's a tough end to the season with a lot on the line, but we have confidence in our ability as a team."