You'd be hard pushed to find a young footballer who has enjoyed a more remarkable start to the 2021/22 season than 17-year-old Sonny Perkins.
On the cusp of the campaign, the England youth international – who has been deployed by the Academy of Football in a variety of positions during his development, but primarily as an attacking midfielder – found a new calling, filling in up front for West Ham United U18s following injuries elsewhere in the squad.
The teenager adapted spectacularly, delivering a 'perfect' hat-trick in a 3-1 opening-day win over Reading U18s – and has only gone from strength to strength as a striker from there.
Having scored several more times for the youth team, Perkins' form warranted a call up to development squad, for whom he made his debut in the 2-1 win over Ipswich Town at Portman Road in mid-September; he has since scored five goals in ten U23s outings.
Just two months later, after appearing for the final 15 minutes of the Irons' 2-0 win over Rapid Vienna in Austria, 17-year-old Sonny Perkins is now a fully-fledged West Ham United first-team striker.
"Everything's happened so quickly this season," the teenager reflected, speaking to West Ham TV. "People say that in football, things can change so quickly, but as long as you keep working hard, that can always happen.
"You've always got to believe something like that can happen like that. I think I've worked hard, and I've got a reward for it.
"On Monday, a few of us [U23s] knew that we might be involved in first-team training. On Tuesday I went back, trained the whole session, and I think I trained well. Yesterday, four of us [Perkins, Aji Alese, Jamal Baptiste and Dan Chesters] travelled out here. 
"It was surreal really, because I've only been involved a couple of days and to fly out with the team… they've been great with me as well.
"The guys who have come through the Academy naturally look out for me and whoever comes across, so they made me feel welcome, so I'm grateful to them for that. They made me feel comfortable to get on the ball and do what I can do.
"I've still got a long way to go to where I want to be, but hopefully this can be the start of many [appearances]. That's what I want. 
"It felt great out there, and to play with all of these great players and train with them, that can only help me get better. Hopefully there's way more to come. It's been great."
Perkins' perfect start to the campaign continued when, with West Ham holding a comfortable 2-0 lead in Vienna, manager David Moyes called the 17-year-old over to the touchline for the biggest moment of his footballing journey so far.
It could have been even bigger, Perkins heading goalwards from 12 yards after meeting Vladimír Coufal's cross, but for an excellent save from Rapid 'keeper Paul Gartler.
Perkins admitted: "I'm not going to lie, when I heard my name being called, I was a bit nervous, but I was prepared to come on the whole game. You've always got to think 'what if', and if you get the opportunity, you've got to be ready. 
"When I heard my name, I just knew I had to be ready and come on, work hard for the team and see out the win, and I think I did that.
"I saw Vlad get the ball out wide and obviously I know he's got the ability to cross it like that, so I peeled off into space and as it's come, I thought 'just connect with it'. 
"Maybe if I didn't connect so cleanly with it, it would have gone in, but to be fair, the goalkeeper pulled off a great save and it was unlucky. It would have been a great moment!"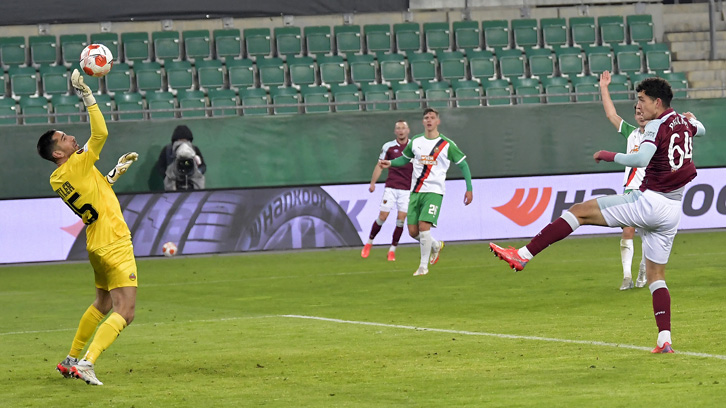 To find that kind of space with clever movement required a striker's instinct – but for Perkins, it is a new-found goalscoring knack which carried him there.
He laughed: "I've actually always been a midfielder throughout my whole youth career, so it was only at the start of this season that [U18s assistant coach] Mark Phillips and [U18s lead coach] Kevin Keen and the U18s decided to play me up front. 
"They saw I've got the attributes to do it and I like getting further forward up the pitch anyway, so I think it's suited me quite well. 
"I adapted to it really, but wherever I play, I think I can do a job and I adapt as quickly as I can. I've got to be ready to play in any position, so it's going well so far."
It was those coaches – plus his friends and family – whom Perkins opted to thank after his West Ham United debut, along with his nearest and dearest.
He smiled: "Obviously first and foremost, I've got to say a big thank you to all my family, who believed in me. It's not easy to support such a big dream, to make it to a high level in football, so a lot of support's gone into that to get to where I am now. 
"Then, obviously, I'd thank all my coaches in the Academy from when I first came in. [U18s assistant coach] Gerard [Prenderville] helped me so much from when I first came in and moving up the Academy, Mark Phillips and Kevin Keen have been great with me. 
"I've enjoyed working with all of them to be honest. This season, moving up to the U23s, I've been given my chance, so I'd say those three are the ones who have helped me the most."