The Premier League is celebrating five years of its schools' programme, Premier League Primary Stars.
Launched in 2017 and available to every primary school in England and Wales, Premier League Primary Stars (PLPS) uses the appeal of the Premier League and professional football clubs to support pupils in the classroom, the playground and on the sports field.
To celebrate, clubs have nominated a 'Superstar' – a young person or teacher who has inspired others through their dedication to the programme, enthusiasm and own personal development.
During a special presentation at Shenfield St Mary's School in Essex, Robert was surprised by teachers and Foundation staff to be named a 'Superstar' as part of the programme's five-year anniversary celebrations.
The Foundation's Premier League Primary Stars Officer, Madison Hooper, has been working in the school since October 2021 and selected Robert because of the positive character he has shown, such as, his ongoing efforts to overcome challenges and keep improving.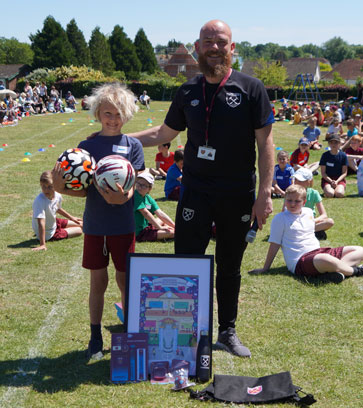 "Over the past 12 weeks, since taking part in our sessions, Robert has had a rising interest in sport and shown increased resilience. Across PE and PSHE sessions, Robert has demonstrated values of West Ham United and the Premier League, including to be ambitious, to be inspiring, to be connected and to be fair. This has helped his own development as well as the development of his peers and I've been impressed by how much his confidence has grown. It's been a pleasure to see him do so well and we are delighted to name him our Premier League Primary Stars Superstar," said Madi.
Robert, who was amazed to receive the award in front of his peers at their School Sports Day, shared his favourite parts of the programme, saying:
"I like doing the games, particularly the tag game called snake, and Coach Madi always makes me smile. I've learned how to be a good team member, doing things like cheering others on."
Upon being asked if he would like other children to take part in the Premier League Primary Stars programme, Robert replied "Definitely".
Annually, through the PLPS programme, West Ham United Foundation engages with over 700 children each week, approximately 120 teachers, and delivers thousands of PE sessions, extra-curricular activities and interventions.
During the five-year celebration, West Ham United Foundation PLPS Lead Nick Crickmar presented Robert with the Superstar award and a number of prizes.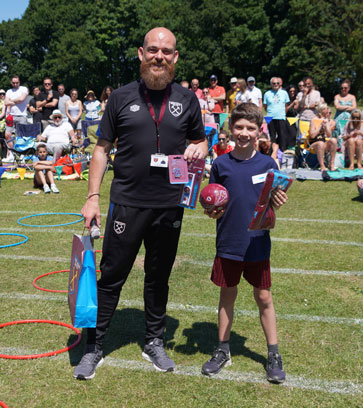 The activity was further enhanced with a second student in the school, Lucas (pictured, right), receiving special recognition for similarly always trying his best and continually representing the values of the PLPS programme.
Premier League Primary Stars provides teachers and parents with free downloadable resources across a range of curriculum subjects at Key Stage 1 (age 5-7) and Key Stage 2 (age 7-11), developed by teachers for teachers, and in collaboration with experts such as the National Literacy Trust and the PSHE Association.
"All of the children have really enjoyed their [Premier League Primary Stars] lessons, both the PE and PSHE. It's helped them be more engaged in all of their subjects, improved their confidence, developed their skills – it's been enjoyable all round – and it's been really good for the staff too. We've been able to pick up some new ideas and re-engage with sport and be more enthusiastic about it. It's been amazing," said Year 4 teacher Ms Michael.
"Robert in my class was selected as the Superstar and it's easy to see why. He's super enthusiastic about everything but most of all he's so supportive of all of his friends and his peers, always cheering them on. He's kind and a real team player and embodies all of the values that you want to see.
"It's made it even more special to be able to celebrate Robert's amazing achievement on our Sports Day and it's nice that Lucas was nominated as well."
Robert's mother, Sarah, commented: "I have felt like the programme has improved his confidence in all areas... the programme has allowed his personality to come out and shine a bit more."
She continued: "I think it's amazing that West Ham can bring the skills to children. In Robert's case he's from a single parent family as well and people have different opportunities and maybe, at times, he feels he doesn't have the same opportunities [as others] and so it's great for them [West Ham United Foundation] to bring in their skills and their knowledge and their encouragement and really push children forward and make them believe in themselves.
"For Robert who isn't necessarily the first to come forward in football, it's given him a different view of football as well and what it can be. It's not all just about winning and the Premier League, it's to do with working at community level and encouraging people from the grassroots."
Currently 105 professional football clubs from across the leagues run in-classroom Premier League Primary Stars sessions in local schools. More than 58,000 teachers have signed up to access free online national curriculum-linked resources.
Premier League Chief Executive Richard Masters said: "We launched Premier League Primary Stars five years ago to support teachers and use the power and popularity of football to inspire children in the classroom and on the sports field.
"Clubs do fantastic work to support children's learning and we are very proud that this national education programme now engages more than 18,500 primary schools in England and Wales.
"Congratulations to all those who have been recognized as a Premier League Primary Stars Superstar, as part of the five-year anniversary celebrations, and thank you to all those involved in the programme over the years."
The Premier League funds Premier League Primary Stars and other community programmes through its £100m investment per season in community facilities and community and education programmes. This is the biggest voluntary contribution to communities and other good causes of any football league in the world. 
For more information about West Ham United Foundation's Premier League Primary Stars programme, contact [email protected].