On a day highly charged with the emotion of seeing long-serving Club captain Mark Noble play his final home game of his career, West Ham United's players retained their steely focus.
Anything but, of course, and Premier League leaders Manchester City would have surely made them pay.
But knowing that a positive result was not only important for sentimental reasons, but pragmatic ones too – the Irons' 2-2 draw with Pep Guardiola's side sealed European football again next season – the players rose to an almighty challenge.
Declan Rice – wearing the armband until Noble's entrance from the bench 13 minutes from time – was one of a number of Hammers who threw everything at the challenge of containing a free-scoring City side.
A dramatic game ensued, Jarrod Bowen's well-taken brace putting West Ham on course for victory before the visitors hit back in the second half – Łukasz Fabiański producing a superb stop in the dying embers to maintain level pegging – but Rice drew great pride in the impressive nature of the collective display on such an emotional occasion.
As the vice-captain reiterated to West Ham TV, it was a result which ensured Noble's 18-year stint of home matches would conclude on a high...
 
It was so tough against Manchester City.
Obviously we had a game plan to try and stop them. You can't always stop Man City, but we knew we had strengths as well that we could exploit.
We did that in the first half – 2-0 up. We had so many chances today – clear-cut chances, it could have been three or four – but that's football. That's what they do to you, Man City.
In the end we gave a great account of ourselves, and of course, for Nobes on his last day, it's not a defeat – it's a positive result and he can bow out on that.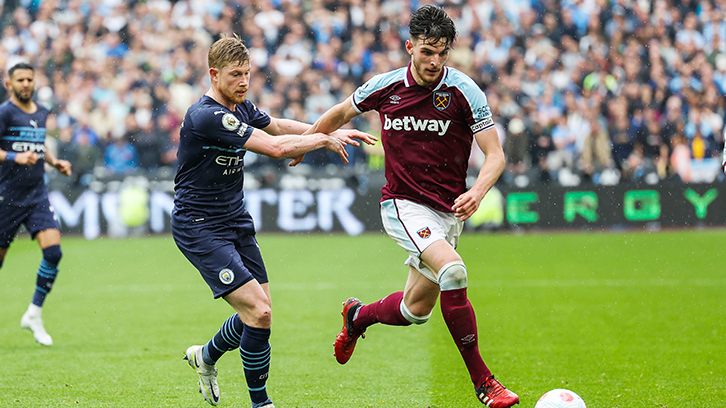 This season, Jarrod's done that so well – he's come off the line and made those effective runs.
Pablo [Fornals] played a great pass, and Michail [Antonio] did for the second one, and we had another chance in the second half to do the exact same, but we couldn't put it in the back of the net.
Like I said, it was a good, positive result, and to do it in front of our fans, it was a positive day all round.
 
You've got to stay disciplined against Manchester City and use your mind and use your head.
You do the best that you can. We've played over 50 games now this season. I think you could see the lads, towards the end, tired.
We've given it everything every single game and it's shone, so we're just gutted we couldn't win after being 2-0 up – but it was a positive result.
 
It was a great save from Łukasz.
It was a big pressure moment for Mahrez, obviously on his left foot. We wanted to win the game, but Łukasz kept it from being a defeat.
He made some big saves and he's done that all season for us, to be fair. He's a credit to this Club and has been a great player for us. It's all positive.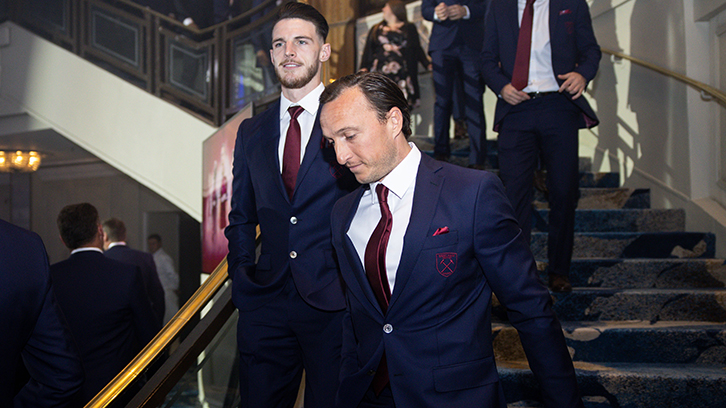 I had a tear the other day at the Player Awards about Nobes' departure, so I think today was more about happiness.
I'll probably be upset when he's actually gone as well, but just to see his family, his beautiful kids, his beautiful wife… it was really, really special today.
I'll go in the dressing room now, and have a drink with him after his incredible career.
 
The result confirmed European football all-round.
That's good for the Club, because we're going to have European nights again next year.
We want it to be the Europa League, and that's no disrespect to the Conference League – we just want it to be Europa after we've had a taste of that.
Let's be positive and wait and see, but if we play like we did today against Brighton & Hove Albion next week, we'll be alright.