Joining the Hammers in 2000/01, Norway international Ragnvald Soma made nine appearances in the Claret & Blue before playing Europa League football with West Ham United's UEFA Europa League Group H opponents Rapid Vienna.
As he celebrates his 42nd birthday, footballer-turned-salesman Soma spoke to Steve Blowers about his eventful life and career...
These days, the tranquil green, green grass of home is a far cry from Old Trafford's turbulent turf, where he made his Hammers debut in a frenetic FA Cup fourth-round tie against mighty Manchester United in January 2001.
Two decades on, with the mountains behind him, the Norwegian Sea on the horizon and a handful of sheep grazing outside on his half-acre plot, Ragnvald Soma still gets a shiver down his spine as he looks back on that surreal Sunday afternoon, when he fulfilled a lifetime ambition to walk the stage at the so-called Theatre of Dreams, in front of 67,029 supporters.
"What a memory," gasps the five-times capped former Norway international, recalling the day when he stepped from the bench to help shepherd West Ham United over the line after replacing match-winner Paolo Di Canio, who had famously ignored the arm-waving, offside claims of goalkeeper Fabien Barthez to give West Ham United a wonderful one-nil lead.
"But, if I'm honest, when Harry Redknapp told me that I was going on for those last few minutes, I was so, so nervous. I still remember the feeling. Hell, this was Manchester United and nobody was expecting us to be winning against them at Old Trafford. I didn't want to come on and let my new team-mates down. In fact, I was praying that the referee would just blow the final whistle there and then!"
A lifelong Manchester United fan, the previous season 'Raggy' had even travelled from his native Bryne on the western coast of Norway to Old Trafford, where he paid to sit in the stands and watch compatriot Olé Gunnar Solskjær net four times in the Red Devils' 5-1 demolition of Everton.
Now, 14 months later, he was actually out there on the pitch.
"Looking back, I'm so pleased that there was enough time left on the ref's watch because I did get that opportunity to play for a few minutes and that's something which stays with me to this very day.
"Growing up in Norway, I'd always followed English football and coming through the ranks at Bryne FK my big ambition was to come to the UK and play in the Premier League," continues the 41-year-old, reflecting on an £800,000 transfer from his home-town club.
"And West Ham United enabled me to live that dream for a while."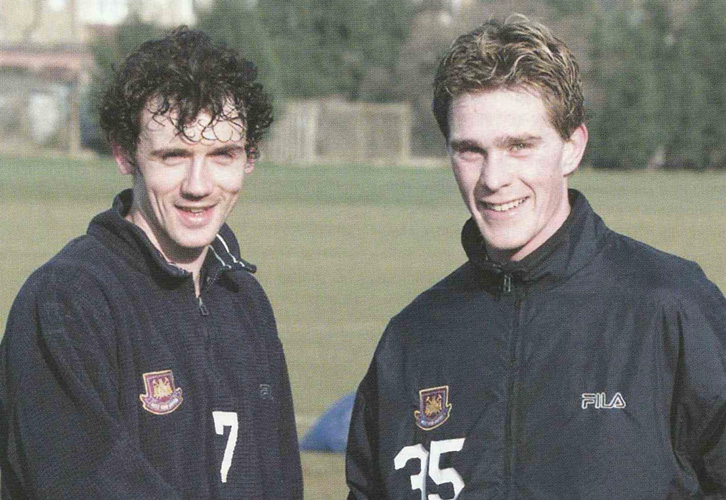 DIFFERENT DIRECTIONS
Ironically, Soma had been pencilled in to make his Hammers bow at Charlton Athletic six days earlier but, having taken a wrong turn out of his hotel, Harry literally lost his Rag as the new boy inadvertently headed north to Cambridge rather than south to meet the team coach at Upton Park.
"Yes, that motorway trip's one of the things I remember most about my first days in England!' admits red-faced Ragnvald, recalling the afternoon he was stranded on the M11 with neither map nor compass.
"By the time I made it into the 'Away' dressing room at The Valley, my shirt was just hanging there on its peg all on its own."
Just four short months after his arrival at the Club, though, it was all change for Soma when Redknapp – the manager who had signed him in the New Year – departed before the 2000/01 season had even finished.
"Following Rio Ferdinand's departure, West Ham was in transition," observes the first of the four Norwegians who have represented the Hammers. "There were already some great players at the Club, while a lot of new faces had recently been signed, too, so it was not a good moment for me, when Harry left.
"I knew Glenn Roeder from the training ground, where I'd had good experience of him and being a fellow central-defender, too, thought he'd be good for me. But it didn't turn out that way – Glenn was a centre-half from a different age and he quickly made it clear that I wasn't his 'type' of player.
"Like all managers, Glenn wanted to build his own team and I totally understood that, but I was spooked to eventually be told that the Club was not going to give me any more first-team opportunities. Okay, it was a fair message to convey – that's football – but I was shocked at the thought of not getting any more chances at West Ham.
"After that, there was no point in staying and hoping that I might get another first-team opportunity some day. I needed to play every weekend and didn't want to lose the chance of making a career for myself elsewhere.
"I also wanted security for my young family and decided to go home to Bryne where I could play regular football and regain my confidence, which is exactly what happened."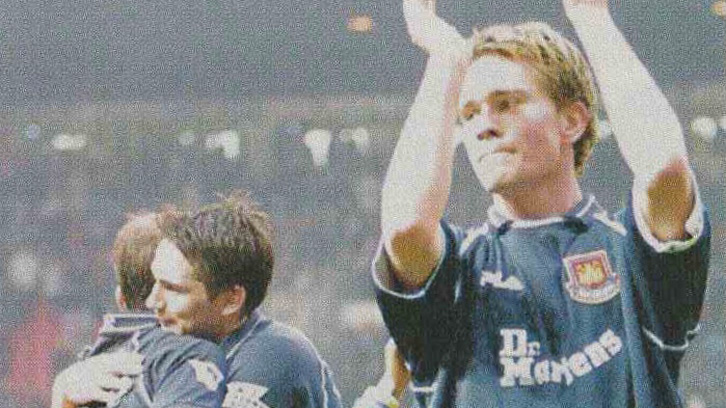 END OF THE ROED
"Most people can only dream of playing professional football because there's nothing else quite like it," acknowledges Soma, who having reached the end of the Roed at West Ham re-engineered himself back at Bryne after escaping the East End in August 2002.
"Norwegians grow up learning about the great English stadiums and I can always say that I played at Old Trafford, Anfield, Highbury, Stamford Bridge and Goodison Park as well as the famous Boleyn Ground. 
"Although things never turned out how I'd hoped, I still faced the likes of Manchester United, Liverpool, Arsenal, Chelsea and Everton and am really grateful for those experiences," he insists as he prepares to head back outside into the fresh Scandinavian air with seven-year-old daughter, Camelia, to check on the family flock. "I had the greatest time of my life on a football pitch – yes, I definitely lived the dream."
RAPID RETURN
"It could be so easy to just have bad memories of my time with the Hammers," contends Ragnvald, as he reflects on his nine matches in Claret & Blue. "But looking back, West Ham United was actually the making of me as a professional footballer because it enabled me to educate myself in a way that had never been possible at home.
"When I went back to Bryne 18 months later, I was able to do everything so much quicker. Whenever the ball was at my feet, for example, I suddenly felt that I had all the time in the world. 
"Without doubt, I would never have got the opportunity to play 100 games for Rapid Vienna for three seasons if I hadn't spent that time at Upton Park. London and Vienna are both lovely, historical cities and their people are very similar, too – they keep their friends and family  close and don't particularly invite strangers into their lives. 
"At West Ham, I was only 21, I'd married early and we had our first baby – Amalie – too. We'd lived in Norway all our lives and although I managed the football side quite well, I was like a hot potato when it came to trying to settle in a new country. Generally, I wasn't totally up for being abroad nor prepared enough for a young life in London. If it'd been just a few years later, then it would've been a totally different story."
After returning to his homeland and pressing the reset button at Bryne, Soma then enjoyed a scintillating spell at SK Brann in Bergen, where his form earned him international call-ups and following another transfer to Viking Stavanger, he then took that second sojourn overseas with his move to the Austrian capital in 2009.
"The family was older and we now had more experience of living life and, approaching 30, it didn't feel so scary to leave our safety net behind to join Rapid Vienna," he reveals. "We had a good time both on-and-off the pitch – I'm still in touch with people there – and I'm grateful to the club because they enabled me to play the best football of my career."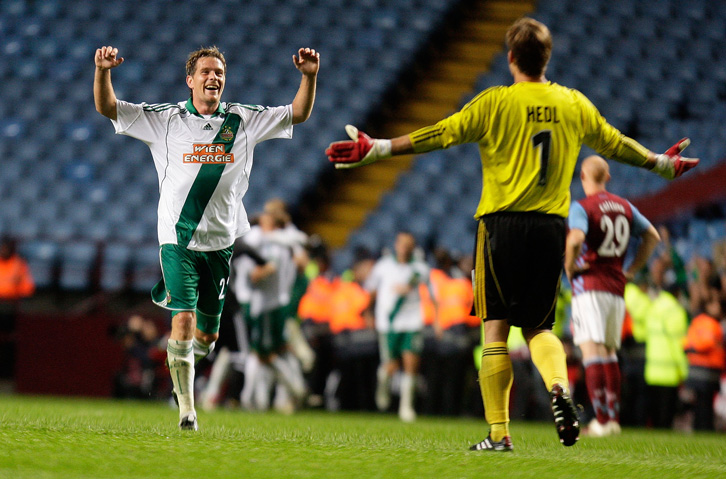 EURO-DREAMS
Having played in the competition for two seasons while at Rapid Vienna, Ragnvald Soma knows all about the UEFA Europa League.
"European football means so much to both the players and the fans," he says, looking back on successive campaigns that saw the Austrians twice overcome Aston Villa in the Play-Off round to reach the group stages, where they faced the likes of Hamburg, Celtic, Hapoel Tel Aviv, Porto, Besiktas and CSKA Sofia. 
"Although we lost the second leg at Villa Park in 2009/10 we still went through on away goals and, one year later, having drawn 1-1 at home, we then came back to England and won 3-2 and that evening in Birmingham really sticks in my mind. The Vienna supporters behind the Villa goal unfurled a huge green and white banner which said: 'Your nightmare returns!' Wow, I still get goosebumps thinking about that night."
SALESMAN SOMA
"With every day that passes I realise how much I miss football," insists Raggy. "It seems a really, really long time since I played. Nowadays, I have an ordinary life working from eight in the morning until four in the afternoon as an ordinary salesman for a Swedish environmental group.
"In the evenings, I like to clear my head and that's why we've moved out of town into the countryside. Credit to the business, though, they are proud of their future-looking values and are one of the best in the world at focusing on sustainability, reducing waste and putting new products back into the economic wheel.
"But it's not the same as football," sighs the father of three daughters with more than a hint of understatement. "Sadly, I don't have the same passion for recycling that I had for the game! I've been away from professional football for eight years now and, although I only seem to check the results these days, I'd love to be involved a bit more, albeit I'm not sure in which role?
"I do seem to be getting one step closer, though, I've been invited to academies in the past, while my 16-year-old daughter – Thea – also plays to a good standard," concludes Raggy aloud as he mulls over the possibilities. "I've also got an agent's licence and a good network of contacts so it'd be good if I could find a couple of players to bring over to the Premier League – after all, apart from John Carew, Martin Samuelsen and Hávard Nordtveit there haven't been too many Norwegians at the Hammers since I left!"