It is 50 years since the chequered flag waved at West Ham Speedway for the final time. Mark Webster raises the tape on one of east London's most poignant sporting stories…
Down the years, we've had quite a few chants turn into hits – 'Billy Bonds, six foot two, eyes of blue' was one of the first to catch these ears. Then there's Paolo Di Canio's grand operatic number, of course. Not forgetting the latest dancefloor smash 'Massive', which is, well…the answer's in the title.
How about this one, though?
'West Ham lost, what a pity,
Put the blame on Eric Chitty'.
Doesn't sound familiar? Well, that's probably not surprising, unless you happened to have been a fan of the Hammers on two wheels? Recently, my grandson Frankie added some pictures to the family WhatsApp that brought that chant to mind. He'd found some fantastic photos of West Ham's old stadium. Not our wonderful former home along Green Street, but the sporting arena situated where Prince Regent DLR station now sits.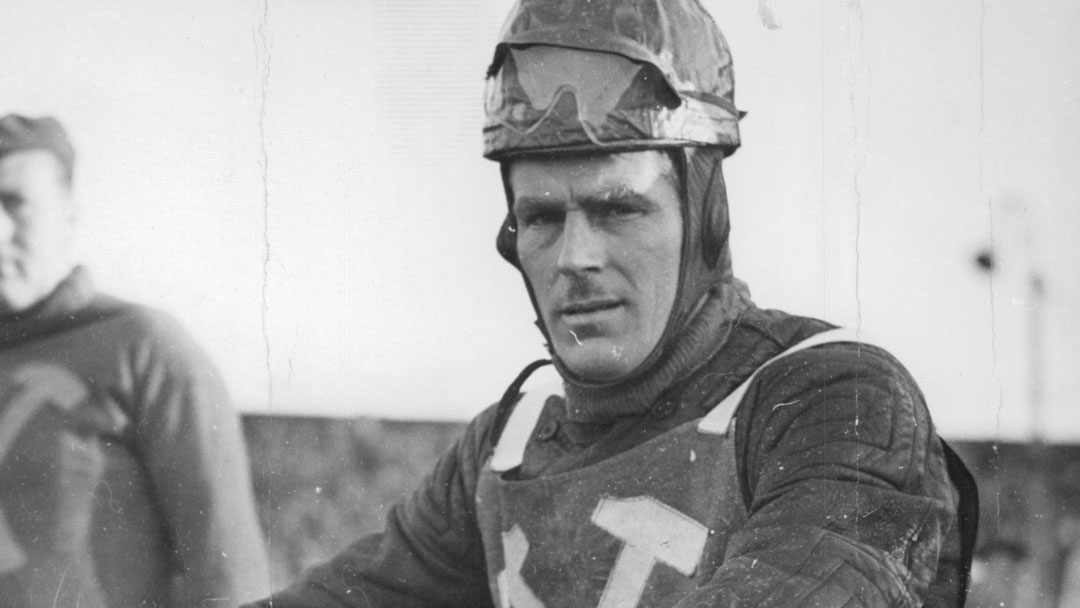 This was West Ham Stadium, home of Hammers speedway, And as she's often told us, it's where my mum Pat went as a young teenager, with her mate Doreen from Monega Modern Secondary school in Manor Park, to watch the action. Standing on the bend, getting covered in mud as the riders skidded by, and putting the blame, tongue in cheek, on one of the team's greatest riders, one Eric Chitty.
It was 50 years ago this year that West Ham Stadium finally closed its doors. It was built in the late 1920s and, remarkably, could hold over 80,000 people. It had a prestigious birth, too, as it was designed by the architect Archibald Leitch, who also created Anfield, Highbury and Goodison Park.
It saw its first 'dirt track' race in the summer of 1928, featuring a team in claret and blue and boasting crossed Hammers on its badge, although the football and speedway teams were never directly affiliated. However, the Stadium was no one trick pony, which may have been about the only thing they didn't think of to try and bring in the crowds!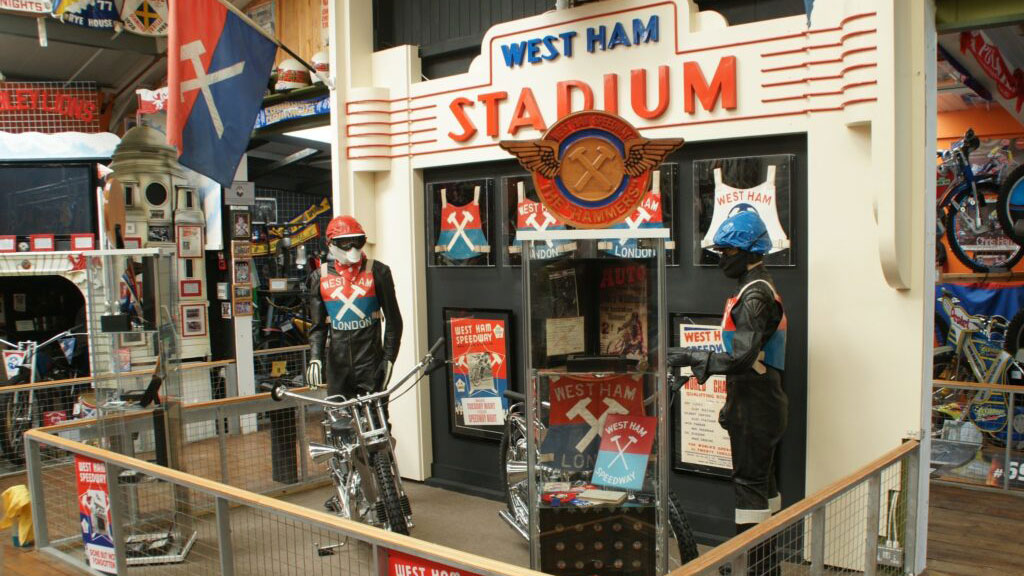 West Ham's baseball team (for more on which, you must track down Brian Belton and Josh Chetwynd's book British Baseball & The West Ham Club) played there, as did England and Australia in Ashes speedway test matches in the years after the Second World War. They even managed to squeeze some stock cars onto the track, while there was even an attempt to get a football team going called Thames Association FC (they spent two seasons in the Football League between 1930-32) although the appeal of the noisy neighbours in East Ham soon put paid to that.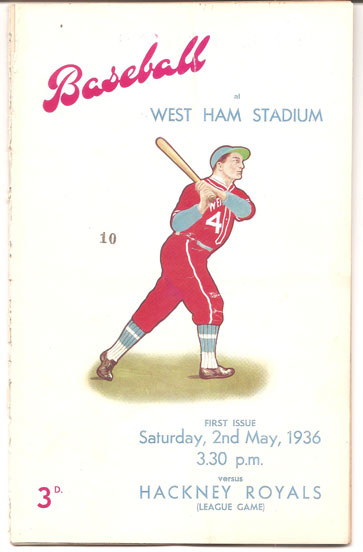 However, what did prove successful was greyhound racing. In fact, one of the sport's most celebrated winners raced there in the early years. Mick the Miller broke a World Record at the Stadium in 1930 and became so famous he actually starred in his own comedy film, Wild Boy, with music hall legends Bud Flanagan and Chesney Allen.
But it's the speedway that my Mum remembers most fondly, as indeed does the local area today. When the stadium was demolished, some Hammers riders from the thirties to the fifties were honoured in its wake. So now, old mud-splattered heroes such as Arthur Atkinson, Tommy Croombs and Aub Lawson are remembered as road names – Atkinson Road, Croombs Road and Lawson Close respectively.
But what of the subject of young Pat Parry's (as was) favourite chant, 'Eric Chitty'? Well, Eric was born to English parents in Toronto in 1909. He first raced in Canada and the USA in the twenties and thirties, when he was spotted by Johnnie Hoskins, the man known as 'The Father of Speedway', and who actually ran the Hammers from 1930-39 and also has a road named in his memory (Hoskins Close).
Eventually, Eric decided to take up Hoskins' offer of a contract and joined the Hammers in 1936.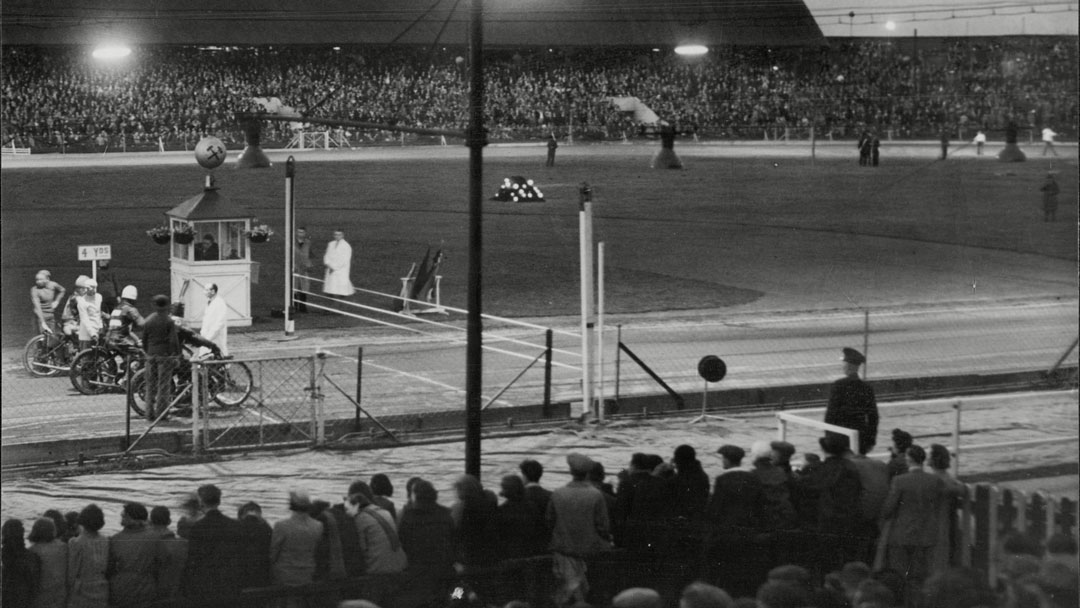 Not only did he settle into the area by opening his own bike shop – from three-wheelers to racers – on Barking Road in Plaistow, he also wowed them at the Stadium while off of his own bike. It seems Eric had quite the singing voice, and at the interval would earn a few extra quid by giving the crowd a 'Ditty from Chitty'!
During the War, he was a reserve policeman in Docklands, but took up with the Hammers again in 1946 until his retirement from the sport in 1952. In 1972, Eric was voted the seventh greatest Hammers rider of all time. And that, in spite of what my Mum and her fellow speedway Hammers fans sang about him. Well, it was a catchy chant. You can't put the blame on them.