West Ham United striker Sonny Perkins has been named the Premier League 2 Player of the Month for April. 
The 18-year-old was in sensational form in the closing weeks of the U23s' 2021/22 campaign, scoring three goals and providing an assist in four Premier League 2 matches last month. 
The forward's fine efforts also continued in the Premier League Cup, with Perkins netting in a comprehensive 5-1 win over Leeds United in the round of 16. 
"Winning this award means a lot to me," Perkins told whufc.com. "It's a nice way to be recognised for my form, and to be recognised for doing well.
"It's a good way to finish off the season and it's a nice feeling. 
 
It's a nice way to be recognised for my form, and to be recognised for doing well.
"It means a lot to get this award because there's a lot of good, young players in this league. I think, to be recognised among those names, is a great feeling."
Perkins cleverly netted an instinctive finish at home to Tottenham Hotspur in a 3-1 win to kick off the month, and also found the net twice with two powerful strikes in a 4-3 victory away to Everton. 
Having scored from the penalty spot against Leeds, Perkins continued his fantastic April form into the last game of the season – in early May – with two more goals at London Stadium against Derby County. 
He continued: "I really wanted to end the season strongly and make sure I didn't let my focus slip, just because it was coming up to the end of the season.
"I still wanted to take pride in my performance, do as well as a I can, and finish the campaign with as many goals as possible. I think, to finish the way I did, I'm happy and proud of myself.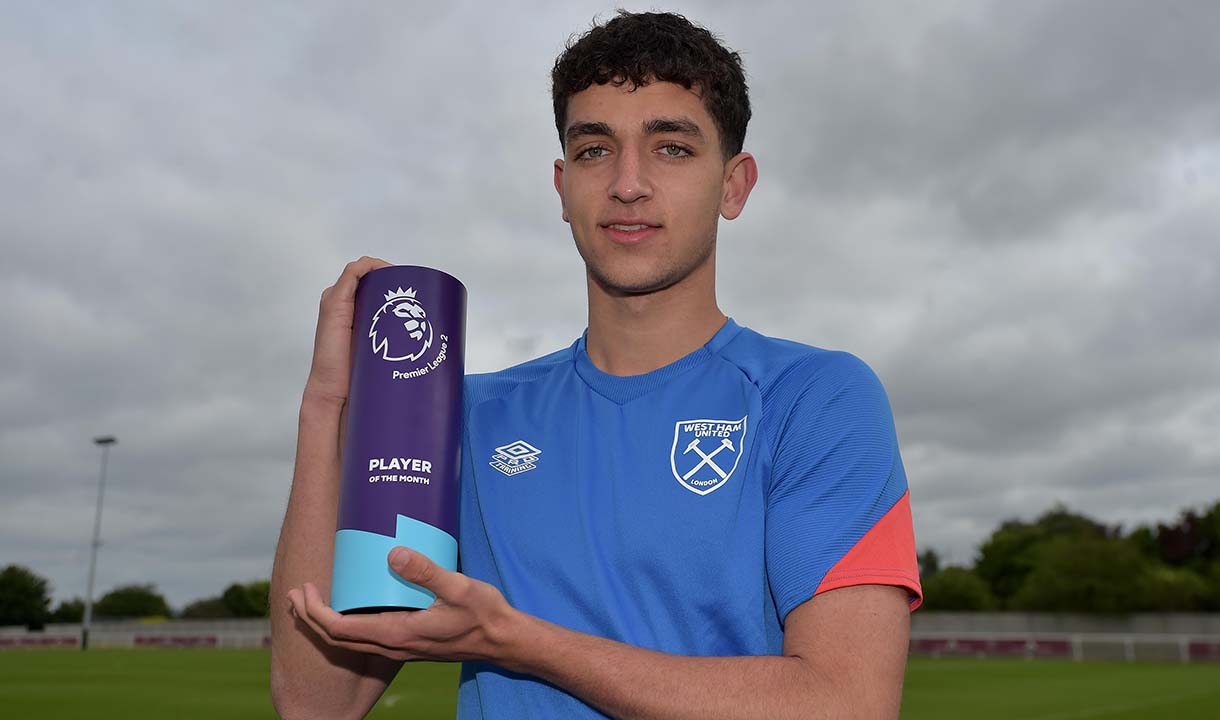 "We've got a lot of quality in this team and that helps, as a striker, when you've got that across the pitch.
"I've been lucky all season to be playing alongside good players and also learning from more experienced players. It's been so good for my development and helped me score goals too."
Being named the April Premier League 2 Player of the Month comes less than a week after Perkins was also honoured at the 2022 West Ham United Player Awards, where the striker - who also won this season's Doris Bell award for most improved Academy player - was named the recipient of the 2021/22 Dylan Tombides award. 
The Dylan Tombides award is given annually to the Academy of Football's outstanding Scholar, and is named in honour of the late West Ham United and Australia U23 forward Tombides, who tragically passed away at the age of 20 in April 2014.
"Winning the Dylan Tombides award was a great feeling too. Just to be recognised within the Club for my efforts was great.
"It's a special honour within the Academy, so it was a really nice one to win. It shows I've had a good year and other people here think I've done well too, so it's been a good few days for me."
The teenage attacker has enjoyed a near fairytale season. Having scored a hat-trick on his first outing of the campaign, against Reading for the Hammers' U18s, Perkins has risen up the ranks quickly to net 13 times at U23s level.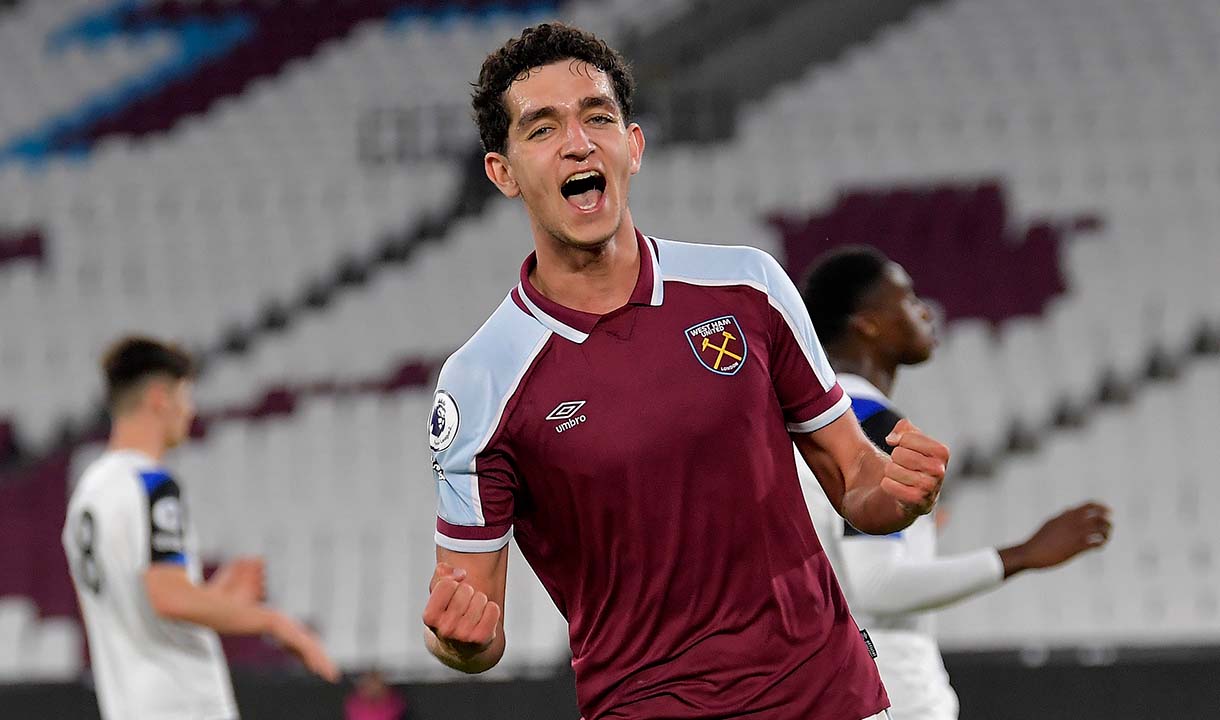 The striker also went on to earn his senior debut away to Rapid Vienna in the UEFA Europa League group stages in November, and has also been named in five Premier League matchday squads this season, making his English top-flight debut in January when he came on in the home fixture against Leeds United.
Perkins takes great pride in his 2021/22 season but is already focusing on how he can be even better in the new campaign.
"It's been a great year," Perkins added. "I can be proud of it, but for me now it's about learning from it.
"Not every moment has been perfect and there are still things I can improve on. Overall, though, it has gone well for me and I'm happy with that.
"I remember my first interview this season, after that Reading game - I talked about my goals for the year, and I'm happy with what I've achieved.
"Now it's just about working even harder in the off-season and pre-season, and being ready for the new campaign, because I can still be even better."