Just under nine miles away from Parc Olympique Lyonnais lies Stade de Gerland, former home of the Ligue 1 club West Ham United face in the UEFA Europa League quarter-finals on Thursday evening.
It is a venue which the late, great Cameroon midfielder Marc-Vivien Foé – formerly of both West Ham and Lyon – graced with his footballing excellence.
Playing for the Irons for a season-and-a-half before two further campaigns with Lyon, Foé was first teammate to Stuart Pearce during the 1999/00 season, before later becoming his player at Manchester City when the current West Ham first-team coach was in charge as manager.
Tragically, he would collapse while playing for his country, Cameroon, against Colombia in the semi-finals of the FIFA Confederations Cup on his return to Stade de Gerland on 26 June 2003.
Despite prolonged attempts to resuscitate him, Foé sadly passed away an hour later. A post mortem found evidence of hypertrophic cardiomyopathy, a hereditary heart condition known to increase the risk of sudden death during physical exercise.
It was a shocking and unforgettable moment for football, and one which touched everyone associated with West Ham, the club Foé had joined for a record £4.2million fee and represented 48 times between January 1999 and May 2000.
Foé's legacy has seen heart screening become a regular part of football across the world, and his contribution to the game, and West Ham United, will never be forgotten – as Pearce told West Ham TV at Stade de Gerland, where he and the Club paid tribute…
 
Stuart, it's quite poignant to be at Stade de Gerland in Lyon today to pay tribute to Marc-Vivien Foé – a former teammate at West Ham and somebody you coached at Manchester City – nearly 19 years after his passing.
"It certainly is. I thought it was really fitting that we came here today to pay tribute to Marc, for what he did as a footballer, which was magnificent for West Ham and Lyon at this place, where we're stood today. 
"On top of that, it's for what he was like as a man. He was a fantastic man to work alongside. I've coached him, I've been a teammate of his as well, and he was just a smashing man. 
"That's what I remember first and foremost: what he stood for as a man. He was a very quiet, very humble family man, and as you say, it's really poignant that we're here today, and rightly so."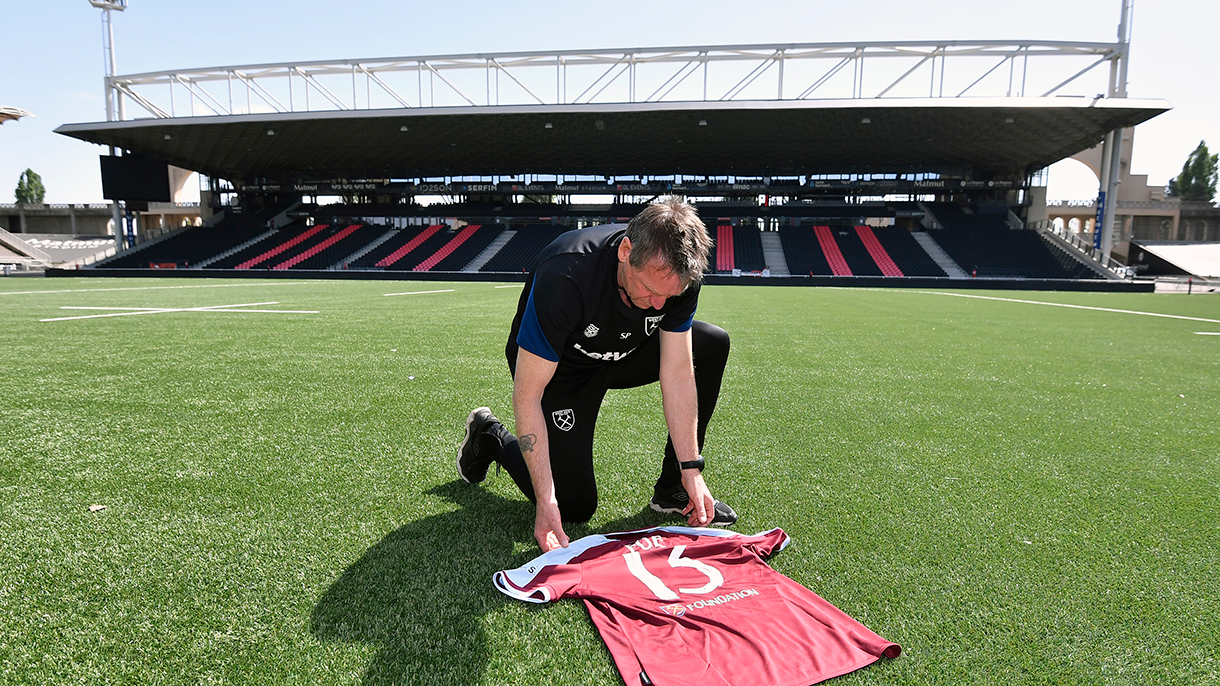 You played with Marc at West Ham in your first season (1999/00), a season we enjoyed European football – he was a big player and a big character, wasn't he?
"He certainly was. He made my life a lot easier on a football pitch, that's for sure. He was that defensive shield in front of, normally, three of us in Rio [Ferdinand], myself and Igor [Štimac]. [Ian] Pearcey played alongside us as well, and [Steve] Pottsy, who is still at the Club now, will remember him well.
"I've got some really fond memories of Marc – more so as a man, and that's the more important thing I think. That stands the test of time, what people are like as human beings."
His passing was so tragic and a shock at the time, but it led to a lot of medical advancements at football stadia and awareness at professional and amateur level...
"I remember watching scenes of it on television at the time, and obviously Marc was on loan at Manchester City at the time, and was one of my players. 
"It really brought it home at the time, and I remember going to services in Manchester in regard to Marc.
"If there's one good thing that came out of anything, if anything, it might have saved the life of people like Fabrice Muamba, and other individuals as well, who have suffered similar problems and I think the medical back-up around football clubs nowadays and in stadiums, which has helped not just the players on the pitch, but people on the terraces as well, saving lives. 
"If Marc's left a legacy in any way, shape or form in this tragic scenario, it's certainly going to be that."
And it reminded us that we have to be grateful for every day, and occasions like today…
"Without a doubt. Hopefully Marc will be looking down and enjoying the game tonight from wherever, and hopefully there's a good entertaining game for him to smile upon, but we'll be thinking of him this evening."