Armstrong Okoflex believes West Ham United U23s' five-star performance against Leeds United was exactly what the team needed.
Okoflex netted twice while Dan Chesters, Sonny Perkins and Manny Longelo also got on the score-sheet in a 5-1 thrashing of the Peacocks on Monday, sending the Hammers into the quarter-finals of the Premier League Cup. 
The winger noted that the previous match, a 2-0 defeat to Blackburn Rovers, had not been a great showing by the development side, and it was important the team got back to winning ways and showing their quality against Leeds.
This was exactly what we needed after a poor result in our last game. This performance showed our quality. 
"This was exactly what we needed after a poor result in our last game," Okoflex told whufc.com. "This performance showed our quality. 
"Our last game, against Blackburn, we were a bit flat, but we made sure we were going from the first whistle in this game. Even though we conceded early, we kept our heads up and we went at it and got a good win.
"We were confident, despite going behind. Even though they scored first, we had chances before that, so we knew we would creating chances. Obviously, we wanted to keep a clean-sheet but it didn't happen. We need to cut out those little things but we kept playing well, looking to get forward, and got our goals."
Okoflex admitted his own performances have been lacking in recent games and was delighted to get back to scoring goals for the side. 
The No11 coolly dispatched the Hammers' opener in the first-half and confidently placed a penalty into the back of the Leeds net for his second, and the U23s' third, of the game.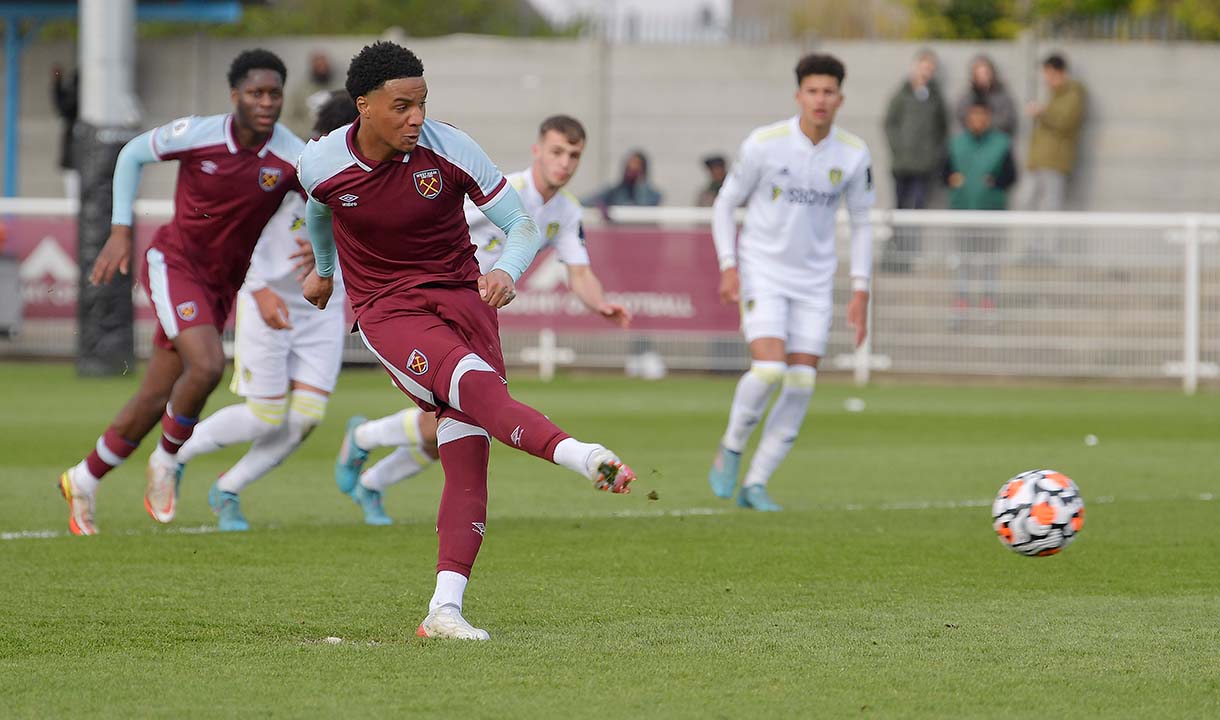 "I felt I needed to step up my own game. I haven't contributed as much in recent weeks so I knew I had to improve.
"I've been trying to play better and the coaches have been helping me with that. It was great to get back in the goals. I'm trying to express myself on the pitch and hopefully I can keep doing that."
Having secured such a rousing win, Okoflex noted that the side had received a boost in confidence from the result, one he feels will prove to benefit the team in the remaining matches this campaign.
He added: "Leeds is always a tough game. We drew with them 2-2 earlier this season so we know what they're about. The way we played today was a real confidence booster, and we're all looking forward to the next game. 
"We want to focus on the last few weeks and keep playing well. Against Liverpool, we're looking to do the same again. We want to keep scoring, keep making chances, and keep getting good wins. 
"It's Fulham in the next round as well. We haven't played them but they're doing really well in Division 2. I know a couple of the players there but we're confident going into that game. We're ready for anything that comes our way."