Over 543 games and close to 18 years as a West Ham United first team player, Mark Noble has played his part in a whole host of special occasions for the Club.
Thursday night's 2-0 extra-time victory over Sevilla, to set-up a UEFA Europa League quarter-final againsy Olympique Lyonnais, was right up there among the best.
Noble entered the fray as a late substitute to help his side complete the job against the six-time Europa League winners – but the skipper gave just as much credit to the raucous support the team received for spurring them on to victory.
Tomáš Souček's first-half header brought the Irons level on aggregate, cancelling out Munir's goal from the first leg, before Andriy Yarmolenko won the tie during the additional 30 minutes.
For Noble it was, quite simply, a night he will never forget.
"It was an incredible night," he beamed. "I take my hat off to the support that was in here tonight, it was incredible.
"The fans knew what we needed to get through, to support the players and the noise was phenomenal. I really believe that's what got us over the line tonight.
"It's a case of a group of players who are so close and so tight-knit that pull in the right direction for one another. We've got some outstanding players as well – and you've got to remember that we've missed Jarrod Bowen these last two ties.
"It's phenomenal and for me personally to witness this tonight is just incredible and I really believe we can do something special."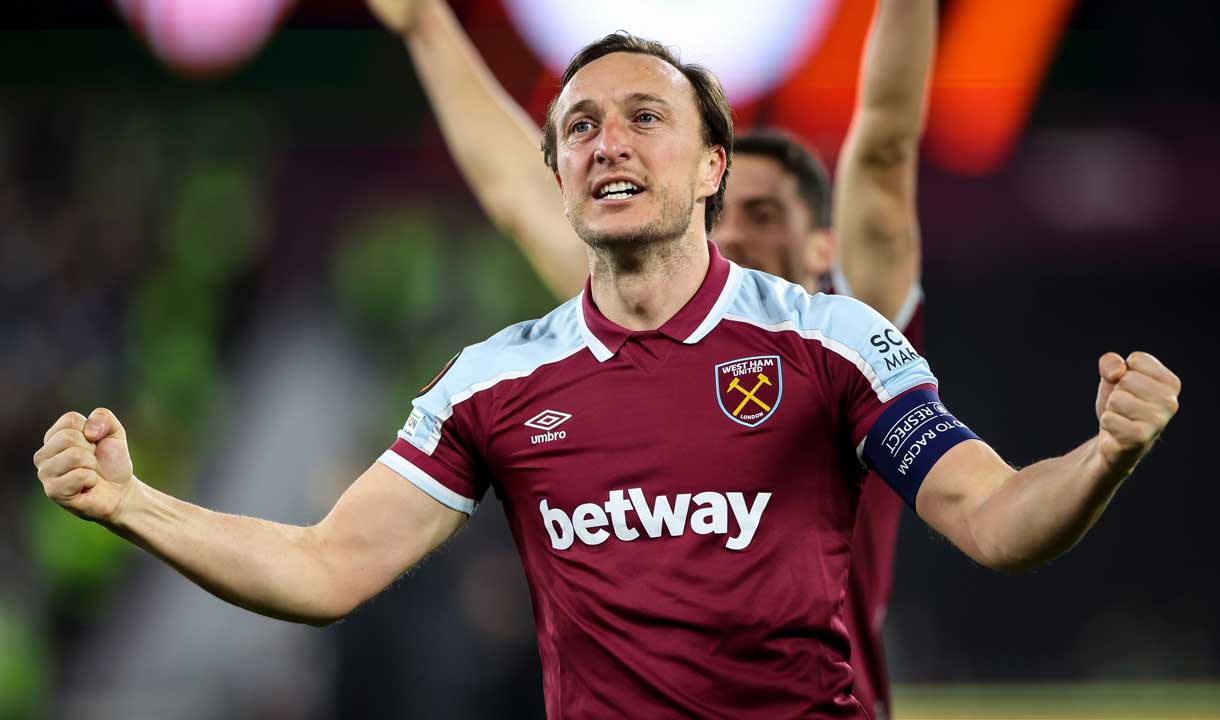 Along with the unrelenting support the team received, Noble also reserved special praise for Yarmolenko, who twice in the space of the last week has come off the bench to score vital goals for his team in the midst of the crisis engulfing his home country of Ukraine.
"If you look at what's happened in the last week with Yarma he could have easily stayed at home, and none of us can even think about what's happening to him, his family and his country.
"Yarma has come on in the last two games, been a team player and got us the goal at the weekend and got the goal to send us through in this tie.
"I take my hat off to him and will be forever grateful. He'll always stay in my memory for this night. He's been unselfish, sat on the bench tonight, come on and scored the goal we needed. I will be forever grateful to him."
The fans knew what we needed to get through. I really believe that's what got us over the line tonight
Noble was also grateful to be able to experience that special atmosphere from out in the middle, having been introduced as an extra-time substitute.
"I got goosebumps when I ran on and heard the noise," he added. "For me to go out on a season like this – I've given everything to this club for 20 years since I was an eleven-year-old kid. I've taken everything home with me and it hasn't always been rosy. It's been tough at times but I've done my best to drag the players and the Club through those tough times.
"It's not finished yet, but to finish on a season like this is so special. I can only thank the staff and players for giving me such a nice send off, but like I said it's not over yet."