Mark Noble never thought this would happen. 
Did he imagine it? Did he dare to dream it? Sometimes, yes. 
But the legendary West Ham United captain never truly thought, in his final season wearing the beloved Claret and Blue of the Club he has supported since he was a boy, a journey to the UEFA Europa League semi-finals was possible.
It has been a special year for Noble, one that was already set to be filled with emotion. Mr West Ham has seen it all in his near-two decades as a first-team player, but his last campaign could be the most historic of them all. 
As the Irons prepare for a first European semi-final since 1976, Noble opened up to the gathered media on preparations for Thursday night against Eintracht Frankfurt, his feelings about the campaign so far, and hopes for the final few weeks to come…

Getting to this position is an incredible achievement.
Did I imagine it, yes? Did I think it would happen, probably no!
This season for me, after announcing it would be my last, has been pretty special, but as I keep saying, it's not over yet. We've got an incredible game tomorrow night and then we've got another, bigger game in a week's time, and to be able to enjoy that with the fans and players who have got us to this position, and the whole staff at this place and at the Stadium, is an incredible achievement and something we're all looking forward to.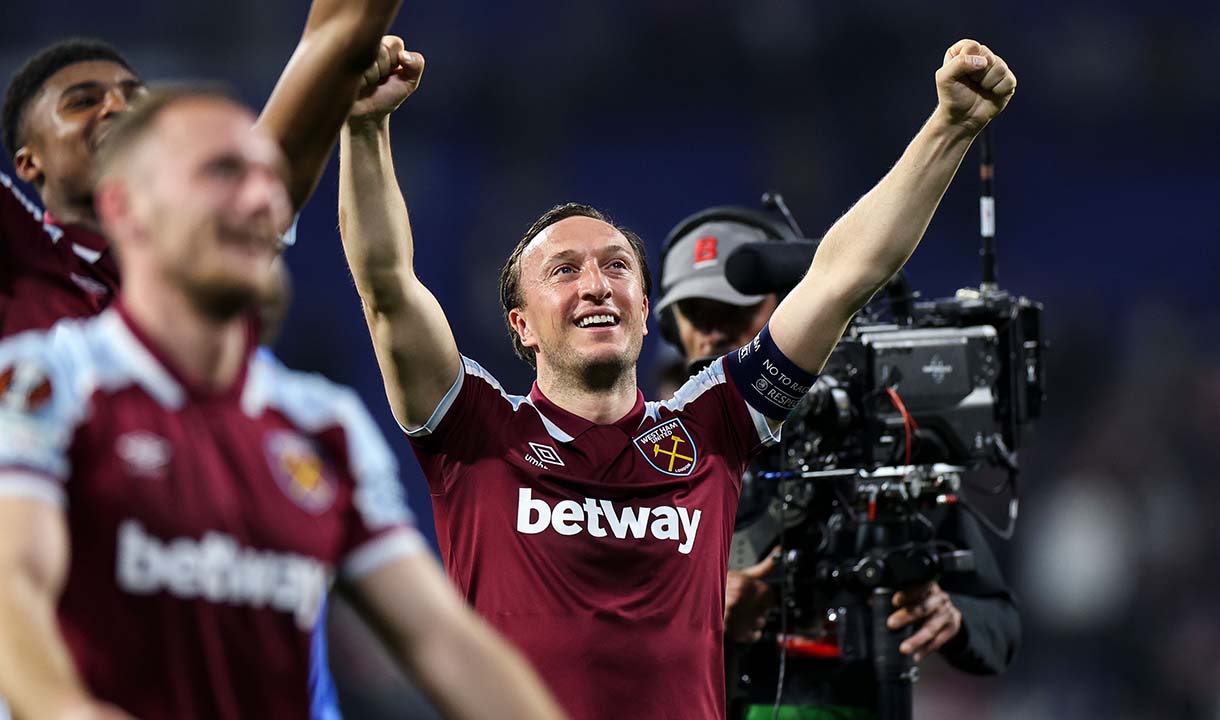 The players have been incredible.
Sometimes you get an incredible mix of talent, hard work, honesty, a group of players who have got no egos and work for each other, a manager that doesn't let anything slide and demands hard work, and has put a philosophy in place that if you don't work hard, you don't play. We've seen that in the two years since he's been back and it's worked.
We've also got some very good players along the way, and a real credit to the players who have got us to this position.

I've tried not to think about winning the Europa League.
For myself, I wouldn't be disrespectful to a club like Frankfurt - a fantastic football club. Any team that beats Barcelona you need to respect.
I would be lying, and I think any player in the world would be, when they say they don't think about it. The thought of lifting the Europa League at the end of this incredible season would be dream-come-true stuff.
I knew we had a great squad, an honest squad, and I believed we could do something special, but a semi-final... and the Cup games we've had, to beat Man City and Man United, we've had some great Cup experiences, but this one now tops everything.

You can't win this tie in the first-leg, but you can lose it.
I think if you look at it how we've looked at every game this season, going into every game with no detail overlooked in terms of the opposition. I think the way the manager approaches every game is the same. We've looked at Frankfurt since we've played Chelsea on Sunday and we'll get ready for the game.
I'm pretty sure with the atmosphere on the night and the team we've got, we'll be in the game for when we go to Frankfurt, I'd be very surprised if we weren't, but you've got to treat every team with respect because you don't get to this position without being a good team.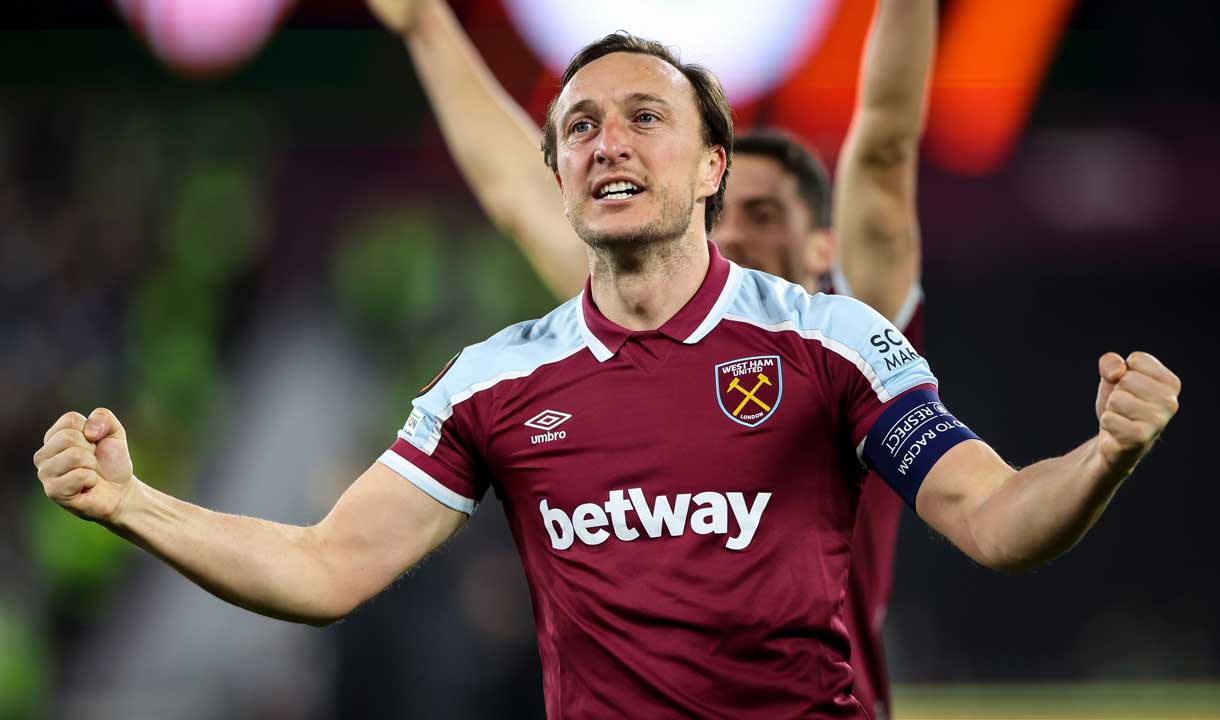 Winning the Europa League won't tempt me to change my mind on stepping away.
I've been asked so many times now by so many different people [if I'd change my mind on retiring] but the reason we'd get into the Champions League is by winning the Europa League. So, winning the Europa League and lifting the trophy - would I come back? No, and that's my honest answer. To end on that would be pretty special! 
I was joking with the lads If that did happen, I'd happily come and watch the Champions League games with the Europa League trophy on the next chair! But that's way down the line. It's about concentrating on tomorrow night.

I've never looked forward to a game this much in my career. 
In different aspects and different moments I've had, this is probably one of the most important, because at different stages getting promoted or staying in the Premier League is so important. 
But for pure enjoyment and atmosphere, Sevilla at home would be hard to beat, but Frankfurt at home will be pretty special.
I don't think I've ever looked forward to a game in my career so much. This is the last game I will be involved in, in Europe, at our home ground, and to be able to celebrate that, in an occasion with my own fans, is pretty special.
I have a great relationship with the manager. 
He doesn't lack in honesty! If you're not doing it, he will tell you, whether that's me, Dec [Rice], or any other player in the squad. And I think that's what footballers respect in the long run. Whether you get on with a manager or not, if they're honest with you, you respect that.
He brings the organisation of the team and, the last couple of years he's been back I haven't played as much as I have done in the past purely because I'm getting older and there is a central midfielder player who has come through the Academy and is probably one of the best in the world at the minute. But my relationship with the boss has not changed.
We talk about the team and we talk about football regularly. It's partly my job as well to stop things getting to his office because he's got a massive football club and a lot of players to manage. As a captain, it's my job to tidy up the rubbish before it gets to him.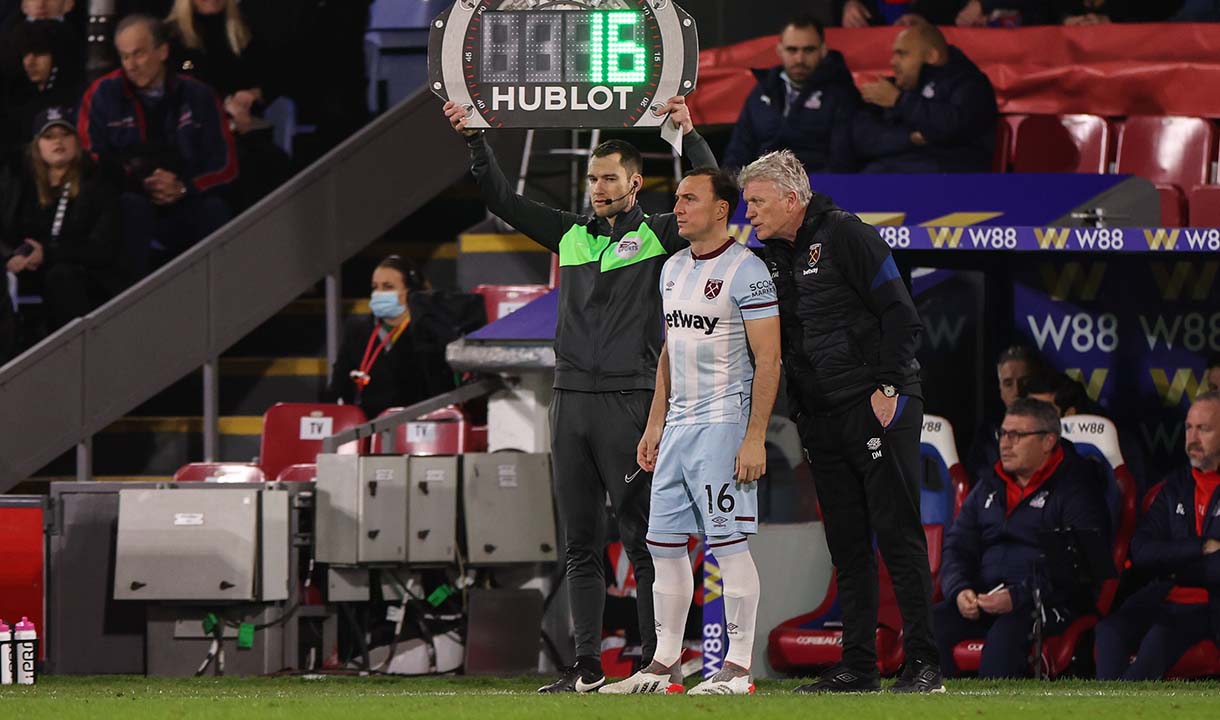 We have the belief to win this tie.
Do I think it's possible? Yes. It's going to be tough, we know that, because the three other teams in this situation will be thinking the same.
As I said, I would never be disrespectful to Frankfurt. Do I believe we can win? Yes. If we play how we know we can play with the resilience and attacking play and defending as a team I think we can win, and with the fans behind us tomorrow night and who will travel to Frankfurt…I have crossed my fingers since we beat Lyon.
To win this competition would be life-changing. 
I've given my life from the age of eleven to this Club through the good times and bad times. There have been some tough times but the one mainstay for the last 18 or 19 years has been myself, so I'm proud of that. I've accumulated the amount of games I have but I think winning the competition would be life-changing for all of these players, not just myself.
Also, for a Club and a fanbase that's really stuck with their team and stayed loyal - we get 60,000 every week now and we sell the away games out every week as well - it would be a really good payback for them. 
We have had some tough times, but these are the good times and you've got to enjoy them.
This group works fantastically together.
I think you get players that come into the squad and it sometimes it just clicks, and you have a group of players who work fantastically together. 
You have three or four really special players in the team and you also have people like – and I'm sure he won't mind me saying -  Craig Dawson who come to West Ham, we had Kurt Zouma and Angelo Ogbonna doing great,  and you get a few injuries and Daws has been phenomenal for us this season.
You need players like that who are going to pull up their socks, who are going to play for you no matter what. We've got a lot of those players and that's why we've been successful this year.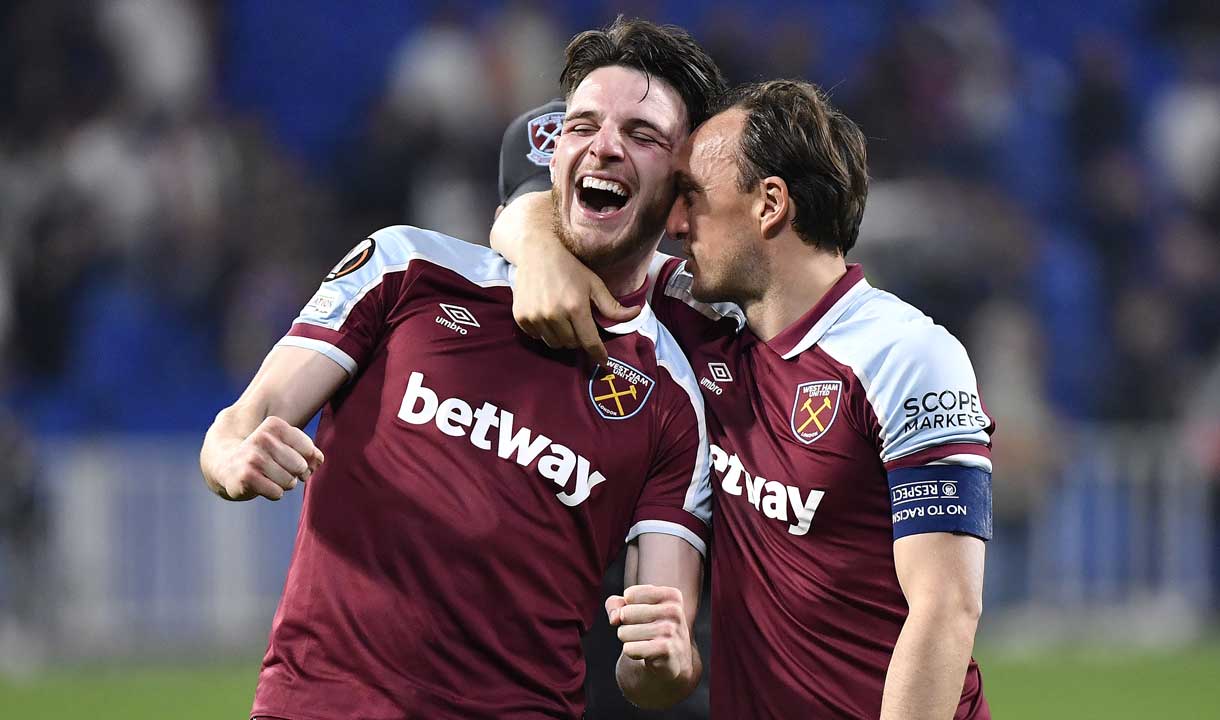 I've not had a chance to think about my future.
When you wind down your career, the one positive I've had is that it's been ramping up for us, not winding down! We've been away in Europe, we've had the Cup games and I've played in and been involved in a few Premier League games from the bench, so I haven't really had the chance to think about it.
Everyone knows my affiliation with West Ham. My son is in the Academy, I know the staff from top to bottom, I know nearly all the Academy players by name, so my affiliation with this Club will always be strong.
The gaffer's made it clear to me he wants me here, but I do owe it to my family and kids to go away in the summer and have a holiday, because they haven't seen me for the last 20 years!
I will take some well-earned rest, hopefully as a winner, and then see where we go from there.
I know what this means to the West Ham fans.
I'm quite an emotional person anyway. I think you've seen it in my career when I cried against Spurs when we lost against them. 
Against Sevilla and Lyon, that emotion came from Just the thrill of fighting so hard for this Club for the last 18 or 19 years, and when you have feelings like that... I know personally how much it means for the West Ham faithful.
Wherever I go here, whether it's into a coffee shop or somewhere with my kids, I end up talking about West Ham within five minutes. I know how much it means to the people. There have been times when things haven't gone well and I don't want to even put petrol in my car because I know the guy at the till is a West Ham fan. 
Things like that happen but the emotion comes from deep within, knowing probably a little bit that it's my last season as a West Ham player, and just that it's such a nice feeling to actually win and be successful.
I'm really enjoying my final season with West Ham. 
I've actually enjoyed it because we have got a group of players in the dressing room that the fans and I believe in. I can sit there on the bench and be quite excited about what's going to happen in that 90 minutes, be excited to go away to Lyon and Sevilla and put in good performances.
I've been lucky enough that the manager's trusted to put me on in these games with 20 or 30 minutes to go and be a part of it, but for me it's been really enjoyable. It really has.
It's busy because everyone knows I'm finishing, but it's been really enjoyable. When you're not playing as much and you get a bit older, you tend to appreciate football in a different way. Normally when you win a game, you celebrate but then 20 minutes later you're immediately thinking you have to win the next game on Saturday, but this year I've thoroughly really enjoyed it.
I look at football in a completely different way now. There are times the manager asks me what I think during the game and at half-time I speak to the players, but I'm there if the manager needs me and I've got to be ready to play. That was my main focus this year.
 
Says it all about this man.

Our 𝗖𝗮𝗽𝘁𝗮𝗶𝗻 ❤️ pic.twitter.com/S7fb6koZyv

— West Ham United (@WestHam) April 15, 2022
The atmosphere has been amazing at London Stadium.
The Frankfurt fans are a fantastic bunch of fans, I think we've gathered that, especially in the games they've played in Europe over the last few years, but the London Stadium has turned into a fantastic place to play for us. 
I think the fans are appreciating how good it is. It has taken a bit of time for it to gel, and you need massive nights like we've had this year to cement that home turf. The games in Europe this season have done that and the boys are so excited for tomorrow night.
Why I sweep the dressing room after away games…
One of my friends is the chief executive of Sheffield United and we played them away years ago, and I left my wedding room in the dressing room, and when I went back our dressing room was messy. From that day onwards, I said that would never happen again."
When we were kids we used to do it, as Academy players we weren't allowed to leave until everything was done in the dressing room, so from that moment on I said that wouldn't happen again, because that didn't reflect the Football Club I want us to be.
Now, if I haven't been to an away game then Aji Alese or any of the young boys will clean the changing room. I don't ask them to do that, but they know that's the culture I've set. The staff do it also, so I'm hoping that once I leave, that carries on. I'm sure the young boys will do that.