Mark Noble was full of emotion after his final home game in a West Ham United shirt ended in a memorable 2-2 draw with Premier League leaders Manchester City and a poignant farewell ceremony.
The Club captain was introduced to the crowd before kick-off, bringing tears to his eyes for not the first time in his 18-year career in Claret and Blue, before taking his seat in the dugout and watching a thrilling game highlighted by two first-half goals from Jarrod Bowen.
Title-chasing Manchester City fought back through a deflected Jack Grealish strike and Vladimír Coufal's unfortunate own-goal, leading David Moyes to send on his vastly experienced 35-year-old midfielder for a final appearance on native east London turf.
There was one final scare when Craig Dawson fouled Gabriel Jesus, but Łukasz Fabiański saved Riyad Mahrez's penalty superbly to ensure that Noble would bow out on a high.
Speaking after the game, the iconic No16 reflected on an unforgettable day at the end of an unforgettable career…
Mark, what a way to sign off in your final home game for West Ham United…
"It's a fantastic day for me and my family and a great day for the fans because they are a very special team, so to go two goals up against them… we didn't have a lot of the ball, but we had two counter-attacks and scored two goals through two fantastic finishes from Jarrod.
"All in all, it was a perfect day and one I could enjoy with my family before going around the pitch to say 'Thank you' for the home support this year and then we look forward to next week."
It's a fantastic day for me and my family and a great day for the fans
And your introduction was not sentimental, it was part of the gameplan?
"We agreed that we wouldn't do that at all, and it was only in the best interests of the football team and West Ham, so Kev came out to me at half-time and said 'The Gaffer is going to need you at about 70 minutes' and thank you to Łukasz for a fantastic penalty save at the end because it made the day that bit more special."
How did you feel when you were introduced to the crowd, firstly before kick-off and then with your teammates forming a guard of honour after the final whistle?
"I tried to keep it together at first, but the emotion got the better of me. It was a fantastic send-off from the fans today.
"It's been a long lead-up to this day because I announced that this would be my last season a year ago but forget about me, what a season this has been for West Ham!
"We have rejuvenated the whole football club this year, so we look forward to next season."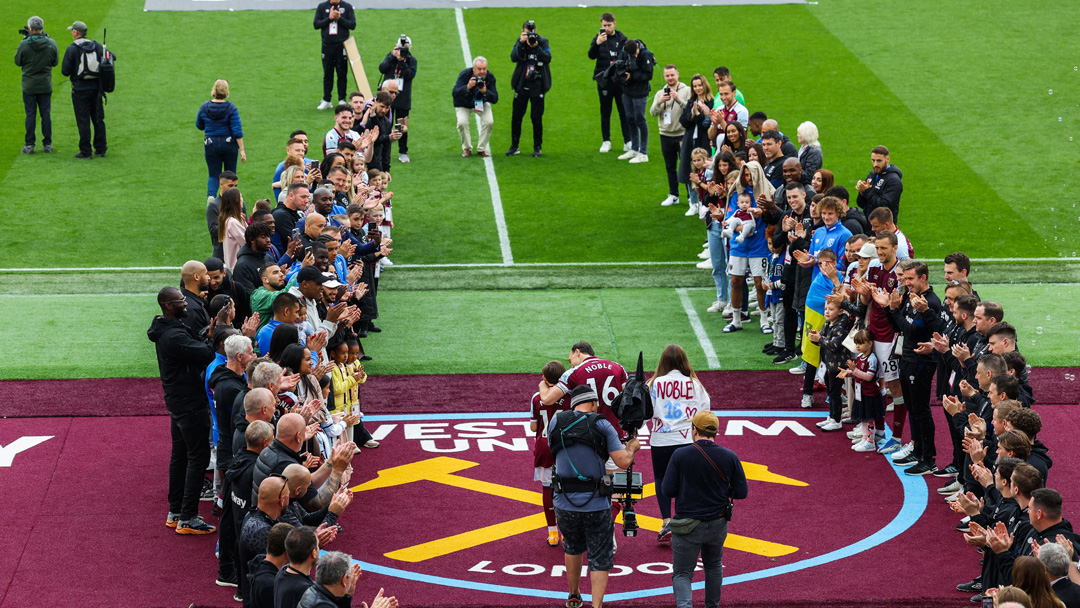 So, that's it, you'll never play a home game for the Hammers again. It's the end of an era!
"To be honest, I've sort of got my head around it now and very rarely at this level of football do you get to make your own exit, but I've been lucky enough to do that, so it's the right time to go and spend time with my family.
"I'll always be West Ham and the Club have made it clear to me that they want me to stay, but I am definitely going to have a holiday and then see what happens in the future…"